Joe Foster with Ignite, Photo: Traci McMahon

It was just a matter of time before we pulled Joe Foster in to the DCXX fold and it looks like we've finally gotten things rolling. Here's part one of what's sure to be a multiple entry interview with Orange County Hardcore veteran, Unity and Ignite guitarist, Joe D. Foster. -Tim DCXX

What were you into before punk? Who were your favorite bands, and what were the biggest things that had an impact on you as a kid?

Before punk??? I guess G.I. Joe toys, etc. I got into it so early there wasn't much time for anything else. I used to tape Rodney on the Roq at night and listen to it the next day. That's when I first heard Minor Threat and was hooked from then on.

My favorite favorite bands then definitely were Minor Threat and Seven Seconds, and later on Marginal Man and Rites Of Spring. Pat Longrie was really good friends with 7 Seconds and we would do a lot of shows with them. They were super posi guys and made amazing music. I even got to do background vocals on The Crew and there is also a picture of me and Kevin on the cover of The Crew. I'm the guy wearing a backwards white ball cap. I'm really proud of that because it was the best time of my life.

As far as what had an impact on me? Really just the pure positive energy of the music, even more so than the lyrics...

How did you discover punk and how do you remember it changing you? Who were the first bands you were exposed to and who had an immediate impression on you?

My punk discovery came from listening to Rodney on the Roq secret recordings late at night. It changed me for sure. I never heard anything as beautiful as Minor Threat and I have been hooked on the energy ever since.

The guys who made a real impression on me were Kev, Steve and Troy. They were just such fun posi guys and they made the best sing-a-long hardcore ever.




We all know about Unity, but what was there before Unity that you played in? When had you started playing guitar, and what was the big inspiration to do so?

Before Unity, I was in some pretty bad hardcore bands in high school, just really learning how to play but having fun. I can't even remember the names. I also did some really good Christian bands in-between the hardcore stuff with the original singer from The Lifesavers...

One of my guitar inspirations was of course, Brian Baker. Also Rik Agnew for sure and then later Kenny Inouye from Marginal Man.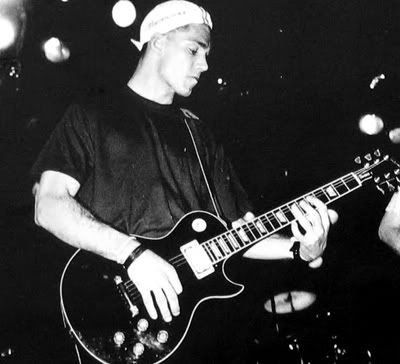 Joe D. Foster, Photo: Kent McLard