Originally formed in 1995, Floorpunch really made a splash in the hardcore scene that would continue until the end of the decade when they broke up. In 2007 they reunited and have been playing here and there since, even touring Europe recently. Whatever you might think about them, they played a major part in helping to jump start the "hardcore revival" of the mid/late nineties, and really professed a love for NYHC in a way a lot of straight edge bands of that era hadn't. Without question, they've left a big impact even on today's current hardcore scene.

Here's part 1 of our interview with guitarist Chris Zusi and drummer Mike Kingshott. Expect more! -Gordo DCXX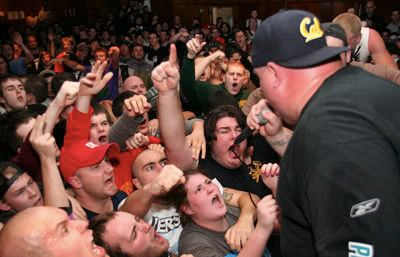 Floorpunch in Philadelphia, Photo: Zac Wolf

To start things off and work backwards, you guys just got back from Europe - how was it? What seems to have changed in specific countries and cities from when you were there ten years ago? How did touring personally change for each of you this time around with the inclusion of bigger job responsbilities, travel costs, families, etc?

Zusi: Europe was a good time. The shows were great and all of the kids we met were awesome. We met so many kids who either saw us the last time we were there or said they missed us and had been waiting 10 years to finally see us. There were kids who drove 10-15 hours to some of the shows. I had more than one person tell me that it was a dream come true to be able to see us play. I know that may sound corny, but it was genuine and it really affected me to hear people say that. It just made me think a lot about hardcore and how much it's meant to me over the past 23 years. Add to that the fact that we got to play all of the shows with True Colors and I couldn't have asked for a better time.

Everything about this tour was very different from the last time we were in Europe. Being there for a week instead of a month, being 39 instead of 29, having a van with heat, etc. I just think we're all older, and had a better idea of what to expect. That was the biggest difference. The first time we were in Europe we didn't know what we were getting into. You have all of these expectations but you really don't have any idea of what it's really like until you do it. People who aren't into hardcore hear that I was in Europe for a week and they think it was like a vacation ("Hey kids, Big Ben, Parliament"). They don't understand that, especially when you're only there for a week, your day is spent driving to the venue, you get there, unload, set up, eat, and then maybe you have an hour or two of free time. It's not like we spent our days being driven around to see tourist attractions. So I think we were better mentally prepared for Europe this time around, plus we all just wanted a vacation from our families (my wife's not going to see this, is she?).

Kingshott: Europe was amazing. I had so much fun this time. I think we all did. The shows were all good, even the weekday shows, which was cool because last time some of the random weekday shows sucked. I think one of the funniest things that happened was when Cooper farted when we were in line at the airport when we first arrived and some lady turned around really pissed off, and Cooper blamed it on me hahaha.



Zusi with Floorpunch in Philly, Photo: Zac Wolf

Obviously FP has been back on the map for a little while now after being officially broken up for the better part of the decade. What took so long for the band to get back together? What was the catalyst for making FP a regular band again? What has changed over that period of time while the band was broken up for each member, and how has the HC scene changed in your eyes?

Zusi: For me it was a case of absence makes the heart grow fonder. I think when we broke up we were all burnt out. We had just come off of a tour of the US and then a European tour. We'd been playing every weekend for 4 years and we all just needed a break from each other and hardcore. In that time a lot of life changes happened for everyone, you get married, start a family, get older, etc. So, for me, hardcore kind of took a back seat. We were all still friends, but there wasn't really a reason to start playing again. We had offers throughout the years but it was just never right from a timing perspective.

I guess once we did the Redcheeks benefit it kind of started the ball rolling. For me it was exciting to hear those songs at practice, and it almost seemed as though we never missed a beat. I would definitely not classify FP as a regular or full time band at this point. This thing has a beginning and an end, and we're a lot closer to the end then we are the beginning. As far as how the HC scene has changed, I don't know if it has. Obviously "hardcore" is more widely known now than it was when FP was a full time band, but I'm not going to be the grumpy old man who says, "Things were better back in my day" (although they were). The hardcore scene is always going to evolve and I just hope it means as much to the young kids today as it did to me when I was younger.

Kingshott: I wouldn't say we're back on the map or even back together. We just wanted to have some fun with a few shows and a small tour so we did. Not much has changed for me. I just love playing the drums still so I was glad to do this again. That's all I do - just work and play my drums LOL. Everyone else has done the marriage and kids thing in the last ten years, sellouts!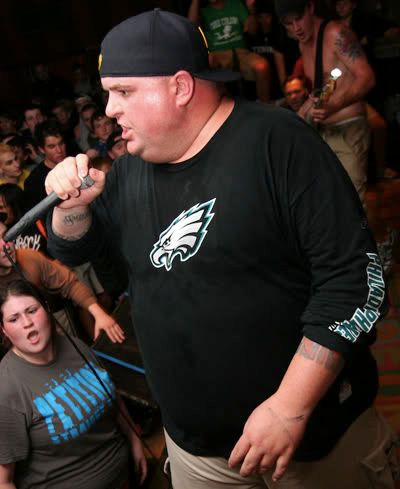 Porter with FP in Philadelphia, Photo: Zac Wolf

FP came along at a time in 1996 when there was a real upswing of bands playing a more traditional style of late 80s inspired HC. Some would even say FP was one of the very few to be doing this at the time. Now, there are dozens and dozens of bands doing this. What do you think about that? Would you say FP had any hand in that?

Zusi: Let's not be modest Tim, Mouthpiece deserves all of the credit for sticking to their guns and playing what we all would consider "hardcore." As for FP, we were just taking your lead and running with it. If Mouthpiece was the Bold/Chain of 1996, FP wanted to be the Judge/Breakdown/Raw Deal. I can't really comment on what's going on in the scene today because outside of a few bands I honestly don't know. However, I'll say this – if dudes love that late 80's NYHC style and are influenced by that then I'm all for it.

Kingshott: I would say we definitely played a part in the late 80's inspired HC thing being a big part of HC all over again. I'm proud of that because it wasn't really around in 1995. Bands just didn't want to play fast anymore for some reason. But at the same time I don't think many bands since then do/did it that well. I heard a Verse record once and thought it was like the worst HC record I ever heard, terrible, they sucked. But I really did like the band True Colors that we toured Europe with. For an edge band they were fucking heavy.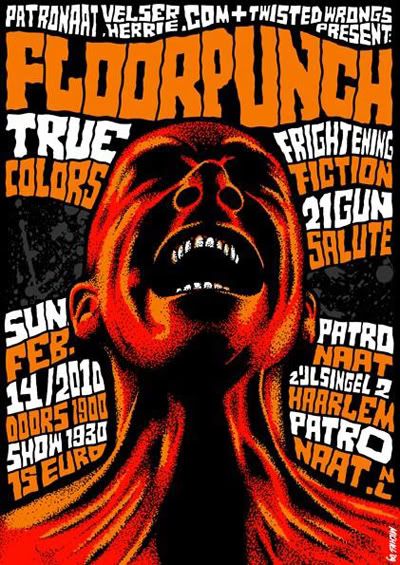 Coming off of that last question, FP was also a band that made their love for NYHC bands like Straight Ahead, Breakdown, and Raw Deal very known. Prior to this, you didn't see a lot of young SE kids really going bonkers for these bands. These bands have gained increased popularity amongst young SE kids ever since, and in a way, you could trace this to FP. Thoughts?

Zusi: I would definitely agree with this. I have always loved NYHC, I didn't care if a band was straight edge or not. My edge is as strong as they come, but I was never threatened or insulted by a band that wasn't straight edge. To me, if their music was awesome, their message sincere, and they had mosh parts, I was all for it. I'd say our biggest influences as a band were Judge, Raw Deal, Breakdown, and the Cro-Mags. So what if only one of those bands was edge, they were all great bands.

Kingshott: Yeah I think that's awesome that kids have finally woken up and like Breakdown more than Bold. It's an obvious fact that bands like Breakdown and Raw Deal blew the doors off weak ass bands like Bold, give me a fucking break!!!!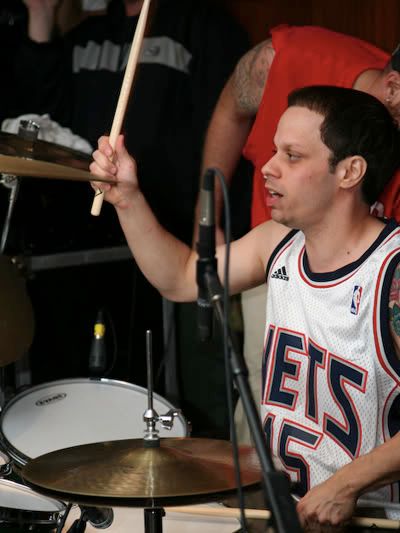 Kingshot with FP in Philly, Photo: Zac Wolf

FP was a notoriously vocal SE band. You guys have come under a little fire at times for not being an "all SE members" band now. What do you think about this? What role does SE play in the band compared to when you were originally around? Is being vocal about SE still important to FP?

Zusi: Tim and Gordo, asking the questions everyone wants to hear. This is going to be interesting to hear everyone's thoughts on this. I'll refer back to my previous answer – my edge is strong, I've been straight edge for over 23 years now, so being vocal about the edge will always be important to me. With that said, if I've learned anything over these years it's that I can influence more people by my actions and friendship then by turning my back on them. One thing I will say, because I know a lot of people are skeptical of "reunions" (especially edge bands) – and this is going to be hard to understand if you're not a musician, but finding the right group of guys to do a band with is not easy. Sometimes it just clicks, and that's very rare. With FP, we were all on the same page musically. We could write a song every practice, it just came that easily. As far as the role of straight edge in the band I'll say this - Porter wrote all of the lyrics, is the face of the band, and he's still edge so as long as we play shows we'll be vocal about straight edge.

Kingshott: Everyone knows Zev and I are not edge anymore and no one cares. If people wanna talk shit about FP not being a full SE band anymore they can suck a dick because it really doesn't matter. And we're not even back together so that's another reason it doesn't matter. No one would personally or publicly ever talk shit to us about it because no one has the balls to. The 5 of us are still friends and still into rocking the fuck out of a HC show together and that's all that really matters.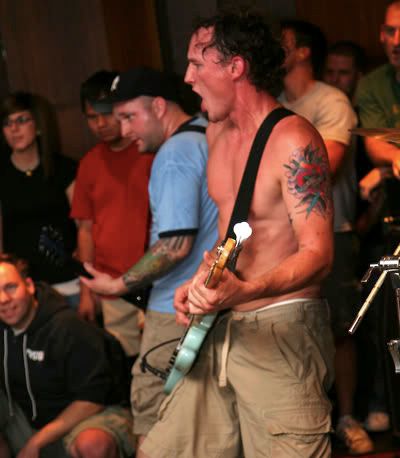 Zev and Bill with FP in Philly, Photo: Zac Wolf

Let's go back to the beginning of FP. A lot of young fans weren't around the first time. Who was the FPC (Floorpunch Crew)? What did you guys do outside of the band in terms of hanging out? How do you remember the climate of the NJHC scene at the time when FP got together? What did it feel like back then when the demo came out and FP started to take off as a serious band?

Zusi: It's hard to believe that was 15 years ago. What I remember most about that era was the good times we had. It seemed like every weekend we were playing/going to shows or just hanging out. It didn't matter if it was Boston, CT, NJ, Philly, DC or Virginia Beach, chances were on any given weekend we were in one of those areas. If there wasn't a show we'd just hit the boardwalk or AC or hang out at Body Art World all day, or eat. Of course it was a lot easier when we weren't married and didn't have kids.

As much as people complain about hardcore in the mid 90's, I think it was a great time for hardcore. I may not have been a huge fan of a lot of the bands of that time, but there were shows pretty much every weekend and it seemed as though the torch had been passed in a way. My friends and people I knew had all started bands, started doing zines, and putting on shows and it just seemed like it was now "our" scene. I don't mean in the sense that we were running things or controlling things, just that each of us were involved in some aspect of keeping the scene going so we felt a stronger responsibility for what was going on. With that context it was a great feeling when we put out the FP demo and the buzz started really building. We just felt as though we had a lot of momentum behind the band and that allowed us to play a lot of shows with bands that we loved in front of a lot of kids. It was really a fun time.

Kingshott: Well in '95 we didn't know what to expect. When we played a few shows we realized this band was going to be sick, and it was. The crew was fun, it was mainly the band, Little Dave, Scott Davis, Greg Tomczak, Steve Lucuski, Hornecker, Poland, Chiarini, Dave Murphy, Steve McVey, Lil Zev, Jeremy, Summers...those were my boys but the list goes on and on. From our very first show the band was a success and still is today.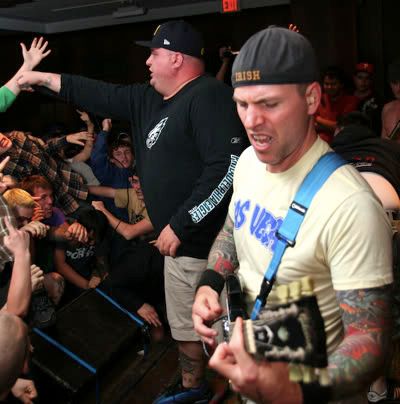 Zusi and Porter with FP in Philly, Photo: Zac Wolf