Scott Vogel with Terror, Photo courtesy of: Terror

Scott Vogel has been fronting bands for a long time, and unless you live under a rock, you have heard at least one of them. We caught up with him to get his backstory and find out what's going on with Terror as of late. Big thanks to Scott for hooking this up - here's part 1. -Gordo DCXX

Can you remember the first time you heard about hardcore? What's your story behind it?

When I was in 7th grade my mom decided to move to Houston with my two sisters. I stayed in Buffalo and moved in with my father, his new wife and my step brother Jay. I was into Motley Crue, Ratt, and shit like that. Also Run DMC and Whodini. My brother was into a lot of stuff like the Dead Kennedys, Exploited etc. The energy and vibe of that stuff was cool but I never really clicked with the whole anarchy punk thing. I was always drawn to Social Distortion. Mommy's Little Monster is still a great fucking record. When I saw Another State Of Mind and the part with Minor Threat came on things just clicked. Not in a straight edge type of way because I've never been SE, but to just see these guys that didn't need to show off how crazy they were by the way they dressed or looked. They were freaks but on the inside and didn't need to shove it in everyone's face. They were actually striving for something positive while going against the grain. Trying to make a better place is this crazy world - not just make an ugly refuge outside of it. That made sense to me.

So I went out and picked up the Minor Threat LP and started looking into that whole world. I had seen the Dead Milkmen, Butthole Surfers, DRI, and a lot of great shit but this was different. Soon after that I went to Home Of The Hits in Buffalo and in one day bought the Chain Of Strength, SOIA, NFAA, and Side By Side EPs. I looked at those layouts, learned the songs, cut my hair shorter and never looked back.

Up to that point I played sports all day everyday. That ended. All I did was order records and get to shows with my brother any way possible. And I never stopped for a minute. Many years later here I am pretty much the same person as then.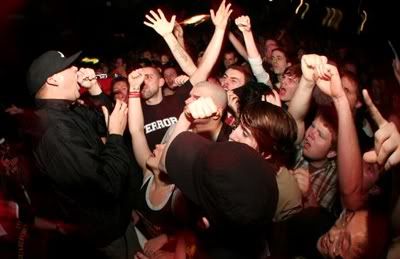 Scott delivers to the crowd, Photo: xjanx

Who were the bands that made a big impact on you when you were first getting into hardcore? How did they compare to non-hardcore bands you loved prior?

Let me first start with the Buffalo bands. Zero Tolerance was THE band in Buffalo. I looked up to them so much. Their live show was unreal. Typing that actually gave me some chills because thinking about their shows makes me feel alive. Before Snapcase those guys were in a band called Solid State. They played often and their frontman was this kid Chris Galas. He had crazy energy and ripped up stages. Watching him and them was when I first said to myself I wanna do this. I can do this. So I did.

Some other bands that come to mind that I loved back in the late 80s are Vision, Judge, War Zone, Verbal Assault, AF, Bold...so many bands. I loved almost everything back then. The Powerhouse seven inch on New Age was played daily. Turning Point was my favorite for a while. All I did was buy MRR and ordered anything that looked like dudes with short hair jumping on stage...ha ha ha...that sounds so retarded but it's true. And I'd check the mailbox everyday after school waiting for new stuff.

SOIA was the first band to destroy my dreams when Slugfest played with them and they weren't so nice to us. Ron Brotherhood came through with Orange 9mm so I gave him a Slugfest EP cause Overkill records was cool and he said "thanks, want to have a beer with me?" I was shocked. Ok I went off on a little tangent but i love HC. This shit was real. I was a part of it. The bands were right here, not on some crazy stage with a light show. The Motley Crue shit was lame to me at this point. Hip Hop was still saying stuff and striving for a better way so that has always stuck with me.



More Terror sing alongs, Photo: xjanx

Tell us about the Buffalo scene and where exactly you grew up.

I lived with my mom, dad and two sisters way outside of Buffalo in like the woods for the first few years of my life. My dad left us and my mom put herself through school and worked shitty jobs and raised us. I have a lot of respect for her and her strength but with this came moving a lot as she had to go where she could get work. We moved a few times around the outskirts of Buffalo and as a kid this sucked. Every time I had friends or felt like I was home it was time to move again. So when she met a man and said we were moving to Texas I said no way and moved in with my dad to Amherst NY, a nice suburb like 15 minutes from the city. This is when I got closer to my brother and the stuff I desribed earlier started happening.

Buffalo had an amazing scene when I got into it. So many bands would come through. There was one promoter that did everything right - well, from my stand point at least. I didn't know any of the real inside stuff at all. There was a great club called the River Rock Cafe that did all the shows. NYC was only like 7 hours away so all those bands would come through. I was just in the right place at the right time and got to see some fucking amazing shows and bands. I really miss just going to a show and knowing a few people. I didn't know the band members or any of the scene ins and outs. I'd go love the energy and music. No one knew me or cared about me. I'd go home and wait for the next show. Just a pure true love for HC.



Terror Team Stage Dive, Photo: Face The Show