Erba dishes out more, this time turning to the inevitable topic of Dwid and Integrity. Buckle up for this one...

-Gordo DCXX

Dwid and early Integrity...I'm sure you could write a book. What would be the best stories in the book?

I have a lot of mixed feelings about him. He and I were very close at one time. He is a master manipulator and could be at times very loyal and so funny you would have tears streaming down your face. Devastating razor-sharp wit. He'd zero in on your weakness and absolutely destroy you. He's incredibly smart and an outstanding self-promoter and terribly insecure, but to cut to the chase, it boils down to a simple truth: he was a rich boy and a bully.

There's so many times I think about in the past that I should've just stood up to him and punched his teeth out but I didn't because he was intimidating, it would've ruined Face Value in Cleveland, we lived together so that situation would've been a mess, etc etc. He'd become super-close to a person and use them for whatever he could get out of them and then immediately treat them like shit once he got what he wanted from them. Being a bully is so pathetic, I hated those motherfuckers in school and got into music to escape that, then I end up being closely associated with the biggest one I'd ever met.



Dwid with Integrity in Philadelphia, Tim DCXX with a crowd climb sing along, Photo: Traci McMahon

Funny thing is, they're never all that tough, anyhow. I saw him fight girls (Albany @ the Schenectady Eagles Club), cripples (Brian from The Artichoke in Cleveland...granted, that dude was a total asshole and I couldn't blame Dwid for throwing him down a flight of stairs, but still, talk about grabbing for the low-hanging fruit), punk out a girl I had over the house on a date, an old semi-retarted truck driver when we worked at Miceli's Dairy, etc., but I sure as hell never saw him fight Paul Schlacter, Scum, my brother or Tony Hinton. It would've been very ugly and over in 30 seconds.

But on the other hand, he could at times let his guard down and not be a total prick but be a loyal and funny friend. But it was far too few and far between to outweigh the totally shitty things he'd do to people that were nothing but good to him. I know if MY Dad died and that asshole made a mockery of it let alone put some shit like that on the lyric page to a fucking RECORD, he would've never been seen again cause I would've put a slug in his fucking eye. He ruined his band, who could've become the new Cro-Mags, but instead he picked fights FOR NO REASON with people he didn't even know and thus they couldn't tour, couldn't really do shit. Why screw (or go around saying you screwed) your record label owner's girlfriend? Why start a war with of all people the most thugged-out, for-real tough guys in HC like DMS? The guy's unbalanced.

As far as stories, there's so many of them...everyone knows the stupid 'ear' story, yes he really did go with a friend to the morgue where his friend worked and supposedly got an ear; I was sleeping and he knocked on my door and goes 'hey Erba, lend me your ear' and busts in with this awful smelling sandwich bag with something that looked like chewed-up gum in it, waving it in my face and laughing like a girl. That lasted about 10 seconds before I told him to get the fuck out; I was half-asleep and didn't even realize what the fuck he was going on about. He then went down the hall to fuck with Jim Edge and Rich Vidal who were our other roommates. I think he tacked it to my door as well. Oooooh. If it sounds like a nothing story, that's because it was. (ED. NOTE: THAT IS NOT A NOTHING STORY).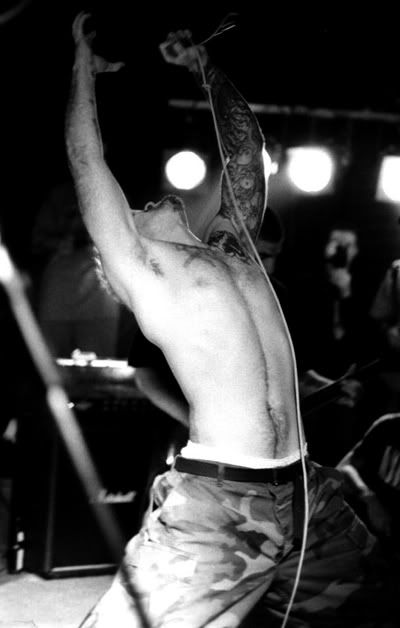 Dwid - Clenched fist to the man in the sky

One of my favorite stories is when he got his hands on an old-school stun-gun, the kind that shoots a bolt of electrical current across two contact points. He was so thrilled about his new toy, he went down to The Lift that night and you just knew he was gonna find an excuse to use it. He starts talking shit to some turtleneck-wearing douchebag at the club, they get about ready to box, and Dwid pulls the stungun on the dude and it was either low on batteries or just a cheap bootleg knockoff cause the guy he stunned just kinda stepped back, looked at him like 'check out this motherFUCKER' and broke his nose with one punch. Classic.

Another is when he lipped off to some black dude on Coventry and got his ass roughed up a bit, then he decided he was turning white power and went home and got his rap records like Shinehead and Kwame The Boy Genious and went up the street to Coventry and smashed them on the sidewalk. I'm serious, I can't make this shit up. He had a knack for pulling beautiful girls and making them buy him all kinds of shit...clothes, cars, guitars...that's how Aaron Melnick got that old JB Player that he used on the early Integ records. Dwid got my seconds from this girl McCall Bennett who I'm sure was hanging around me just to get to Dwid, like several other scene girls did (Kim L.,Tina, etc.) and she gave the guitar to Dwid and he gave it to Aaron.

Whether he actually banged Moon (Brummel's girlfriend) or not was inconsequential...the point is, why would you do that or worse yet, NOT do it and say you did??? That was so stupid, and if Integ later bitched about being ripped off by Brummel, well, what the hell did you expect after your singer pulled that shit? That whole thing sucked because Moon was a sweet girl and a good friend of mine and Brummel's sister was a super nice person too and neither ever talked to me again after he pulled that shit. Once again, I took the fallout from that asshole's antics.



Air Integrity