Dag Nasty with Peter Cortner at City Gardens, Photo: Ken Salerno

New DCXX contributor Jake Jacobs hits us with a piece he wrote a few years back on Dag's classic second album, sharing his personal coming of age with the record that seems to split people down the middle... -Gordo DCXX

The first time I heard Dag Nasty's Wig Out At Denko's album, I hated it.
It was 1987. The previous year, I had purchased and fallen in love with Dag Nasty's Can I Say LP, which is an extremely significant slab o' wax in my life both because of the music and lyrics as well as being the very first record that I ever purchased at Zed Records in Long Beach, California (the punk and hardcore record store of the day). Anyway, I had just turned 17 and gotten my driver's license that summer and some friends of mine and I were driving somewhere and listening to the title track off of Wig Out. I remember thinking to myself, WHAT THE FUCK IS THIS SHIT??? Just one year earlier, Dag Nasty had released one of the best punk/hardcore records I'd ever heard in my life! How the hell could they have fallen off in ONE YEAR'S TIME? I placed the majority of the blame for the weak soundingness of Wig Out squarely on the shoulders of Peter Cortner (the singer on Wig Out who'd been recruited to replace Can I Say's singer, Dave Smalley) and quickly forgot about it.



Brian, Doug and Peter of Dag Nasty, Photo: Ken Salerno

Fast forward 4 years…

In 1991, Dischord Records very kindly released both Can I Say and Wig Out At Denko's on one CD at a very affordable price for me, at the time a 20 year old full time college student with a part time minimum wage job. I'd been waiting impatiently for 5 long years for Can I Say to be released on CD, so I purchased it shortly after it hit the racks. After listening to Can I Say a number of times, I decided to give Wig Out another try.

For some reason, I enjoyed Wig Out even more than Can I Say and began listening to it on a daily basis. In fact, to this day, whenever I listen to Wig Out, it makes me think about 1991 and what a fantastic time in my life that year was. Some of the highlights: hanging out with my brother Evan and my best friend Mike all the time, their band ICE playing their first real shows, seeing 411 (my all time favorite Orange County, California band) play live at least 5 or 6 times, seeing my good friend Joe do his first shows as the singer for Triggerman (another favorite local band of mine), getting a shout out for my 21st birthday at a show from Greg Brown (the singer in Blackspot, yet another favorite local band of mine), going out to eat at Denny's after all the shows, discovering Vinyl Solution in Huntington Beach and shopping there on a weekly basis – the list goes on. No other album brings all of those great memories back to me in vivid detail like Wig Out does.



Cortner belts it out, Photo: Ken Salerno

But it has ANOTHER very important significance in my life…

It was Monday, April 19th, 2004. Just two days before, I had taken the biggest step that I'd ever taken before in my then 33 year old life by marrying my wife Christy. With the very minor exception of the rain that came down during the ceremony (which was outside, natch), it was a beautiful wedding and definitely one of the best days of my entire life (if you want to feel like a celebrity for a day, get married). Anyway, I was still riding the wave of euphoria of having gotten married while I was in my car driving to work that Monday morning (because I was between jobs and working as a temp at the time, I couldn't take time off for a proper honeymoon that week). As is customary whenever I drive by myself anywhere, I reached into the cassette compartment in my car and popped the first cassette that I got my hand on into the tapedeck.



Brian Baker, Haagen Dazs and hair bleach, Photo: Ken Salerno

Which just so happened to be an album called Wig Out At Denko's by a band called Dag Nasty.

The first album that I listened to the weekend after my wedding day.

As I drove to work that morning with side A of Wig Out playing full blast in the tapedeck, I thought about two things and two things only:

1. I had just gotten married to the best girl in the entire world.
2. 1991 - the best year of my 20s.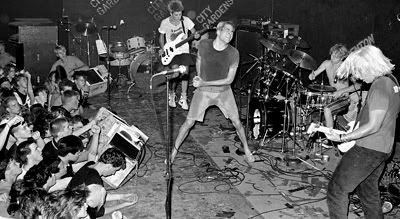 Dag doing it at City Gardens, Cortner style, Photo: Ken Salerno