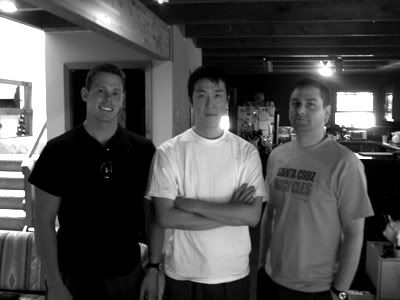 Gordo, Jimmy Yu of Judge and Tim

As we wind down the hours of 2008, we take a minute to reflect on our favorite interviews of 2008 here on DCXX. While our one year anniversary comes up in March, we still spent a huge chunk of 2008 busy on DCXX. Tim will follow up with his 2008 Year In Review for an entry tomorrow. Expect much more in the new year!

Gordo's Top 5 Favorite Interviews

This is almost impossible. Here are at this moment, my favorite interviews we have done so far on Double Cross. We didn't include contributors or re-printed material - but if we did we'd have to give a big honorable mention to Joe Nelson, Tony Rettman, Jon Roa, and the host of others who have been big contributors here. Top 5...

5. Dave Smalley - To the outside world, this would make no sense: Email a guy some questions about a tattoo he got 25 years ago when he was a teenager, then post his answers with some pictures of him and the tattoo. Sounds retarded, no? This was a smaller piece, but man did it make me want to move to Boston, shave my head, and go get Smalley's classic True Till Death tattoo inked on me, possibly on my forehead.

4. Marco / The Icemen - Up until this, I had never seen a very thorough interview with any of the guys from The Icemen, and not with Marco. A personal favorite, this gave practically everything you could want to know about this NYHC powerhouse and really seemed to take you back to the time and place, while pulling no punches.

3. Tony Erba - I think both Tim and I knew this would provide some serious entertainment shock value, and did it ever. We censored nothing and Erba wanted it that way. If you haven't read this, skip your coffee tomorrow morning and check this instead. It will wake you up, Clevo style.

2. Djinji Brown - When word spread that Absolution would be reuniting, I figured that was the perfect opportunity to catch up with Miami-based Mr. Brown. A three hour conversation taped and transcribed, Djinji's story of growing up in NYC, becoming immersed in hardcore, and then moving on in his own life was honestly one of the most powerful stories I've ever heard. At some point I would like to make the full audio available. I shit you not, hearing Djinji talk about his life and experiences will give you chills.

1. Jimmy Yu - If it wasn't for Jimmy Yu, Djinji's interview would be the clear winner. But sitting down at Jimmy's house, Judge playing in the background, a half dozen white Kramer guitars off to the side (with whammy bars), as Jimmy took us back to where it all started for him...it got a little surreal. I'd love to make the audio of this available at some point as well, but that would only tell half the story. Seeing the look in Jimmy's eyes when he talked about going to A7, running wild in the streets, playing in JUDGE, and how essential it was in his life really can't be described. The guy was as real and as gracious as they come. If you have never checked out this interview, please, free up an hour or so and read it all immediately.

HONORABLE MENTIONS: So many...Dave Bett, Todd Schwartz, Ajay Enuf, Straight Edge Hank Peirce, Tom Kuntz, Andy Guida, Jason Peterson...too many to list. Thanks for reading!