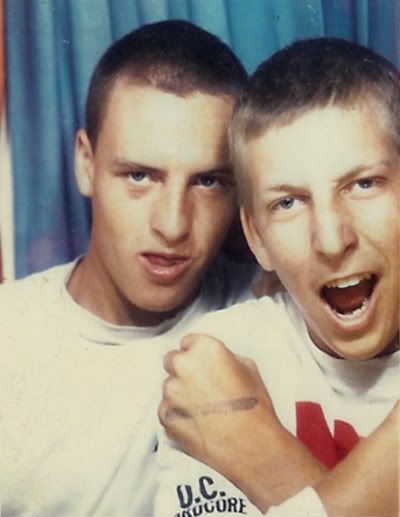 A young Dan O'Mahoney and Billy Rubin, Photo courtesy of: Billy Rubin

Tim got an email from Billy Rubin recently, and in their exchange, Billy wrote what is below. I think you can say that this is a little bit of an introduction to what will be some ongoing material with Half Off / Haywire's notorious singer... -Gordo DCXX

Regarding the "feud" between us and Youth of Today, or more specifically, me and Ray, I can speak for the Half Off guys when I say that we never really cared. It was always amusing to us that people were so worked up over something they knew nothing about. There was probably more of a hustle bustle over Half Off being critical of the SE movement. At the time (in that scene) being critical of SE was like a US citizen being critical of our foreign policy in Iraq (2 years ago). I was chastised for not being "hard". Or in my analogy it was like being unpatriotic.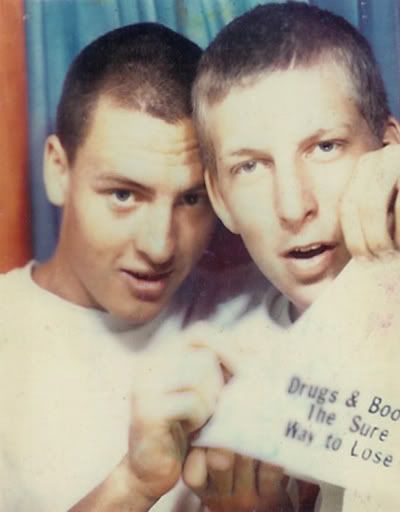 Drugs & Booze The Sure Way To Lose

The Jeff Banks/Dave Mellow story you posted is great. I have my own Dave Mellow story...

I grew up in a kind of upper class area called Huntington Harbor. I was isolated from punk rock. There was a shopping center about 2-3 miles from my house with a bar in it. Every now and then a punk band would somehow pull off playing there. I would keep tabs on the place and skateboard over there (I was too young to drive) to stand outside and try and listen through the walls to hear live punk music. This would have been 1983 or '84, which made me about 14. At any rate, I was over there one time all by myself, a little rug rat, probably wearing a Husker Du t-shirt or something, with my ear pressed to the wall.

This older guy (in his 20s) came over to me and was really nice but a little buzzed. He told me he was in a band. He was almost too nice. It sorta scared me. He drove a beat up blue van and had long hair. He came off like a serial killer or a child molester. He gave me a demo tape from his band. I had no idea what the name of his band was and there was no label on the tape. I didn't even know what "demo" meant. Well of course, the guy was Dave Mellow and the band was UC.

A few months later, I started high school at Marina High. I met Dan O'Mahoney...now that is a story in itself. Dan and I became best friends. Dan always wore this weird "UC" shirt. I mean he wore it every fucking day. With the same pair of jeans that had "die kreuzen" stenciled on them. One day Dan drove over to my house (with someone named Paul Theriault) to pick me up (I still wasn't old enough to drive). We were driving around in his car (a metallic green Nova) and he had the same demo tape playing!

Thats when I figured out that Dan's UC shirt was the same band as the child molester guy's. Then I figured out that UC stood for Uniform Choice. Shortly after that, Dan and I began stalking Pat Dubar. Dan knew Dubar from Mater Dei high school. Dan had been kicked out of Mater Dei which is why he was at my high school. Later I came to know Dave Mellow as one of the nicest, most authentic guys ever. His brother was my age and I knew him from high school as we lived nearby each other.

I also worked with Dave and Big Frank doing the concerts way before Frank befriended Jeff Banks. The other guy that was around back then was a photographer named "O". He later was in a band called Olive Lawn...I could type your eyes out telling you those stories.



Dan and Billy, Photo: courtesy of Billy Rubin