Murphy's Law in NYC, Photo: Ken Salerno

DCXX partner-in-crime Tony Rettman recently tracked down Jimmy Gestapo to talk with him about the legendary A7 club, and the reunion show that went down last week at the Knitting Factory. One of the legends… -Gordo DCXX

Tony Rettman: So when was the first time you went over to A7?

Jimmy Gestapo: I think I was at Max's Kansas City and people were talking about it. I headed over there with Doug (Holland) and checked the place out. It was pretty much just an illegal after hours club before it became a Hardcore Punk Rock club.

TR: So what made A7 different than the other after hours clubs operating in the city at the time?

JG: Most after hours clubs were basically just drug dens with no windows and this place was more than that. There was an eclectic mix of people and music. A7 was more of a music scene than most after hours clubs. Most after hours places don't want noise or music because it'll bring police, but on the Lower East Side back then, the police didn't give a shit because there was no money to be made down there. Most of the fancier clubs wouldn't book Hardcore bands because no one really knew what it was yet. To them, Hardcore was pretty much an unknown form of Punk that wasn't as well dressed as the previous Punks! People didn't want us, so Dave (Proprietor of A7) started to have bands. There was already a reggae scene going on at A7 at the time. Jazz bands played there too. Musicians gathered there. Dave would let anyone who played any form of music play there and that's how the club grew.

TR: What was the difference between A7 and 171A?

JG: 171 Avenue A was down the block from A7 and they also did shows and sometimes showed movies. It was pretty much a community center ran by a guy named Jerry Williams. In the basement of 171A was Ratcage records.

TR: Any particular shows you can remember as being crazy that happened at A7?

JG: I remember SS Decontrol showing up with ski masks on trying to take over the pit and the whole place was just a pile of bodies. Have you seen that footage on YouTube of Agnostic Front playing?

TR: The one where you sing a Void song and you introduce AF? Yeah, it's awesome!

JG: Yeah, that's it. There's also some footage floating around from a show called 'Monitor', it was sort of a '60 Minutes' type of thing. They came down and shot some stuff at A7 and it was pretty in-depth. I think they came down and shot an M.D.C. show. They shot a lot of footage but they only used a little bit of it. I'd love to see the raw footage if it's out there. Sometime after that stuff was shot, I started working there as a D.J. and bouncer because Doug became the bartender. I was 15 and was flipping records and flipping people out the door! Every now and then, the cops would come to the door and raid the fuckin' place. They would take all the booze and all the money and leave. It was sort of a blessing in disguise because the cops would feel sorry for me and throw me a hundred dollars. It would take me two weeks of working at A7 to make that much money! I used to actually sleep in there. I remember we (Murphy's Law) did some benefit show for the Hare Krishnas at the Tompkins Square band shell. I was woken up while I was sleeping on the couch with Mickey, Dave's afghan dog, and I just got up from the couch, walked out the door and walked onto the band shell and we started playing!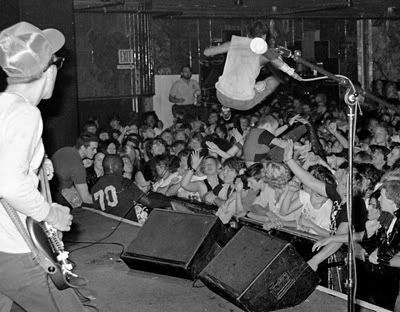 Murphy's Law in NYC, Jimmy with the dive, Photo: Ken Salerno

TR : I heard a story once that you spray painted over the door of A7 'OUT OF TOWN BANDS REMEMBER WHERE YOU ARE!' Is that true?

JG: No…it wasn't actually over the door! There was an A7 sign over the door. It was written right over the side door on the left hand side. You couldn't miss it!

TR: What prompted you to do that?

JG: Back then, Hardcore wasn't such a big thing that you could start a label and make a lot of loot. If you had a 7" that you pressed 500 copies of, you were a big man. If you actually sold the 500 copies you were a REAL big man! There were always challenges going on between us and D.C. and Boston. The other thing you got to bring into it was dancing. In other parts of our neighborhood, guys were break dancing against each other and we were moshing against each other. It was all about who had the most style, opposed to today where it's picking up change and karate kicking. It was all about trying to keep dancing while still blasting into someone from D.C. or Boston and who had the hardest pit for their town's band. It was like supporting your city's hockey team or something.

TR: Here's another one…Did you guys really actually beat the shit out of Mike Ness at A7?

JG: That didn't happen at A7, that happened at the A7 Annex. That was on 2nd Ave and Houston. The funny thing about that place was before Dave took it over it was this after hours club with the bar in the freight elevator. So if it got raided, they'd just send the elevator down and the cops would come up, and it would just be people hanging out in a room!

Anyways, we were standing outside of the place and I was all fucked up, as we all were when we were kids, and all of a sudden this bottle comes blasting over and hits Stigma in the leg. We look over and there's this guy with eye makeup on standing next to a school bus, so we chased him down and beat the shit out of him. I think that's what anybody would do if their friend was hit with a bottle. I guess people in that neighborhood now would just call the police, but the police would never come down there back then. Plus…we're not rats.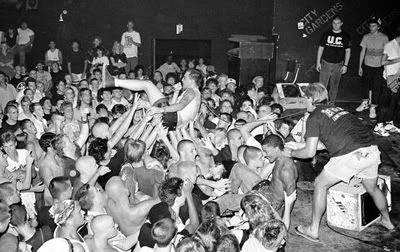 Jimmy rides the City Gardens crowd, Photo: Ken Salerno

TR: Most of the people I've interviewed for this piece have all said how intimidating it was to go down to the Lower East Side back then. Did you find it intimidating?

JG: No because that was where my family was from. My grandmother lived right down the block on Avenue D and Fourth St. Right across from A7 was where my Grandfather and Grandmother were laid out. I was born and raised in Astoria, but my father was from the Lower East Side and my mother comes from Brooklyn. How can you be intimated when your grandmother lives two blocks away? Before A7 was A7, it was a social club for old Polish people. This was years and years ago. I used to go to 7B, which is now the Horse Shoe bar, with my Uncle Mike when I was 9.

TR: Did it take some time for NYHC to grow out of A7 and move onto the other clubs?

JG: Everyone likes to go on about CB's, but CB's didn't support the scene like Dave at A7 did. He was the first to put on the shows. CB's had already had its history at that point with the Dead Boys and Blondie and the Talking Heads and they didn't have time for us then. I think it's funny now that CB's is gone; all you hear are all these people talk about those bands. You'll never hear how Agnostic Front and Murphy's Law and Sick of it All played CB's hundreds of times. The Ramones or the Dead Boys might have played there five times or three times. People don't realize how important our scene is and how much we put into the music community of New York. It's sorta good and sorta bad. If we got a lot of attention, we would be done by now. Hardcore is worldwide now and we're still doing it and I say thanks to A7. Hilly definitely helped us out a lot by giving us the Sunday matinees. A lot of us fucked it up by fighting, myself included. But everyone talks about CB's, and it wasn't CB's that supported and founded NYHC, it was A7 and 171A.

TR: The other thing I've noticed from doing all these interviews is that everyone is like 'Oh we had The Misguided, The Undead and all that, and then Agnostic Front came around and it all changed'. Would you say some sort of torch was handed down at one point from those people to you guys and AF?

JG: I say the torch was handed down from The Stimulators and Harley. Harley is the forefather of NYHC, he was the first one. He was wearing Doc Martens before anyone knew what the fuck they were in New York. We were all still wearing MC boots and combat boots back then. Everyone can toot their own horn and all that, and that's fine. That's just pride…but I'll put it this way…Who's still doing it? You gotta give it up to Agnostic Front and Murphy's Law, because we still do it and never stopped doing it. My existence is a tribute to A7 and me carrying the torch and Vinnie carrying the torch and Roger carrying the torch and Harley still doing it, that's a tribute. I understand that some people got to go off and 'grow up' and start a family, but Roger has three kids and he's still a major part of the scene. I have no reason to go off and 'grow up' and start a family and a new life, this is my life.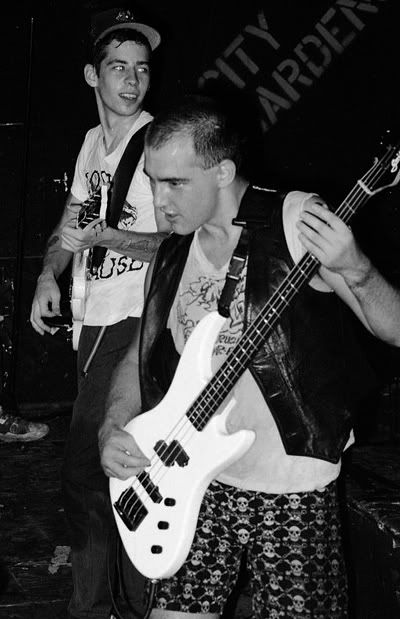 Jimmy on bass at City Gardens, Photo: Ken Salerno