Judge at The Ritz, NYC, alternate shot from this show ended up on the Revelation re-press of the "New York Crew" 7", Photo: Ted Liscinski

Ted Liscinski is a guy who may have flown under the radar to many, but in the late 80s he was snapping some great photos of the best HC bands of the day, his shots appearing in Thrasher, on records, and in tons of fanzines. When Tim and I started DCXX, he was one of the first guys we decided we wanted to get in touch with.

In the meantime, I discovered that my boss at work had actually gone to punk and hardcore shows in NJ in the late 80s and was from Hillsborough, NJ. This was especially shocking, as he is just the type of guy you would never guess had dabbled with anything from the underground. Our hardcore discussions are sporadic and never too deep, mostly because he self-admittedly followed fringe hardcore bands loosely, and stopped going to shows by 1990. Strangely enough though, he brought up the name Ted Liscinski as a childhood friend. Small world.

So with that, we finally got through to Ted, he hooked us up with some photos, and hopefully there will be more to come. For now, here's Ted's take on his time around the HC scene. Another great who was behind the lens... -Gordo DCXX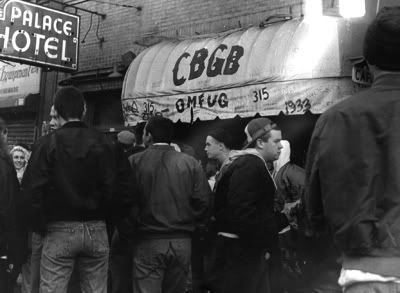 The CB's crowd at a Sunday matinee, Photo: Ted Liscinski

I suppose my first real exposure into the world of hardcore would have been with my first show I ever saw. The Dead Kennedy's last tour ever was for the album "Frankenchrist," and at the time I was OBSESSED with them. A bunch of friends and I piled into a van and headed to City Gardens in Trenton on a Sunday night in October to see our first "punk" show. My friend's dad, Ken Salerno, was there taking pictures. Looked like a good idea to me, and made for a good excuse to meet the bands. So, after a few more shows, I bought my first camera for $50 from a friend. I would bring that camera to every show I could. Soon, I was getting rides with Ken and we'd shoot together. On school days, I would learn to develop my film and make prints in the art studio at Rutgers Prep, where I went to school. If the results were ok, I'd simply send the prints off to the bands or the labels they were on. Sometimes the film would get ruined during processing. I was learning and made some heartbreaking mistakes in the beginning, but I kept on it. It was fun.

A driver's license provided the freedom to go all over to see some great shows. I started venturing into NYC for a few CBGB hardcore matinees. By this time I was into all sorts of hardcore, from NYHC style tough guy bands (Cro Mags, AF) to DC crybaby hardcore bands (Dag Nasty, Embrace), pop punk (Descendents) and anything really different or weird. I can remember a City Gardens show with Uniform Choice, 7 Seconds and Token Entry being especially exciting. In addition to all the punk I was into, I was listening to all the new rock bands coming up that were interesting (Jane's Addiction, RHCP, GnR). This was about '88-'89.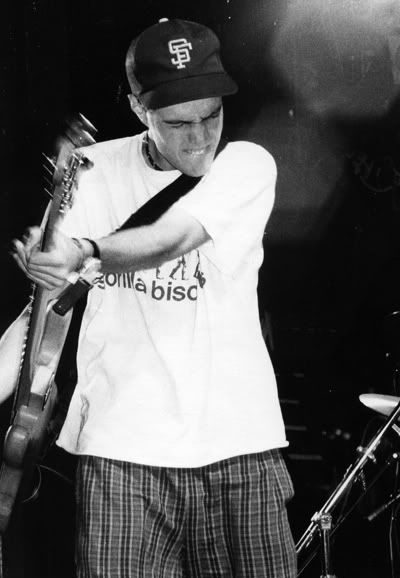 Arthur with Gorilla Biscuits at The Ritz, NYC, Photo: Ted Liscinski

At about this time, most of the bands in the area started aping the NYHC style. Soon, teenage boys from upstate, Connecticut and NJ were trying to be the Cro-Mags. There was a lot more fighting. Everyone was wearing baggy jeans. The bands were all similar in style. Sadly, there were less and less girls at shows. Hardcore became a homogenous, gym locker sausage hang. And the music was getting worse.

All of these thoughts stayed with me after seeing a CBGB matinee with Soul Side, Icemen, and Krakdown. I walked down Bowery after the show, disappointed with the crowd's reaction to Soul Side (silence) compared to that of the other bands. Once again it was a room full of sweaty, shirtless dudes beating the shit out of each other. It had very little to do with music, art, or progressive thought. It was, however, kind of stangely homoerotic, in an unconcious way...all those dudes...

I started edging away from the scene after that. There were some great bands that came a little later (Bouncing Souls, Deadguy) but as I got older I was discovering the millions of other styles of music in the world, and whatever residual teen angst and anguish was fading fast...I was getting laid.

That's my story.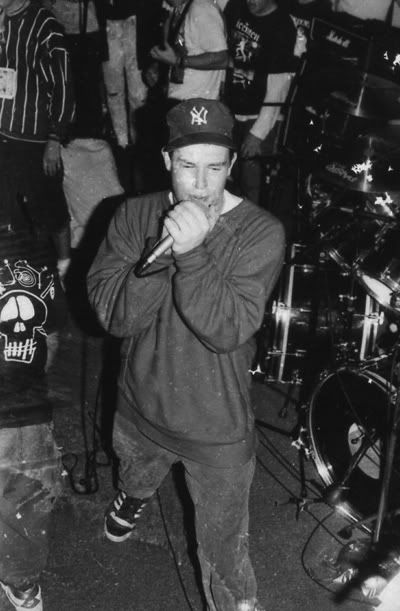 Vision at Scott Hall, Rutgers University, NJ, Photo: Ted Liscinski