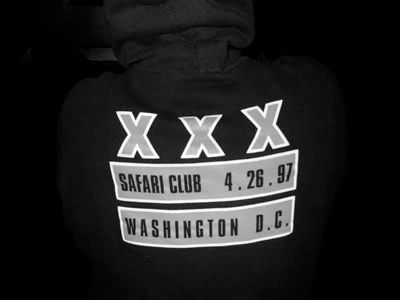 Thinking back, the first time I remember hearing Better Than A Thousand was from Matt Smith (Contention Fanzine / Rain On The Parade). I was hanging out at his apartment in Philadelphia and he was helping me design a flyer for a show Hands Tied was going to be playing with Shelter in New Jersey. At that point, the cassette that I heard was a rough, early mix and probably only about 3 or 4 songs. Matt was friends with a few of the D.C. kids that did back ups on the record, so I'm pretty sure that's where he got the tape. We listened to the tape at his apartment, but it was hard to really get a legitimate feel for what I was hearing. We were so focused on the flyer, that I just asked for a copy of the tape and figured I'd really lay into on the ride home.

That half hour drive home from Philadelphia to Trenton, I must have listened to those few songs over and over again at least ten times. Hearing Cappo once again scream phrases like, "What the fuck?" just seemed so damn cool. I kept wondering if what I was hearing was a possible second coming of Youth Of Today. I mean, it was Ray Cappo fronting a fast straight edge hardcore band and in my eyes it's hard pressed to find anything much cooler than that.

Jumping ahead a little bit, my band at the time, Hands Tied, were asked to play what was going to be the first Better Than A Thousand show. April 26th, 1997 at the Safari Club in Washington D.C.. Damnation ad, Floorpunch, Hands Tied, Better Than A Thousand and Envy, for that time, that was one heavy hitting show. I was always psyched to play the Safari club. With the club's rich history and all the great Mouthpiece shows I remember playing there, it was by all means, one of the best places to play. The D.C. crowd was always super warm, welcoming and enthusiastic and really made Mouthpiece feel like D.C. was our home away from home.

As this show grew closer, the excitement began to grow exponentially. Few shows do I recall the excitement level being raised to this level and the main reason was based around this being the first Better Than A Thousand show. You have to realize, in 1997, there was this huge resurgence of fast straight edge hardcore that was coming back into the picture. The metal drenched stomp core of the mid 90's was becoming second fiddle to bands that sounded more like Youth Of Today and less like Pantera. With Ray Cappo stepping outside of his Shelter persona and fronting a band like this again, people were PSYCHED.




Pulling up to this show, I'll never forget hearing about the frenzy that had broken out when Better Than A Thousand pulled out their t-shirts to sell. They had printed up a limited amount of shirts for this specific show to celebrate it being their first. Assuming they were probably selling the shirts for $7 or $8, word was some people that missed out, were offering $20 or more to those that did get a shirt. Pretty crazy to think these were brand new shirts for a band that had no record out and had yet to even play a show.

Once Better Than A Thousand hit the stage, all eyes were on Cappo. What was his stage presence going to be like? What was his voice going to sound like? What kind of between song banter would he be spouting off? No one really knew. For me personally, because the tape I had only had 3 or 4 songs, for the most part of their set I spent it on stage watching intently and taking it all in. Then for the final song of their set, a surprise was dropped on all of us... "Take A Stand".

I'll let the video tell the rest of the story. Big thanks to Larry Ransom for yet another original and priceless contribution. Also I'd like to dedicate this entry to all the D.C. hardcore kids that consistently rolled out to all those Safari Club shows and made them ones to remember. You know who you are. -Tim DCXX


BETTER THAN A THOUSAND - First Show from Larry Ransom on Vimeo.