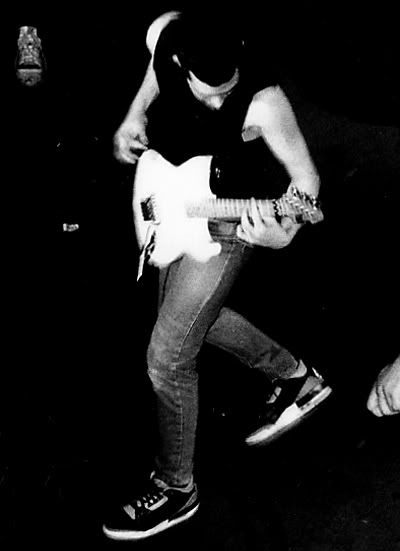 Marco of The Icemen at The Ritz, NYC, Photo: Boiling Point

Well, it's a new release of their earliest material, and it is great. Marco tells us about this release, which dropped on Halloween and was put together in killer fashion by Reaper Records. Be sure to pick it up... -Gordo DCXX

What are these songs and where exactly did they come from?

These are two of our earliest songs, written in 1984. "The Iceman" was our first recording ever and was from the first of our sessions at Nola Penthouse Recording studios in NYC. Noah began working as an intern there while he was still in high school and quickly impressed the owners with his talent and in no time he was working as engineer there. Absolutely amazing old school studio, large live room with wood floors, high ceilings, and a ton of great equipment. A wealth of history, even Sinatra recorded there. Noah had earned their trust and often he was left in charge of sessions and to lock up when done. So it was that he started bringing us in late night to record The Icemen. Through 1984-1986 we recorded multiple sessions there and were frequently in there mixing and overdubbing.

As mentioned "The Iceman" was our first recording there and the tracks included vocal takes by both John Gamble and I. "It'll Be Your Grave" was from a later Nola session in 1985 which also included the first recordings of "R.I.P.", "Cheap Demands", and "No Guts No Glory". The No Guts No Glory version was actually used on the 1991 R.I.P. EP with vocal overdubs by Carl. By mid 1985 John Gamble had been dismissed from our band and so all vocal tracks from the Nola Sessions were Marco.

What gave you the idea to release this now and how did everything come together?

That's a bit of a long and winding road. Noah came to me with the idea of mastering the four songs from the R.I.P. EP in spring 2007. Though mixed and released in 1991 the tracks were never mastered and so sound quality could certainly be improved. This idea led to discussions about all our recordings, most of which have never been released. We decided to start by releasing our first recording "The Iceman" which had originally been intended as a single all those years ago.

The next step for us was to take the tapes - yes TAPES - and have them transferred from analog to digital so we could begin working with them in Pro Tools. Most of the tapes were 2" reels with a few 1" as well and they ranged from 24 to 15 years old. The age of the tapes was a potential problem and transferring them was a risky proposition, no guarantee that they would play properly and not degrade. It wasn't until December of 2007 that we had Alan Douche at West West Side Music handle the transfers and we feel lucky it all worked out as well as it did.

Having our tracks digital we moved forward with Noah mixing the songs, then back out to WWS where Kim Rosen mastered the tracks and we had our audio ready for release.

All good but how and with whom would we release with? Patrick Kitzel from Reaper Records had been in touch with me for about a year at that point and had made clear he would really like to do something with us. I had pondered using other labels but never pursued that to any extent, Patrick and I hit it off and we just felt comfortable working with him. Great guy and it was wild to hear of his appreciation for The Icemen from all the way back when he had his band True Blue in Germany. Having someone with this kind of enthusiasm for The Icemen and an understanding of our history made working with him an easy choice, really was just destiny.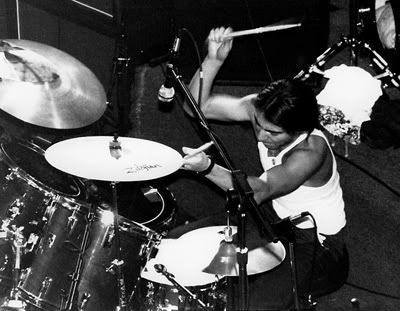 Mackie destorys with The Icemen at The Ritz, NYC, Photo: Boiling Point

Tell us about the layout and artwork...

Once Reaper was confirmed we still needed to come up with design for the record, since these were our earliest recordings we wanted to give it a vintage Icemen feel.

I knew I wanted to use the earliest rendition of The Icemen "Ghost", the simple stencil like version was the first I had made way back in the day. That OG Ghost was the first incarnation and in years that followed was refined and drawn with more detail, that later version was used on one of our first t-shirts.

I kept the rest of the design simple old style and we were ready to roll.

Can we expect any other unreleased Icemen material seeing the light of day?

Certainly possible now that we have all our recordings transferred and archived digitally. There are obstacles, many of the songs are in need of vocal and guitar overdubs due to unfinished states or unusable tracks, this would of course take much time and dedication.

A big challenge would be the vocals question. Would we use the existing vocals on the Nola recordings 1984 - 1986 (Marco)? Doubtful. The later sessions from 1990 - 1993 vary between no vocal tracks to Marco, Carl and even Gary Lee. Most of these vocal takes are unacceptable. That brings us to the question of who would do the new vocal tracking, and that's a difficult question, one that we are currently unable to answer.

Any other Icemen news in the future?

At the moment we're focused on doing the best we can to make this release as successful as possible. If the response to The Icemen's resurgence continues to be favorable as it has then expect to see more news in the future!