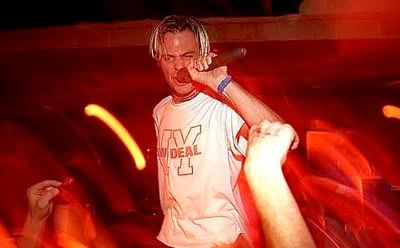 Insight at The Speedway Cafe, SLC Utah, 1990, Photo: Trent Nelson


Here's part II and the final entry of our interview with Insight frontman Mark. We'd like to thank Mark for taking the time to answer our questions and also thank Trent Nelson for the use of his incredible photography. If you haven't heard Insight, do yourself a favor and track down their 7", chances are that you won't be disappointed. Also, if you happen to have a copy of the Insight demo, get in touch, we'd love to hear it. -Tim DCXX


What SLC shows stick out?


Our first show...it was so bad but so much fun because all of our friends were there supporting us. Other shows would have to be all the Painted Word and Speedway shows. The shows we played with Youth Of Today, Gorilla Biscuits, Better Way, Cro Mags, Fugazi, and Brotherhood just to name a few.

How did that scene develop?


I'm not sure I know. There was always a straight edge scene with a lot of the skaters I knew back in high school and all the punk shows. I wasn't always straight edge. It wasn't until Insight got going that I was straight edge. I was and still am more into Animal Rights! In fact Jamie never really was straight edge. We should have made it more about the music sometimes than some of the content that came with it. I mean I was blessed to have played with very talented musicians for our age. I loved that we developed into a band that incorporated metal, punk and hardcore. Which was all my favorite influences. I'd like to think we had a hand in starting the straight edge movement in SLC but really I think we were just a hardcore band and that scene was something kids could get into and have a great time. There never really seemed to have fights or any negative energy and that's what made it what it was.


Insight at Reptile Records, SLC Utah, 1989, Photo: Trent Nelson

Thoughts on the straight edge gang reputation SLC has now?


I moved away from Salt Lake after Insight broke up. I moved back for a year and was getting shit from some of them. I've only heard things but never really saw it. It's quite stupid and very funny really. I'm not really sure why they're so hateful especially in Salt Lake...oh wait a minute, it's Salt Lake. They're bored and trying to be tough. Drop them in Cleveland and see what happens.

Did you see anything like that coming?


No but again I moved away. It definitely defeats the purpose of that movement, doesn't it?

Dealing with Tony Victory - a lot of people seem to have a story.
You are easily the best release on the label. Any good stories?

Well I never would have expected that label to go where it has gone. I'd be more supportive if we didn't get screwed by him! I tried years ago to do something about it but in typical Tony fashion he just gave me his Bullshit! I'm sure if we wanted to get a lawyer we might have something but I don't have the money or the power that the label has. He knows he's a weasel but he's rich I'm not so you may not agree with him but he did manage to keep an underground hardcore label and turn it into a major label.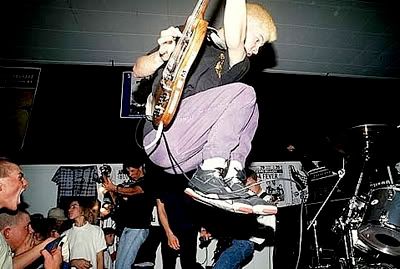 Insight at Reptile Records, SLC Utah, 1989, Photo: Trent Nelson

Is it funny to you to see what that label is today?


I don't even know who's on that label. The bands I have heard have just sucked! Not my thing.


How, why, and when exactly did Insight split?


Well things started falling apart when Doug told us he wasn't able to leave on what became one of our last tours. So we had to get a replacement. We got Rob from Farside / Hard Stance but he couldn't do the whole tour. So when we got to the east coast Chuck Treece joined. That was strange. Though he was a very nice guy it was just a little to rock star for us. We also got equipment stolen in Connecticut. So morale was down and we decided to go home early. When we got back things were different. Some of us were starting other bands and really just growing apart. We went to California with Gentry (Iceburn) on guitar and Jeremy played bass if I remember right. After that we played a few more shows and called it quits. I don't remember exactly the date but it sucked. We were writing such cool dark heavy songs. I wish we could have or even still have released those songs!

Can we get a run down on where everyone went off to?

I did The Gimmicks in Seattle, we released 3 records on Estrus and toured. I then moved to LA and played with The Masons and toured Europe. Then I started Sweet Evil, we broke up, and now I'm just writing 2 different things.
Jeremy went on to do Jets to Brazil and now Cub Country.
Doug lives in New York now and has a band called The Dirty Pearls.
Chubba and Jamie have played with Iceburn and have done their reunion shows. Not sure if they have done anything else. I'm sure they have done other bands I just don't have the names of the bands.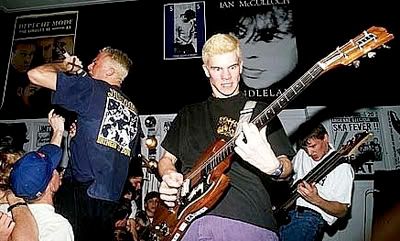 Insight at Reptile Records, SLC Utah, 1989, Photo: Trent Nelson

Where is everyone today?


I'm in Los Angeles, Jeremy, Jamie and Chubba are in Salt Lake and Doug is in New York.


What do you hear when you listen to Insight today?
Well I'm proud of it but I laugh at some of the lyrics. Like I said earlier I wish we would have recorded our later stuff. I dig all that!