When Tim came up with the Most Underrated California Straight Edge band poll, our choice was pretty clear. While each band mentioned certainly could always use some more acclaim, Pushed Aside was our easy answer. With only a demo release and a relatively short lifespan, this OC powerhouse made up for what it lacked in longevity and catalog quantity with a limited arsenal of raging tunes that made southern California appear less cheery (read: More New York-like) than some of the band's west coast contemporaries.

I could keep rambling about how great I think this band is, but I don't think I could do it as well as DCXX brother-in-arms, Tony Rettman, already has done for us. A fan from the get go, Tony sums up our thoughts on Pushed Aside and gives his own history of the band as well as anyone could. "World Of My Own" indeed...

-Gordo DCXX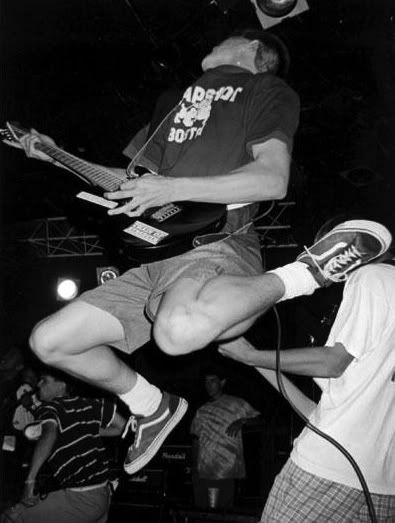 Pushed Aside at The Whiskey, 1989, Photo: Dave Sine

After seeing the results of the most underrated California Straight Edge band poll on here a few weeks ago, I have to say I'm more than a little disappointed that So Cal's Pushed Aside didn't squeak by somewhere higher in the race. Although I agree with Tim that all the bands involved in the poll were great, I always felt Pushed Aside really had something truly unique about them.
I forget how or why Tim and I got hold of their demo tape, but it was somewhere in the spring of 1989. I remember the graphics on the demo sticking out to me as being very subtle. Just the obligatory Edge lookin' dude striking something of a homey stance with all the facts and credits typed out with three X's underneath the info. It was quite a contrast from the typical graffiti clad demos that were making their way around the scene at that time. The live photos on the lyric sheet reminded me of the ones from the recently released Chain of Strength seven inch. I remember wondering if they were shot at the same place. The band certainly had the look down pat; Bold shirts, cut-off sweats, high-tops, etc. but once the tape hit the deck and the sound emanated out of the speakers, it was very apparent this wasn't your typical SoCal edge band.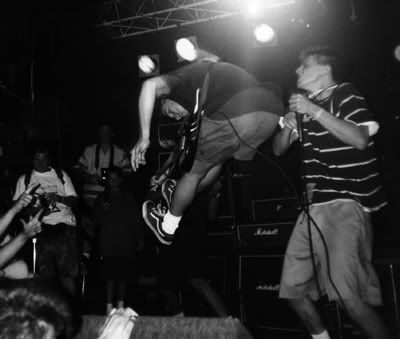 Pushed Aside at The Whiskey, 1989, Photo: Dave Sine
Although all the Straight Edge bands coming out California at that time were pretty good, they all seemed very stuck in playing in a paddle thrash manner that (I guess) was some sort of hybrid of Youth of Today and the earlier California Edge bands. Pushed Aside sounded like they had laid an early ear to some east coast bands of the time such as Raw Deal or Beyond and I believe them to be the first California band to have a distinctive Cro-Mags influence. But it wasn't like they were just simply biting the east coast style; they put their own spin on the proceedings to make it something that simply stuck out of the pack. Another thing that struck me was the lyrics. It was pretty common at the time to hear nothing but songs about friends, being straight edge, being friends and straight edge, etc. Vocalist Randy Johnson's lyrics of personal turmoil and observations of fucked personalities certainly stuck out from the 'You're not true!' variety of wordage to be found in the late eighties Edge scene. The track 'World of my Own' was the one that really sealed the deal for me. The song was just a furious assault on the senses complete with lyrics that I could actually relate to. It became a personal favorite and anthem for a short time.
I recall Tim and I doing a phone interview with Randy sometime in the summer of the same year. I remember him coming off as a pretty articulate guy with a very dry sense of humor that I appreciated. I became something of a phone pest to Randy over the next few months and learned from him there was a seven inch imminent on the recently established Nemesis label as well as a track on an upcoming seven inch compilation on a new label out of Chicago, confusingly named Which Way Records.
Pushed Aside at The Whiskey, 1989, Photo: Dave Sine
Sometime after I stopped annoying Randy on the telephone, I learned Pushed Aside had broken up and I remember being very bummed I would never get to check them out in a live setting. The seven inch never got recorded and the track they submitted to the 'Generation of Hope' compilation on Which Way was marred by a horrid recording. I just thought it was a lousy way for a great band with such a short lifespan to be remembered. A few years later, I met Randy out in California and he came off as a real wisenheimer that had some sorta way with the ladies. Through all my musical 'changes' and 'phases', I always kept a cassette copy of the Pushed Aside demo that I copied from Tim. I'd pop it in every once in awhile and marvel at how such a great band could be lost into the annals of Hardcore history.
Fast forward a few years later, and that old boy Davey Mandel at Indecision Records did the noble service of doing the demo up in a vinyl format for all the world to hear. Although I think the packaging is sorta lacking (Sorry, but that's just what I feel) it's great that the actual sound is out there for the non-nerdo Hardcore public to check out THEE MOST (Did I stutter?) underrated California Straight Edge band of all time. There…I said it.


Pushed Aside at The Country Club, 1989