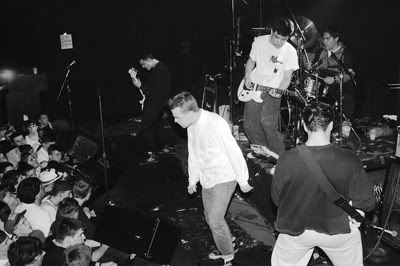 Outburst at City Gardens, Trenton NJ, Photo: Ken Salerno

We have been itching to bring you some Outburst material for quite some time now. Finally, Miles To Joe himself delivers with the first little chunk of what should be a pretty big interview in a bunch of segments. Here's a teaser to start moshing to...

-Gordo DCXX

All the original members of Outburst went to St. John's Prep in Astoria, Queens. George and I grew up on the same street and we discovered hardcore through our classmate and friend AJ (Novello, later from Leeway), who also lived on our street. George and I became good friends with Jay in our junior year. Jay was a skater & graffiti artist (writer) who also liked the hardcore that was out. By the start of senior year, the three of us became friendly with Chris & Brian. They hung out together a lot on their own and when we found out they were into hardcore, we started talking a lot about the NY scene.

By the end of senior year, we were talking about starting a band. George and Jay had been playing guitar and I had already been playing drums, but Chris was a beginner on the bass and Brian had never been a vocalist before. Like I said, AJ was our pal, so we saw Leeway taking flight before our eyes. Chris and Brian were friendly with Anthony (Token Entry, Raw Deal) and the guys in Gorilla Biscuits (Chris was from Jackson Heights). I guess we were all inspired by our friends, so we started jamming cover tunes in my garage.

I started out as a piano player, taking classical lessons in grade school. I used to compete in recitals, won medals, the whole thing. But I couldn't hack it at the next level - my skills at reading sheet music were always spotty. And when I got tired of figuring out Jump & Mr. Crowley and Billy Joel songs, I asked my folks for a loan so I could pick up a drum kit. We had two drummers on our block: Saso (original drummer for Leeway) and Fodey, who was more of a technical Neil Peart-style metal drummer. We used to sit in on the basement Leeway practices and I would watch Saso combine speed and tasty fills, so I learned a lot from him...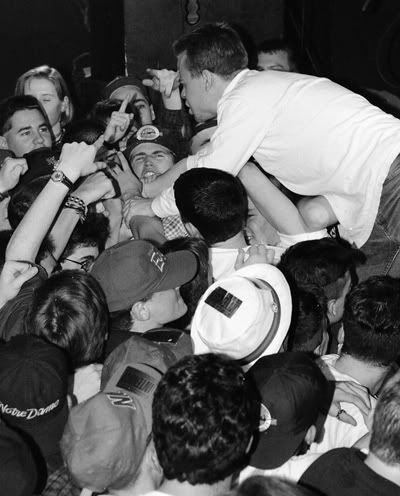 Outburst at City Gardens, Trenton NJ, Photo: Ken Salerno

What type of musical background was there growing up in Queens for you guys?

Hanging out on 14th street was like hanging out on "metal street". Everyone was into the usual suspects like Iron Maiden, Judas Priest, Black Sabbath, Dio, Scorpions, etc. AJ and Tony (Show of Force) were the ones who introduced us to the underground thrash stuff because they used to go record shopping and bring it back, put it on cassette and play it on the radio at Astoria Park. So, if AJ came home with Kill 'Em All, we'd all hear it that night on someone's stoop. If Tony came home with A Fistful of Metal, same thing. Back at school, Jay would share the Nuclear Assault demo, or Feel The Fire by Overkill. I was always a big Slayer fan, especially when Reign in Blood dropped.

On the hardcore side, we all loved the locals: Crumbsuckers, Cro-Mags, Murphy's Law, Ludichrist, Agnostic Front. We'd all bum off of AJ's huge punk/hardcore record collection to dub the out of town stuff like Suicidal Tendencies, Zero Boys, Dead Kennedys, Black Flag, 7 Seconds, Circle Jerks, Bad Brains, DRI, etc.

Chris, Jay and I were big hip hop fans too. Run DMC, LL, Eric B. & Rakim, Beastie Boys…NYC had two great scenes growing at the same time.

What bands/records were your biggest inspirations and how did they get incorporated into the Outburst sound?

Our high school classmate Carlos introduced us to American Paranoia by Attitude Adjustment and by the time we started the jams in my garage, we would cover a bunch of songs off of that record. Structurally, Attitude Adjustment would put mosh parts at the beginning and end of their songs instead of the middle, which we thought was cool & different…much like The Hardway and No Choice. George and Jay were big fans of Animosity by Corrosion of Conformity. Of course we all loved Age of Quarrel by the Cro Mags. The whole shouting-instead-of-singing vocals of Bloodclot definitely influenced Brian. George wrote a good part of the riffs, and he loved Black Sabbath riffs to death, but I wouldn't say that the sound was influenced all that much by Sabbath.