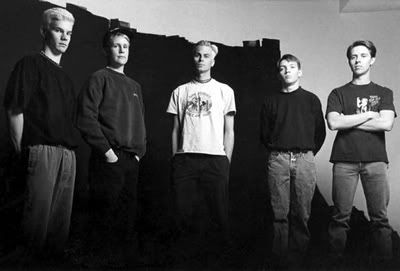 Insight, Soul Force Records Promo Photo


Insight, hailing from Salt Lake City, Utah, were one of those great straight edge hardcore bands that popped up in the late 80's and disappeared way too soon. Their "Standing Strong" 7", released on Soul Force Records out of Scottsdale, Arizona was a heavy hitting, smash you in your face, Negative Approach gone straight edge vegetarian, piece of vinyl. Their later material that for the most part, went unreleased, was even heavier and darker yet, some songs sounding like out takes for "Tied Down". I for one ate it up and in 1989 it was exactly what I wanted to hear.
The Summer of '89 brought Insight out east with California's, Chain Of Strength. Both bands ended up crashing at my friends house for the weekend, playing on our back yard ramp, hanging out and then eventually making their way to City Gardens for their show, along with Up Front, opening for Social Distortion.


After the Chain / Insight tour, I intermittently kept in touch with Insight's vocalist Mark through letters, but eventually our contact faded. Up until recently when I came across Mark online, I hadn't talked to him in at least 18 years. We briefly caught up and I then hit him up with the idea of doing this interview, of course he happily obliged.


This will be part one of a two part interview, so stay tuned. "You need to step back and give me some air!" -Tim DCXX
How did you get into hardcore and specifically straight edge HC?


It all started when I was 11 or 12 and pissed that Kiss was over in my eyes. The Stones I still dug because Tattoo You (which I love and there last good record) wasn't released yet. Zeppelin was gone and things were getting strange with bands. So I read a lot of music magazines and found The Ramones, The Pretenders, Sex Pistols, The Plasmatics, Bowie, The Sweet, Motorhead, Gary Numan and numerous power pop "new wave" bands. That was it, I started changing what I was listening to. I had already seen several little local new wave punk bands my sophmore year in high school.


So fast forward to 1983 or '84 can't remember but I just know I was way into punk rock. I was singing for a very brief time with a band called Mutual Hatred. This was around '83 and I saw my "first real out of town punk band," Black Flag! That was that, I was blown away. I started Censored Reality. I first just played guitar. We lost our drummer and the singer moved to the drums and I started singing and playing guitar. During this time not only was I playing with great bands (with Censored Reality), I was seeing amazing shows. We broke up while I was a senior.


After I graduated I moved to Los Angeles for a while. When I moved backed to Salt Lake I met Jeremy at a COC show. He had a band called Past Tense and needed a guitar player and I think they wanted me to sing as well. I remember they had a show coming up and I wasn't able to get all the songs down. So we decided it was best I just sing at that show and I just stuck to that. I remember seeing Youth Of Today on their first tour out west (with Ritchie on guitar). Jeremy and I were blown away and I believe that started changing our style in the way we were writing. Soon, Past Tense split up and Insight was born.


What was the mid 80s scene like pre-Insight?
That was a great time for me as far as music goes. I saw so many great bands and the scene was young fresh and inspiring. Believe it or not Salt Lake had an amazing punk scene thanks to Raunch Records. They turned everyone on to great music as well as putting on shows. Brad (owner of Raunch) had an amazing radio show as well. So if you were into punk you were not starved for discovering new bands or seeing all bands touring.


What was the line up of Insight?


Jeremy Chatelain- Guitar

Chad "Chubba" Smith - Drums

Jamie Holder - Lead Guitar

Doug Wright - Bass

Mark - Vocals


What bands that came through there on tour left a lasting impression?


Black Flag, Blast!, COC, Underdog, Youth Of Today, Samhain, The Necros, Metallica (with Cliff Burton), Battalion of Saints, Septic Death, Trouble, RKL, All (Dave Smalley), Decendents, BGK, Raw Power. Damn I saw so many bands in that time I think they all had a lasting impression


What do you think were the biggest influences on the Insight 7"?


NYC hardcore as well as a lot of metal crossover bands. I think we all had very similar bands we were into as a band but we also had a lot of different ones as individuals. It was so long ago that I can't remember what I was listening to during that recording.


Stories/memories from the STRENGTH tour summer 89?


I know that tour was our first real tour that was going to be long and very DYI. Ryan (Chain Of Strength) and I set up that tour. It's insane to think how we even pulled it off considering the internet was not around. So we were going to have both bands in one van! So that tour started with just Insight with Chris and Alex (Chain) along for the ride until the rest of the band (Chain) joined us. I think that was in Chicago? A lot of those shows were with Judge and Gorilla Biscuits. I remember having to tell the promoters that we would play for free just so we could play and get our name out.


We played some amazing shows. At one point we had 11 people in our van. I guess by the time we got back east things started going bad as far as our van goes. We overheated on the freeway from Philly to Jersey. We called a tow truck but by the time he got there we got the van started. He still wanted us to pay him! We said no way but he insisted and was going to use what seemed like force. So we all jumped in the van and took off with him right by the window. It was classic but since we didn't let the engine cool down enough we blew a rod. So that was that with our van.


We had a show in Jersey at a house with a skate ramp in the back. I believe that's where we met you Tim...right? (Ed. note, yes it was.) Well to make things worse, some of our equipment was stolen as well. So we got hooked up with a Uhaul and towed the van. We continued with some of the tour but we decided to go back home because it was costing too much to continue. I think for our first real tour it was quite an experience and I think we made a name for ourselves.


Other memorable road trips/tours?


All of our road trips were memorable. All the bands we played with and people we met were some of the best times! Seriously there are so many I wish we were all present to share because I don't think I could justify all the good times we had.