Joey with an invert at Terri's ramp 1986, Photo courtesy of: Joey Vela

After Breakaway broke up in the late 80s, I think it was '89, I took a couple years off before starting a new band. Then I started up Second Coming and continued doing that band from around 1991 through 2003. We played one last show, the Ernie Cortez Memorial Show back in 2005.

Throughout the 90s, I also sang in 2 different Dag Nasty type bands while also doing Second Coming, but I never did any shows or anything with those bands. The last band I was in, I think we started it back in 2006. I was really stoked on it, but we all kind of got busy with family and other things and it got put on hold.

Years later now...I don't go to shows as often as I used to, but still love the music, and still get stoked when I come across a new band or a new song that reminds me of why I got into hardcore in the first place. I miss playing shows and being in a band, more so for the love of music and the outlet it provided for so long, but I don't really miss the scene politics and bullshit that comes along with it. Having been around the punk/hardcore scene for almost 30 years, it's something that is just part of you, and I can't imagine it not being part of my life in some way or another. Music and skateboarding have been the biggest influences in my life and both have helped define who I am as a person.

As far as what I've been up to and what's going on in my life now... I married my best friend a little over 10 years ago. We have 2 kick ass kids that are our entire world. I still live in Northern California and I am lucky enough to make a living doing graphic design and artwork. Aside from family and art, I play ice hockey and spend most of my free time skateboarding as much as possible, which is never enough.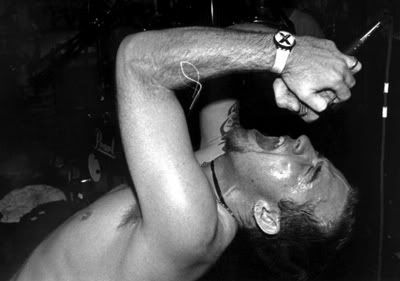 Joey with Second Coming, Photo: Trent Nelson

If anyone is interested in checking out Second Coming, they can download the music here:

Second Coming - Demo
http://www.mediafire.com/?b8lr81ce0d422up

Second Coming - Wake 7"
http://www.mediafire.com/?5zkvov8hcr0c5vo

Second Coming - In Denial CD
http://www.mediafire.com/?t0w0sgi8cid2kxi

Second Coming - 4 Song Final Demo
http://www.mediafire.com/?n7e7muflndsblj4



Joey with an invert in 2011, Photo courtesy of: Joey Vela