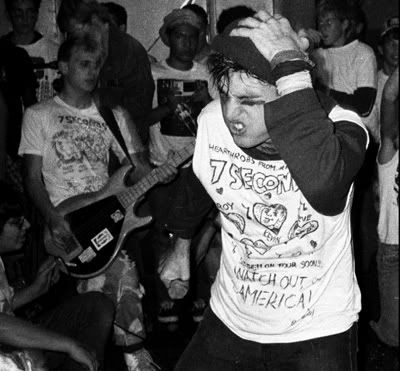 Kevin Seconds and Steve Youth at the Sun Valley Sportsman's Hall in 1984, Photo: Joe Henderson

Who is a hardcore band you have seen/played with over the last few years that you really dug, and why?

How about in the last 10 years? OFF!, Champion, Kill Your Idols, Praise, and a young band we played with last summer called the Cro-Mags. Ever hear of them? I think they're going places.

Is there a year in the past that jumps out to you in 7Seconds history as being "THE Year?" If so, why that year?

1984 was pretty huge for us. Our first album was release internationally and we went on our first full-blown North American tour. Since then, there are have been many more "THE" years but '84 was pretty epic.




Of all your non-7Seconds music projects, which one has been your favorite and why?

Solo for sure. I enjoy it immensely. It allows me to play anywhere at anytime and I don't have a ton of gear to tote around. I also loved playing with my wife Allyson in our old band Go National a few years back.

Glenn Danzig, Henry, and Ian. How would you characterize your relationship (if any) with each in 2011?

None. Pleasant and mutually respectful. Loving and solid.



Steve Youth and Kevin with 7 Seconds at the VFW in Watertown, MA, September 1985, Photo: Joe Henderson

Can you remember the first time you put black under your eyes and why?

Not the exact time but it had to be sometime in late 1980. In the early days, I thought it would be cool if Reno punks had a certain identifiable trait and I started putting the black under my eyes to sort of represent Skeeno. It caught on for a couple of years and then died out.

Do you ever see yourself not playing music in a public capacity?

Not really. I love playing for people. It might be an ego-driven thing but honestly, I just love it so much and feel wrong when I'm not out doing it. I'll do it for as long as I can.

If you were stuck on a desert island and could only bring one record with you to listen to, what would it be?

The Clash 'Give 'Em Enough Rope.'



Kevin with 7 Seconds at Abe's Steakhouse, Philadelphia, PA, October 1984, Photo: Mark Pingitore