4 Walls Falling frontman Taylor Steele is among the small few who can say they actually saw Minor Threat. So who better to wrap up our poll results and share some great memories? Thanks Taylor. -Gordo DCXX

To make a long story short, Minor Threat has had a bigger influence on me than probably any other band, and they have spoken to me on a deeper level than any band/musician. I know, you have heard that 100 times from 100 different people, so here is where the short story gets a little longer...

It was May of 1983 and I was going to see my favorite band play. Almost two years prior I had heard my first hardcore punk record, Black Flag's Damaged. I was immediately drawn in by its aggression, anger, power and raw energy. It was something I had never experienced in music and I wanted even more. So any time I could pull the funds together I would head down to the local Indy record store and buy any random HC/Punk record or fanzine that I could find. In one of these fanzines I read about something called "straight edge." Right off the bat it appealed to me. As a new "convert" to HC/Punk I was questioning every social norm. I was thinking for myself. So I thought, I don't smoke, I drink, but don't really like it, so why do any of that stuff. Obviously I decided that I would become straight edge.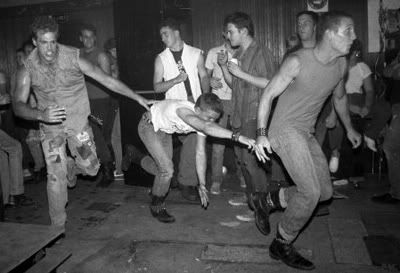 Taylor in the middle, skanking it up at Bennys for the Minor Threat, White Cross, Judicial Fear show, 6/9/1983

Minor Threat were of course the "big wigs" of this movement so naturally I needed to hear them. The first thing I heard was their contribution to the Flex Your Head comp, then the two early seven inches. With each song they were becoming my favorite band. Then in April of '83 Out Of Step came out. To say it blew me away is an understatement. Minor Threat had now become my favorite band. They spoke to me more than any band/musician ever had. It was way beyond music, it was a holistic experience for a 17 year old who was just beggining to discover who he was inside as well as a subculture that would change his life forever. Yep, Minor Threat was the band and the Out Of Step lp was the theme music for my existence.

So there I was in May of 1983 going to see my favorite band Minor Threat play. It was a first for me(getting to see my favorite band play) and would prove to be a last. It was a week night, I was in high school, and it did not start until 9pm, so just getting to go was a story in and of itself. This was only my second HC/Punk show, so I was literally a kid who was going to go to see my heroes in some small, grimy punk club.




I was in state of shock the entire evening, in awe of just being there. Minor Threat were great of course. Richmond had a small scene, but it felt like everyone, all 150 were there taking part in the fun. Kids with liberty spikes and combat boots, kids with crew cuts and chucks, skate punks, Brit punks, edge kids. That's how it was, a different time I guess. It was mayhem and everything I had hoped for. It was so mind blowing that another great band, DOA, played after them and I don't remember even seeing them. What a night.

It's 2011 now. I'm not that 17 year old kid anymore, but Minor Threat and Out Of Step still play an important role in who I am, still am. It follows me. - Taylor Steele

Minor Threat - Out Of Step LP - 187
Minor Threat - 1st EP - 164
Minor Threat - In My Eyes EP - 75
Minor Threat - Salad Days EP - 40



The Taylor mosh in Richmond, VA, Photo: Thurston Howes