Daniel, Espen and Peter with For Pete's Sake, Photo: Ane PMA

Ian MacKaye of Embrace once mocked the word and concept "emocore", suggesting it was a stupid pleonasm of sorts, as hardcore is emotional music to begin with. While I wholeheartedly agree with MacKaye I feel there's room to differentiate––meaning there are experiences of hardcore that can be more emotional than others, and indeed, some of these experiences of hardcore are more than just experiences. They can, because of their sheer emotionality, probably be dubbed events in the philosophical sense of the word. They open up possible futures. One such event was undoubtedly Youth of Today's 1989 European tour as it touched and impacted so many people's lives. Including mine. The seminal high energy hardcore act from New York City played Oslo a cold winter's night of February the year 1989.

Where am I getting with this? Let me paraphrase my own introduction to a song we, that is the band For Pete's Sake, played last Friday: "22 years ago I went to see a band play in this city, at a place called Blitz. That band was YOUTH OF TODAY and that event, and that band changed my life. Then; 12 years ago, a band called Better Than A Thousand featuring the singer from Youth of Today, was playing in this city and this band here, we used to be called Sportswear, were supposed to play, and tour, together with Better Than A Thousand. But a lot of bad things happened and Sportswear never played. Not until tonight. So, I have been waiting 12 years to say the words I'm saying now and this next song goes out to a very special person and a very dear friend. 12 years ago him and me wrote the lyrics to this song walking around the streets of New York City. This person is Ray Cappo from Youth of Today and this song goes out to him because he changed my life. This song goes out to Youth of Today because they changed my life. And this song goes out to the people standing on stage here with me, For Pete's Sake, because these guys changed my life. This song is called 'The Power To Change'!"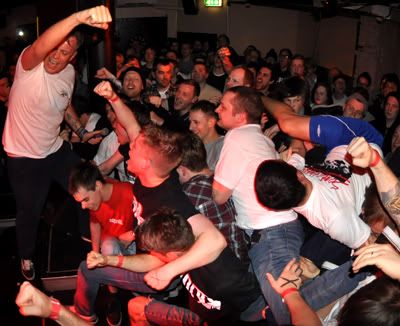 Peter and the Oslo crowd, Photo: Ane PMA

Needless to say this show was an emotional experience of enormous proportions to me. One thing was meeting what I would dare call a brother band of sorts, haven't seen Ray in at least 6 or 7 years, but it felt as if not a day had passed, not a beat skipped. And that was just how it felt watching Youth of Today play as well. The energy was relentless, sincere, uplifting, and something you could feel in your very soul. And I was so nervous as to how people would react to For Pete's Sake. 12 years after Sportswear broke up, in a bad way, all us guys were back on the stage together, and it really felt nothing like a nostalgia trip at all. But it felt as if this was more important now than ever. That very sense of urgency and hope is something we try to put across in a new song called "This Time", and the lyrics go "This Time – with so many regrets, This Time - don't know what to expect... This Time. Right Here. Right Now..."... The club exploded during our set and it almost brought me to tears. I could see old friends from all over Scandinavia and beyond stage diving, singing along, and smiling. New friends. Cappo stage diving. High fives from Porcell, Vinny Panza and Ken Olden. Were they feeling it? Was the amazing opening act from Sweden, Hårda Tider, feeling it? Was the crowd feeling it? Was there a special feeling in the air? I looked around me and saw what felt like a permanently breaking wave of kids washing over the stage, singing along to lyrics that still are so dear and important to me. We have the strength to stand against and to stand apart. It was probably the strongest hardcore experience in my entire life. Wait. It was.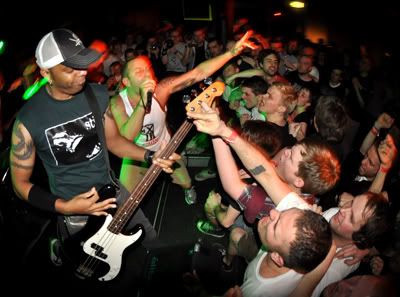 Ken and Ray with Youth Of Today in Oslo, Photo: Ane PMA

Then Youth of Today got on stage and the air was electric. I have always, through all these years, stated that Youth of Today is my all time favorite band, and it has probably gotten to the point that it can be a mechanical thing to say, almost like introducing yourself. "My name is Pete and I am a Youth of Today fan". But the sheer energy, sincerity, physicality, spiritual power, and, yes, urgency, of the 2011 Youth of Today grabbed me, and I think just about everybody else in the room, by the soul. Seeing Cappo kneeling down during "Choose To Be", reiterating the word "misery" and then emphatically stating that that's not the way he "choose to be" brought an unforgettable, old quote to my mind. The 17th century philosopher Nicolas Malebranche once wrote that "attentiveness is the natural prayer of the soul" and I was convinced that the same could be said about hardcore, given the right time, the right assembly, and the right circumstance. When hardcore is the way it was on a night like this––it simultaneously creates and demands a very special kind of attentiveness, and is indeed a natural prayer of the soul. And this was the time. The place. Cappo introduces "A Time We'll Remember" and he says it's not about living in the past. Or in the future. But right here. Right now. It is the now of the future, if you ask me.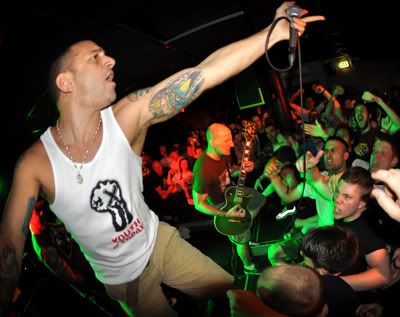 Ray and Porcell, Oslo Norway, Photo: Ane PMA

This was a hardcore event. I will feel its reverberations well into futurity.

The Youth of Today wanted me to do a song together with them and before the show we practiced New York Crew by Judge together. When I got up on stage and sung that song with Youth of Today I was 17 again and I realized that hardcore will indeed keep me young until I die.

Thank you everybody that came through, and I will see you soon. - Peter Amdam


For Pete's Sake (ex Sportswear) - Searching / It Runs Deep from Ola Waagen on Vimeo.
Youth of Today Live in Oslo from Ola Waagen on Vimeo.