Brooke Smith as Catherine Martin in The Silence of the Lambs

Coming off of our piece last week, here's more from NYHC fan/photographer-turned-actress Brooke Smith. Enjoy! -Gordo DCXX

Did you have a favorite band or bands to photograph? Who were the best to shoot and why?

My favorite now is Nick Cave and both of his bands; Nick Cave & The Bad Seeds and Grinderman. I saw Grinderman on tour this year and thought they were the best band around - and Nick as a frontman gives HR back in the day a run for his money in terms of energy and intensity. In the eighties I liked shooting the Bad Brains, Agnostic Front, Murphy's Law, The Cro-Mags, Underdog, Straight Ahead...but it's not the same scene now, so I don't shoot anymore. I used to feel like I was such a part of it all - from getting in to shows for free to having Big Charlie and Wrecking Machine look out for me while I was shooting...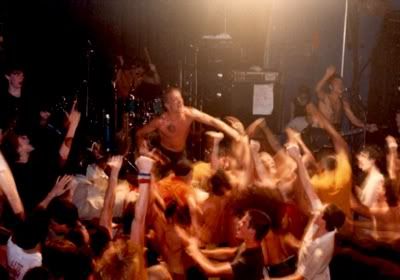 Cro-Mags drop the hammer, Photo: Brooke Smith

What clubs were the best to shoot in? Did you get hassled much at any place, or ever run into issues while shooting?

I never even thought about bringing a camera to a show back then. It was pre-9/11 and I was never hassled at all. Nowadays it's a whole different thing though, isn't it? I have started to direct music videos recently though...

Can you recall what records/fanzines your photos ended up in at the time? Did your photos circulate much or were they just something you kept to yourself and close friends?

My photos were not circulated at all - they were just for friends and family. They were made into a few flyers for shows back in the day.



The snake man, Jimmy Gestapo, Photo: Brooke Smith

At the time, did the NYHC scene feel like it was growing? Did it feel like that scene was having an influence on surrounding scenes and outsiders? Would you have guessed at the time that 25 years later people would still be very interested in what was going on then?

I guess it did feel like it was growing, which made me anxious at the time. Although I wanted bands that I liked to have a certain amount of success, I didn't want to lose them to the mainstream. Remember that feeling of loving a band and being pissed when everyone else discovered them? It was like they were taken away from you. I was annoyed when bands like Anthrax started showing up at CB's...one of the guys in that band went to my high school and I remembered him as being like other heavy metal kids in my school and making fun of me as being a freak. Then they showed up at CB's and even put a NYHC logo on one of their records. I also remember hearing Nirvana when they first made it big and thinking they sounded soft.

It still makes me smile when I see kids dressed now the exact same way that we were dressing 25 years ago.



Tommy Carroll, Straight Ahead at CBGB, Photo: Brooke Smith

When did you stop following what was going on in the NYHC scene? At some point did it stagnate to you? What did you take away from the things you saw and the people you spent time with?

I think I just got more and more interested in acting and pursuing an acting career. I have never been a very mainstream kind of person - I've always felt pretty independent in terms of what I like - whether it's music or movies or whatever. Maybe the time I spent on the hardcore scene just bolstered my belief that I should be true to myself and always try to be authentic.



Jimmy Gestapo up front for some CBGB matinee fun, Photo: Brooke Smith

How did your acting career start to take off? Did you remain in the city or head to Hollywood? What were your goals and aspirations as a young actress? Did you stay connected to the NYHC scene or the hardcore scene in general throughout the nineties?

I was in acting school in 1986-87. There was definitely an overlap between my hardcore years and when my acting career started. I did The Silence Of The Lambs first, in 1990. I remember the director, Jonathan Demme, asking me what music I listened to when I was driving and I really pushed him to use a Bad Brains song in that scene where my character is singing to a song in her car, but I was supposed to represent the average "American Girl," so we ended up with Tom Petty.

I stayed in NY until around 2007 - when I started commuting from NY to LA for work. When I got a steady job on a tv show in LA we ended up moving out here full time. We finally let go of our NY apartment in December of 2010. I'm a born and raised New Yorker, but there's something liberating about finally letting go of everything that being a New Yorker entails. It was such a huge part of my identity for so long.



John Joseph and Harley pose with the awards, Photo: Brooke Smith

In 2008, I took part in a panel at the Democratic National Convention. It was for the Open The Debates rally in opposition to the Commission on Presidential Debates exclusion of third party candidates from the nationally televised debates. I gave a speech at the rally and ended up being seated next to Jello Biafra. I also met Tom Morello in Ralph Nader's dressing room, and I remember thinking how ironic it was to be associated with them as a tv actress instead of as a hardcore kid.



A NYHC legend, Frenchie The Skin, Photo: Brooke Smith