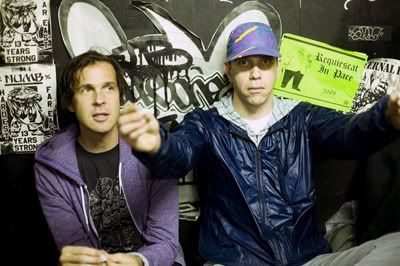 Walter and Alex Brown with a cold hard chill session, Photo: Wataru Umeda

The cool thing with a guy like Walter is that his resume is so strong and diverse that there's really endless questions you could throw his way. GB, YOT, Warzone, Supertouch (he played bass for a show!), Project X, Moondog, Quicksand, CIV, Rival Schools...to quote Bas Rutten, "I've been around." So here's 5 randoms with Walter, hopefully the start to a regular feature here. -Gordo DCXX

First, what are you up to most recently and what's in the near future?

I'm getting ready for a solo tour of Japan that starts next week. The day I get back I'm playing the Brooklyn Vegan show for CMJ with my band. Both my solo album and the Rival Schools album are finished and ready for release early next year. I'm also a Dad, which keeps me busy.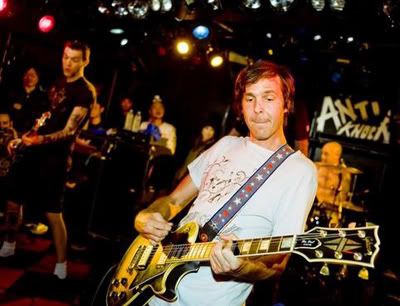 Wally with the resurrected Gorilla Biscuits, Photo: Wataru Umeda

A few years back the Moondog material got a re-issue of sorts. I recall reading some press where you detailed some recording memories for that project. What was the chemistry like with you, Tom, Luke, Howie, etc? Would there ever be a chance of some type of one-off Moondog show or is that to never resurface?

I finally caved on releasing the Moondog tape. I was never happy with it because of the vocals and too much time had passed to fix it. Anthology made it very easy for me to just get it out there as is, so I did that. I would like to have a vinyl or cd release with nice packaging but it's on the back burner for the moment. If I could get that together I would be into playing those songs around the time of the release. The recording was done with just Luke and I and we work great together. Tom, Howie and Armand played live and it was just fun really, very light.

Youth Of Today was one of, if not the first straight edge hardcore band to tour Europe. You would return in different bands many times afterwards. What were some shellshocking positives and negatives you recall from that first YOT tour in 1989?

The tour in Europe was absolutely great. There was adversity for sure, I think we were totally ripped off financially by the label and by the organizers of the tour for example. We didn't eat or sleep well. There were violent confrontations with punks on the left and skinheads on the right. We were often misunderstood. Lethal Aggression, the police raiding our squat in Copenhagen, Ray trying to convert us to Hare Krishna...none of that was bad. We played amazing everynight, I thought we were the best HC band going. When we broke up at the end of it I was sad but I thought it was also kind of poetic.



Civ, Alex and Walter on tour with GB, Photo: Wataru Umeda

Quicksand played a ton of shows for the better part of a decade. Is there one particular stretch of time where it really seemed more special than at other times?

I had the most fun when the Rev 7" came out, before I started playing guitar in the band. I don't think those were the best songs but I felt we were very focused and unique and I liked just running around screaming my head off without having to worry about my guitar being in tune. I started to play guitar to fill out our sound live but I've always had a soft spot for my lead singing days.

Start Today is regarded by thousands of fans as one of the greatest hardcore records of all time. If you were able to go back in time, would there be anything you would change to the whole record?

I'm totally happy with Start Today, I wouldn't change a thing...more harmonica.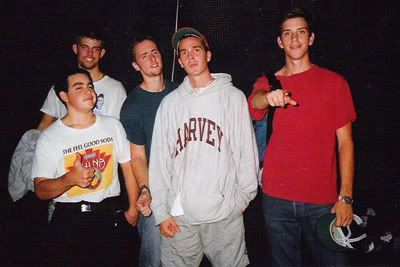 Old style GB with Mark "Helmet" Hayworth, Photo: Snagola