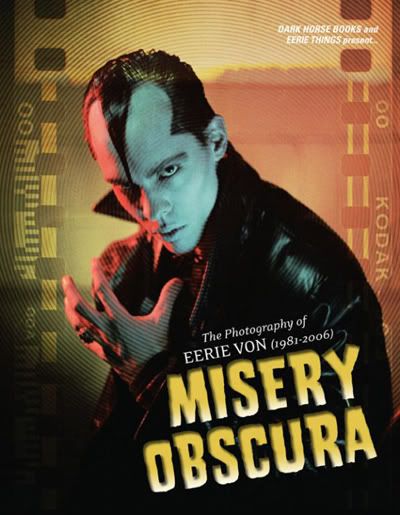 Wow, Eerie Von. I mean, Double Cross is not really any big deal, and this is a short little diddy, but I didn't think when Tim and I started doing this site we'd really have the opportunity to rap with a guy like Eerie Von. He has a book coming out called MISERY OBSCURA, and it looks INCREDIBLE. It's a great time for punk and hardcore books - and this is no tiny addition to the list. Can't wait for this to drop! -Gordo DCXX

Your photography has been of legendary status for decades. What was the main catalyst for the book?

I've wanted to put out a book for 20 years. The time was just right, it all fell into place.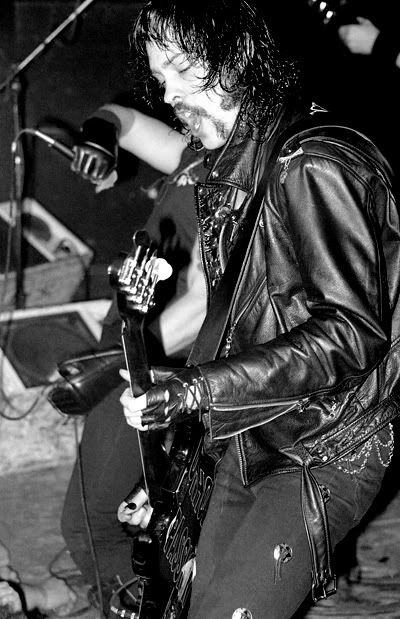 Eerie Von with Danzig at City Gardens, 1988, Photo: Ken Salerno

Tell us about the book - as its release is still news in most circles. What was your vision and how much creative control did you have? What did you want to convey?

I wanted to tell some stories, show the fans the pictures, and basically have something I could look at all in one package, so I didn't have to dig out the old scrap books, and stuff. I had some creative control. Not as much as I would have liked, but then again, you never do when you deal in the Real World.

What was off limits for putting in the book? Are there some photos you didn't want to share? Was it tough to decide what to put in and what to leave out?

I had no copromising shots, no porn, no scandalous stuff. I just put in the pictures I liked best, and ones I knew the guys would also enjoy seeing. I wanted the Fiends to really dig it too.



Eerie and Glenn at City Gardens, Photo: Ken Salerno

Of the various bands and eras you were a part of, what was the most fun to capture in the book? Was there anything you didn't feel like getting into or sharing?

It's all a big blur really. I wish I had shot Type O Negative, but I didn't bring the camera for some reason, on that tour. The two months with White Zombie, the month with Soundgarden, a month with Marilyn Manson, opening for Slayer, touring with Metallica...where do I begin?

What are some of your personal favorite photos that you have taken over the years? For instance - do you have a "favorite" Misfits shot(s)?

I have too many to mention here, but a bunch from the Misfits "Cave" shoot, a couple of great live shots of Glenn and Jerry, some good stuff of Glenn and Chuck on tour. I love the shot of Manson, and all his scars, with my ex-wife. They're all good.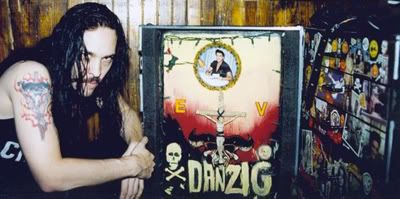 Vintage Danzig era Eerie Von, Photo: JSClarke

Will there be any type of events to accompany the book release? What's next for you?

I think I'll do some sort of Promotional Tour, signings maybe, performances, Q&A maybe, some TV. I'll do whatever I can to promote it. After that I plan to go out and tour in support of my new CD "Kinda Country."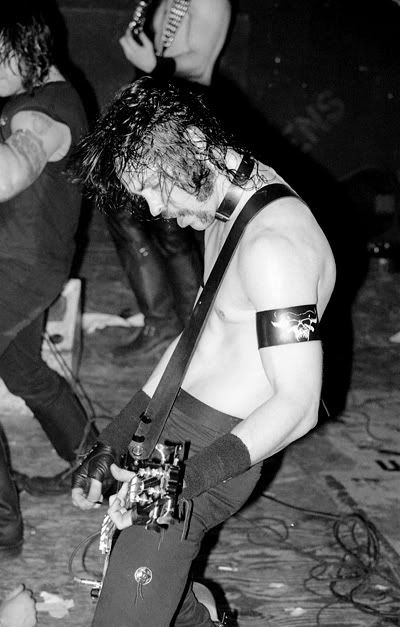 Eerie Von with Danzig at City Gardens, Photo: Ken Salerno