Mike, Mark and Jimmy with Death Before Dishonor at CBGB, NYC, Photo courtesy of: Mark Ryan

Jon Biv continues, this time getting into the very initial formation of Supertouch! -Gordo DCXX

I started jamming with neighborhood friends when I was 13. We would mainly just do covers of Metallica, Venom, Exodus, Iron Maiden, or at least try to. Some time around Summer 1984, a bass player I would hang and jam with told me about this band 'Death Before Dishonor'. He had met with some of the members and I think he tried out, and mentioned that they were looking for another guitar player.

Anyway, what happened was they ended up taking some other guitarist. Oh well. Eventually, I met Mark Ryan when school started up that September. He was trying to get DBD back working again, and trying to keep a stable line-up. At the time, it was just him, Mike (Judge) on drums, and the original guitarist Steve Yu. They weren't having much luck in keeping a bass player and second guitarist.

This went on until Spring 1985, when Mark asked me to try out on bass. I'm no bass player, but I was eager to try and learn. Mark gave me a DBD rehearsal tape and I set out to work on it and learn the whole thing. It must have been about 10 to 12 songs. Original versions of Am I Wrong, Conditioned, Deadlock, and Climbing Aboard. Death In The Family was on there too. Must dig this tape up someday. It's real good.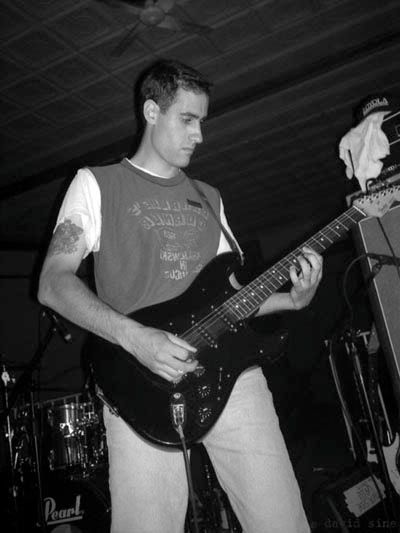 Biv with Supertouch in Mass, Photo: Dave Sine

So I tried out with Mark, Mike, Steve, and another guitarist named Rick. I did the best I could but was sacked 2 weeks later. Mark said they found someone better. Oh well. Like I said, I'm no bass player. Never was.

Some time in the Summer of '85, Mark calls me up. Tells me that him and Mike have booted everyone else out of the band and want to start fresh. They don't want to do a five-piece anymore - too metal. It's gonna be 4 piece only, and "we want you to play guitar." (!!!) I'm dead blown away. Death Before Dishonor wants me on guitar. I was 15 years old, and this was a big deal. To me, anyway.

So the new line-up for DBD was now Mark, Mike, Carl (bass), and myself. The first rehearsals were slow, but productive. I knew all the songs, but had to show them to Carl. And it's not because he was unskilled. Carl Serio, who played on 'The Way It Is' comp is an incredible musician. He was just so busy with other projects that he didn't have time to sit down with a tape and learn 10 songs. It was also difficult to get him to commit to a set practice time. He was a busy man.



Mark Ryan with Death Before Dishonor at CBGB, Photo courtesy of: Mark Ryan

This line-up did stick together and we played our first show, As DBD, in Albany in the Summer of '86. This was a Dave Stein show in a VFW hall, with No Outlet, DBD, Youth of Today, and 7 Seconds. A few months later we played CBGB with Youth Of Today.

This is the beginning of Supertouch. Even though we were called DBD, we just weren't the original Death Before Dishonor. I make no claim that I was in the original DBD. What I was involved in was called DBD because Mike and Mark wanted it that way, and they definitely had plans to change the name and move on. And they did.

To understand the beginning of Supertouch, you have to know what happened with Mark, Mike and Youth Of Today...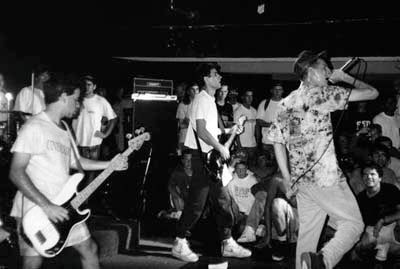 Supertouch at Fenders, August 1989, Photo: Dave Sine