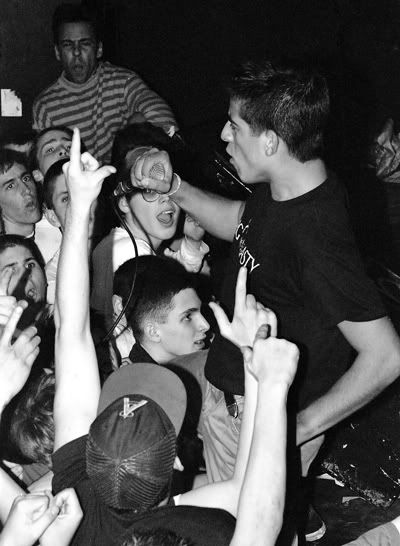 Curtis with Chain Of Strength at City Gardens, Trenton NJ, Photo: Ken Salerno

A week and a half back we brought you recording memories from Chain Of Strength guitarist, Paul "Frosty" Hertz, this time around we do the same, only with Chain's frontman, Curt Canales. Check out that answer to the third question.....WOW. -Tim DCXX

Which is your favorite Chain 7", "True Till Death" or "What Holds Us Apart" and why?

True Till Death (TTD). That record was a new beginning for all of us. We were all coming from other bands and were excited about this new project. TTD was our solution for what was missing in West Coast Hardcore. New York was putting out these great records and we were eager to contribute to this great era of music.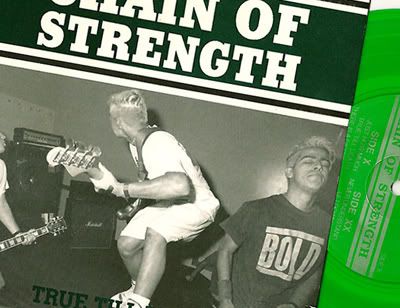 Any stand out memories from recording the "True Till Death" 7"?

Nothing really stands out as much as the emotions I was feeling at the time. I was extremely nervous when recording this record. It wasn't my first time in a recording studio, but I had this nervous energy that I hadn't felt before. Six months of practice all came down to a couple of hours in the studio, and it was pressure at its worst. Vocals are always difficult because you're the final piece of the puzzle, so you better get it right! I was never really satisfied with my vocals on TTD but I still love that record.

Any stand out memories from recording the "What Holds Us Apart" 7"?

My favorite memory from WHUA was the trip to the recording studio. We had NO lyrics for "Through These Eyes." We had never rehearsed it (with vocals) so we had to do it all while we were driving. Tim and Dennis from Boiling Point Fanzine were with us and helped us write the lyrics. Once at the studio, I still had no idea how I would arrange it. I went into the booth, the drums started to go, and I just went for it! The version on the record was the first take, the first time I ever screamed those words, and we kept it.



Curt flips into the Trenton crowd, Photo: Ken Salerno