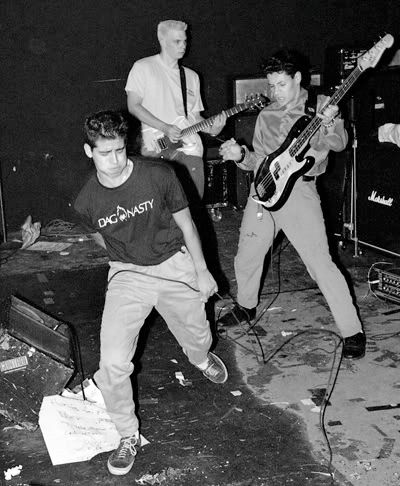 Curtis, Alex and Frosty at City Gardens, Trenton NJ, 1990, Photo: Ken Salerno

Chain Of Strength aren't the "heaviest" hardcore band, they don't have traditional NY-inspired mosh parts, and the songs aren't that complex or technically ridiculous.

They are, however, what I would consider to be one of the most powerful hardcore bands to have existed. Power...

True Till Death is a raw, practically unmixed, in your face recording that is really just a vocals-low-in-the-mix demo, and yet it captures the band in a way so few recordings actually do - it's that perfect mix of aggression, urgency, and proficiency, a band being captured while they have a comfort with their songs, but not so much that it feels rehearsed or staged (ahem, cue comments about staged photos). Plus, it sounds like they are playing in a small room with good acoustics, and you are standing there getting your motherfucking brains blown out while you try to dodge guitars, a bass, and flying drum equipment. Oh did I mention these are probably the best Straight Edge Hardcore lyrics, set to the best Straight Edge Hardcore songs ever written? Do me a favor.....

Forget about it. (Credit due to Ed McKirdy for that one).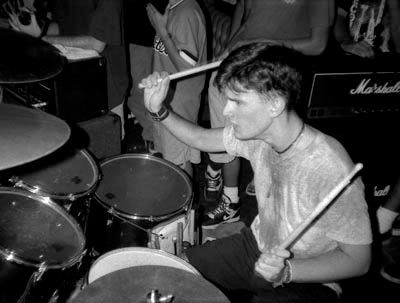 Chris Bratton with Chain Of Strength at Spanky's, Riverside CA, Photo: Dave Sine

What Holds Us Apart is probably the best example of natural progression over the course of 1.5 years a no-frills hardcore band can make without becoming too daring, too ambiguous, or too "over it." There's more precision, more depth, more overall influence and drive, and yet never is it at the expense of POWER. It has a touch more DC, a touch more Brian Baker, and a touch more 1989-while-wearing-Stussy-tanktops-and-hanging-in-Cali...but never so much as to pull away from the hardcore Chain sound, and never is there any second guessing who these songs were written by.

I could go on for days - one of my favorite bands hands down. For me, True Till Death three times out of five. But those other two times, What Holds Us Apart is even better.

If you don't like Chain Of Strength, it's gonna cause problems. That simple. -Gordo DCXX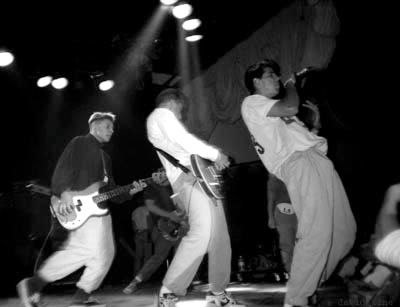 Chain Of Strength at the Country Club in Reseda CA, Photo: Dave Sine

There's not a whole lot left for me to say that Gordo hasn't said already. Anybody that knows me, knows just how much I bow to the alter of the almighty Chain. The True Till Death 7" is… yeah, I can say this with confidence, my favorite hardcore 7" ever... point blank. Flawless from start to finish, musically, lyrically and aesthetically, perfection. Are the vocals a little low? Yeah, a tad, but it's nothing that even bothers me a little bit.

As for the What Holds Us Apart 7", it is total greatness and an unquestionable favorite, but will always take the back seat to the True Till Death 7" for me.

Like Gordo, I as well could go on for days about how mind blowing, life altering and phenomenal both of these records are, but we'll save something up for future entries. And yes, expect many, many more Chain entries. -Tim DCXX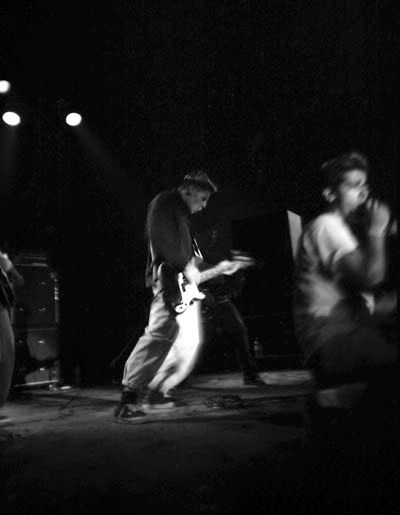 Chain Of Strength with that desperate tone, Photo: Dave Sine

Chain Of Strength - True Till Death - 185
Chain Of Strength - What Holds Us Apart - 136



Alex Pain with Chain at Spanky's, Photo: Dave Sine