July 11, 1990 The River Rock Cafe Buffalo, NY

I believe it's been said on this site before that you can never have enough Judge, so here is your next dose. I guess in a way the above clip could be considered the video companion to

Records We Love: JUDGE The Storm EP

Which was Gordo's "There Will Be Quiet..." 7" write up (worth a revisit for sure) back in March. I thought it would be cool to break out my 5th generation VHS tape and put "Forget This Time" and "The Storm II" online together as a tribute to their final release. I also can't think of another video of these songs online anywhere or on any of the dozen or so Judge videos I have. But I'm probably wrong about that.

For a couple of years it seemed like Judge played in Buffalo every other month. This particular Judge show ended up being the last time they trekked upstate to Buffalo to play that tiny hole-in-the-wall bar, The River Rock Cafe, on the corner of Niagara and Hertel, before their demise. At some point during their set Mike announces, "Alright, we've got a three song single coming out on Revelation and this is off of it... it's called Forget This Time."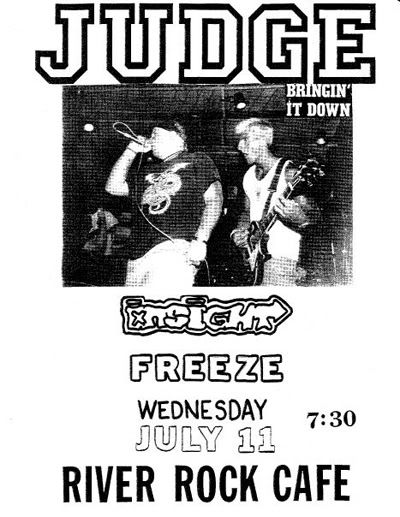 Me: "Holy shit! A new Judge song? A new seven inch?"

And then they dropped "Forget This Time" on Buffalo for the first and last time until that posthumously released 7" showed up in our mail boxes or until we forked over $3.00 at Home Of The Hits. Also, a fun thing to listen for in this vid and I swear it's there... If you turn up the volume real loud and put head phones on you can hear someone yell, "They changed it!!" right at the beginning of the newly added mellow part on "The Storm II", where he discovers for the first time, they have indeed changed it.

A truly "WTF is going on here!?" noteworthy tidbit from the video... Mike drinking with a straw out of, what looks to be, some kind of squeezable sports thermos. I wonder what this man's stage beverage of choice is? I bet he's sipping Coke-a-Cola and purchased that refillable beverage across the street at Wilson Farms right before their set.

Also on display here, in all their crowd riding glory, are future members of Snapcase and Earth Crisis.

I could continue nerding out and dissecting all things in this video such as Pincus' Gita Nagari Adopt-A-Cow t-shirt (that garment deserves an entire posting of it's own) but I think I'll just end it here for now.

Hope you enjoy these rare clips.
As always...

STAY OFF THE TRACKS. -Larry Ransom



Larry pushes copies of Bringin' It Down via the ice cream truck