Tell us about your East Coast trip in '89, how that came about, who you hung with, what shows you saw and whatever memories come to mind.

That thing was a whirlwind. I had corresponded with Jeff Terranova for a bit before they came out to California that summer in 1989. Those guys and Supertouch stayed at my (parents') house for a night or two before the show. Up Front was either lined up to play or were able to jump on the show at Fender's, so we went over there and just had the best time. That show just happened to be on my 16th birthday.

Anyway, Up Front was set-up to play at Gilman up in Berkeley the next day and I had my drivers' license test the day after. So, I talked my folks into letting me make the trip to Berkeley the next day; with the precondition that I would be home for my drivers test. Somehow I was also able to get my folks to agree with letting me tag along with Up Front across the lower half of the US back to NY. So, Up Front plays the show (with Judge, BOLD, and Supertouch, I think) and then we head back down to Huntington Beach. We end up at my parents' house with a couple hours to spare. I get myself sorted, head over to the DMV, and pass my test. My Dad hands me like $200.00 and tells everyone in the van that I am not allowed to drive under any circumstances. It was Jeff, Jon, Ari, Roger, this kid Frankie from Cleveland, and myself.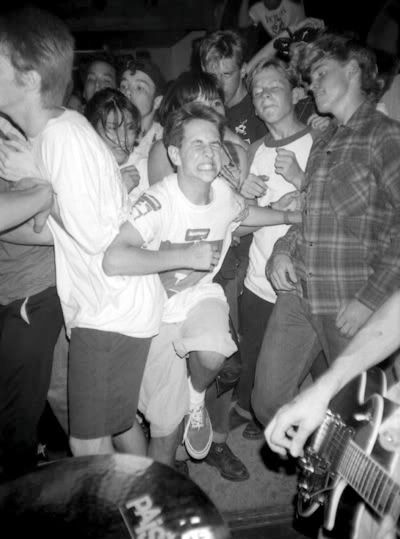 Mikey moshes it up to Inside Out at the Che Cafe, Photo: Dave Sine

We set off and somewhere along the way we met up with Release. The bands played a few shows along the way back to NY / NJ. If I'm not mistaken, that trip produced my first visit to City Gardens. It was here that I ran into the Turning Point kids outside the club. That's where Skip and I started talking.
So, after about a week staying at Jeff's, I flew home about a week before my sophomore year of High School.

How did Fast Break Fanzine / Photozine come to life? Take us through each issues and your memories of each?

I felt like I wanted to contribute something, so Fast Break was my way of doing it. It just kinda became something from taking photos.

I was tight with Against The Wall, so that was a pretty easy first interview. I didn't know about halftones or anything like that, so it was just xeroxed black and white photos laid up. The text was written up on my Brother typewriter. That machine was great because it had cartridges you could change out for different fonts.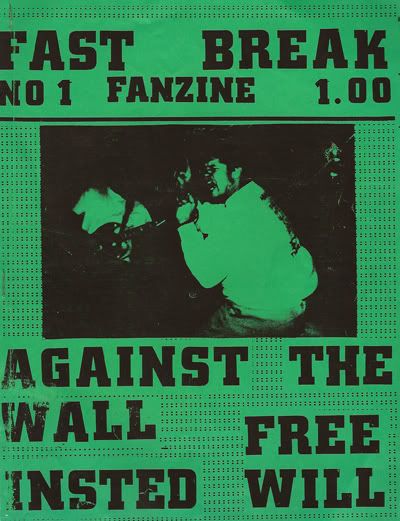 The photozine was something I wanted to do because it was different. No interviews, hardly any text, just plain and raw. Looking back at it, I wish I produced it better. The photos are all washed out and the overall print job was shitty. The design aesthetic was heavily influenced by a couple issues of Boiling Point I had. That zine was just awesome.

Being behind the lens, how did the HC scene change over time to you?

Other than the style of clothing that kids were wearing, I didn't really notice too many changes. With the exception of Inside Out, I don't think it really started to change very much musically until I stopped doing the zine and got in Drift Again.

I remember sitting in Madrid's room one day and hearing the Quicksand EP for the first time. Listening to the way Walter sang, it gave me the feeling that the style of music we were used to listening to was in for a little change. For me, that record was really revolutionary. That might sound a bit hyperbolic, but between them and Inside Out, I can't remember any other records from that time that I heard and felt that other bands were going to mimic them.