Our heavy-hitting contributor AGENT A delivers the goods again! -Gordo DCXX

Here's where a true talent speaks a thousand words (and kicks off a "One-Two-Three! GO!!!!") with a brush of her pen. By the fantastic Shawn Kerri, below are some of her incredible, bursting out of the page (or screen, or flyer, or cover of a record) works. I can't tell you the number of times I failed at trying to draw a slam-dancin' Skank Guy on loose leaf in Junior High and it ending up looking like an awkward alien David Letterman-faced Michelin Man on an unhealthily severe diet falling down invisible stairs. While I wholeheartedly encourage doodling, especially if the subject is something like flying saucers attacking Earth (to the Rezillos!!) or stage dives, sometimes it is better to leave the punk artwork to the guys and ladies (like Shawn) with the real goods.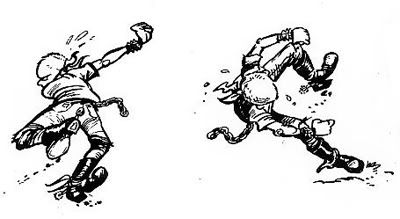 (Quick note: I understand there are all sorts of stories about her and what happened to "ownership" of the image of the Skank Guy. I don't know the first hand accounts or all of what is involved so I won't comment, but I do know who's hand and mind CREATED the energetic little guy, so let's just celebrate this fantastic artist and spread the word about her, even if it is sadly after she's gone.)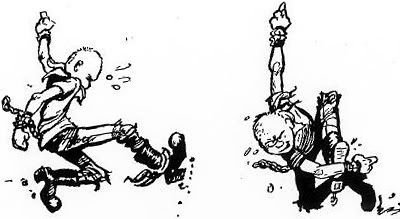 I swear, just a quick glimpse at the potentially Mad Magazine PERFECTION of Ms. Kerri's work is enough to make me want to start a pit with the furniture and view the world as the comic book cartoon that it often truly is. I'm probably not on my own in being someone to have read dog-eared 60's and 70's (and 80's) Mad Magazines found for fifty cents from a local used book shop. A great thing that great punk rock can have in common with the best of old Mad (hey….wait, "M.A.D."… YES!! Now I have to go put on some BL'AST!!!!!!) magazines: that bullshit-detector on the "adult" world, that turns hypocrisy and "seriousness" on its head with the funhouse mirror of satire. Even if it is an unintentional (sometimes even unknowing?) turning upside-down.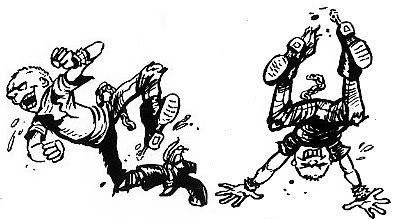 I don't know if Ms. Kerri was a Mad reader, but her artwork sure connected the comics,*all* comics, that I read and the hardcore punk world (and for that matter, the outside world as well). Larger-than-life caricatures and events made so much more sense with a soundtrack and a comic page context to put them in; like living in a real-life B-Movie. And so the stories of danger, laughter, heroics, close-calls, treasures found (like a Raw Power LP at a garage sale amidst Barry Manilow and Triumph records), romance, and action all seemed that much more, well, FUN as well. I'm not the first to say punk rock (or for that matter, this whole sometimes ridiculous planet) can be like a comic book come to life, but it kinda is sometimes, isn't it?


All this is to say when music or images can hit the hardest is when the two combine like epoxy glue in your brain, one making the other even more "real", with even more impact. In other words, at least for me, it is as if you can HEAR what the song playing would sound like to match the explosion of movement in Shawn Kerri's drawings.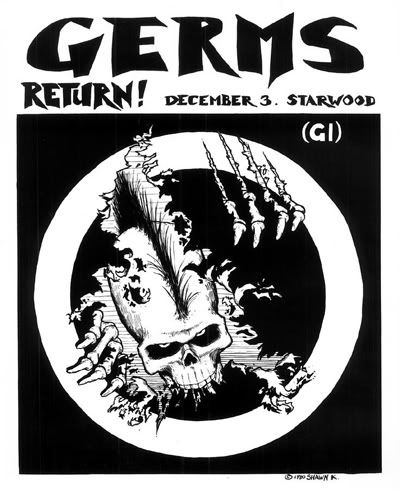 I know each reader of Double Cross will have their own take on Shawn Kerri's art. I can say for myself that I am coming from the place of a fan. As in, for my own mind, for what it's worth, I speak her name with the same excitement as other pen-and-ink, pencil-and-brush builders of incredible worlds well worth the adventure of visiting. A fast few in that breath would definitely be Wally Wood (and 1950's EC horror and science fiction!), Jim Steranko, Ed Repka, Michael Whelan (those H.P. Lovecraft book covers...how did he come back from Unknown Kadath alive?!!), Basil Gogos, whoever did those 1980's mosh-it-up CBGB's flyers that make you want to put on boots and an AF cassette and dive off of concrete walls, Derek Riggs, Sergio Aragonés, Jack Davis, (Conan!) Ernie Chan, and yes, Shawn Kerri.


Here's to her and her creations, and also to the multitude of kids who picked up those dance moves (the last one in the series is my favorite), or got a smile from her take on punk rock. Now, get ready to March Into the 80's!! (And hey, in honor of Shawn, hit that dance floor with some skank moves the next time you're in the pit.) - Agent A.