Joe Affe from Maximum Penalty kicks us the real deal on MP present, past, and future. Expect much more to come from the NYHC legends and keep an eye out for their new record on Reaper. Time Flies Fast when you're havin' fun, suckas! -Gordo DCXX

First, tell us what is up with MP right now (record, shows, writing, future plans), and with you as well. What was going on with you and the MP guys the last few years to lead up to this point?

Well MP just finished up our new record which is set to be released on Reaper Records on October 6th 2009. It has been a long struggle but it's done and we've finally found a home for the band so we are really excited about that. After a brief hiatus, the band re-grouped and started playing shows again with the re-release of our original demo & first e.p. We never had the chance to make that old recording available before so that was a big deal for us. It was basically for anyone who didn't get a chance to be part of the demo tape trading frenzy of the late 80s and for those whose cassettes were burned out...much like all my old hardcore demo tapes.

Soon after that a mutual friend was putting together a hardcore music station for the latest Grand Theft Auto video game. We were blown away with the idea and then before we knew we were on the play-list with all the greats. Bad Brains, Cro Mags, Leeway, Murphy's Law, Underdog, Agnostic Front, Killing Time, Sick Of It All, and MP, so you can imagine how happy we were to be recognized with our peers. I mean everyone in the band basically started out as a HC kid so to be part of that was a great thing!

Right now we are wrapping up all loose ends for the record once that's done we plan on doing a little traveling, were trying to get the band back over to Europe along with some east coast & California dates.



Joe brings the noise with Maximum Penalty, Photo courtesy of: MP

When and where did you first get into hardcore? What are some early memories that still stick out?

I guess like most people at the time coming out of Brooklyn in the mid 80s I went to hardcore shows in the city, clubs like the Lismar lounge, Pyramid, Nightingales & of course CB's...all of which were your basic shitholes but the energy in the scene back then made all of those shows so memorable that nobody cared.

My first hardcore experience wasn't at a show but hanging out in the city with friends at Hell Park (a popular hang out in the west village). Somebody had a boom box (radio) and was blasting War Zone. From there was Tompkins Square Park, it was there that I started to notice other freaks from Brooklyn. You know how it goes, you see a flyer you start talking about going to a show, before you know it you hop the train and you're sneaking in to see something special. At the time you kind of knew something was going on but were more intrigued by the acceptance into something that wasn't filled with the norm.

This was were I first met Jimmy Williams playing drums for an old HC band called Sarcasm. Later we would run into each other at a Cro Mags show at Lamours in Brooklyn. The memories that stick out for me would probably be going to HC shows out at a place in Brooklyn called the Animal Hall. Small shows but legendary.

Playing with MP at CB's for the first time opening up for Agnostic Front, being on the "Where Tthe Wild Things Are" comp and heading over to Europe with Agnostic Front for the first time were all great. It's safe to say that AF has done a lot for MP and for that we're grateful. Our first time at the Anthrax in Connecticut was incredible, we were asked to play the show with SOIA, we were like "nobody is going to know us" but fuck it was still a great show. It was there that we realized the power of tape trading and the over-all network of the community back then, I mean keep in mind this was way before the internet and every band touring like crazy. The place went bananas from our fist song to SOIA's last song, it was great!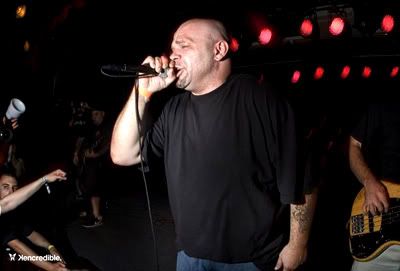 Jim with Maximum Penalty, Photo courtesy of: MP

How exactly did MP come together, and what were the various changes in the band early on?

Jimmy started MP back in 86' when he lived down on ALLEN st. with his parents and was already playing drums for Nausea & Sarcasm. He basically had a couple of songs he wrote and was looking for people to do a different kind of band. I was going to High School uptown with my friend Brian who had jammed with Jim and asked me to come down to Giant Studios on 14th to play.

I walk in and it's Jimmy singing & playing drums, Mildred on bass (one of the first female bass players in HC), myself & Brian. That was the first functioning MP line-up, soon after that we had Mark Libetti join on drums and went in to record a demo and play some shows. Brian had left and we got a friend of ours, Nick Vignapiano from Social Disorder, to replace him. Soon after, Mildred would leave and after a couple of false starts with people, Mark Sisto from Breakdown would join.

In 1990 Jimmy would become a guest of the state of New York and the band would be on hold. In 1993 Jimmy gets out, we reform with everyone and put out "East Side Story" e.p. After that the original drummer leaves which brings Darren Morgenthaler to the fold and we record "Independent" and then "Superlife". In that process Mark Sisto starts his family and leaves the band so we move forward with Rich from Killing Time on bass, and we toured the US and Europe. We came home to write for a new record and the label folds, and at that time the band members start to do other projects. We go ahead and release the original demo on CD and plan for a new record.

At the present we have Jonathan Buske (ex-Terror) coming in to take over bass duties and Rey Fonseca (ex-Agents Of Man) to join on 2nd guitar.



MP in effect 2009, Photo courtesy of: MP

How long was it before the demo was recorded? What are some memories of recording that and writing those songs?

Jimmy had a couple of songs before me and Brian came in, once Brian and I started to write we pretty much filled in the set quickly. The vibe at the time was such a mix of inspiration. Early hip hop was prevalent on the LES so to be from NY and not be influenced by it was impossible, but you're talking about MP who had punk, metal, & hardcore kids in it too, so maybe I would write a fast metal part that was fused together with a punk riff with a hip hop beat under it – that was cool to us and became the MP sound.

Some of the writing took place at Giant, Brian's mom's & my mom's house – out of tune, shitty amps...it was great!

We recorded the demo out at Sty in the Sky Studios, which was owned & run by Josh Silver pre-Type O. It was crazy, he ran it out of his house so we would record drums, guitar & vocals down in his basement and mix it up in one of the bedrooms...that was a first. Every time when someone was done tracking he would have to put his 2 huge dogs away so that none of us were eaten, I want to say he had 2 big rotwilers. These fuckin' dogs were huge and mean. We didn't care what it sounded like, we thought if we can get this on tape we can put them in Bleeker Bob's and Some Records so people would know the songs and the lyrics. Other demos were recorded there like Stillborn's '87 demo and Sheer Terror's "Fall From Grace" demo, so it was one of the places to go at the time if Don Fury's (NYC) or the Loft (Yonkers, NY) was booked.