Navy Jim between Walter and Tom Capone on the Beyond / Project X Niagra Falls roadtrip 1988, Photo courtesy of: Navy Jim

One show that always sticks out in my mind is the famous "Shutdown" show that happened at CB's: Y.O.T, Gorilla Biscuits and Side By Side. I remember that in the weeks leading up to it, CB's and The Ritz stopped stage diving and added more bouncers, etc. For some reason, at that show people were going out of their minds, I remember seeing guys hanging and swinging on the PA speakers that were chained to the ceiling!

At the end of the show the place went crazy and that was it for shows for a couple weeks. The next week in the Village Voice, the CB's ad just said CANCELLED for the Sunday matinee. It lasted a couple weeks but that was a turning point in the scene. YOT, GB and Side By Side on the same stage, with every kid inside CB's going fucking insane...that's a great memory.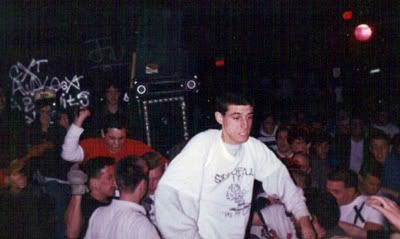 Navy Jim makes his way across the Anthrax stage while Project X tears it up behind him, Photo courtesy of: Navy Jim