Dubar Screaming For Change with a young Casey Jones in the background, Photo: Billy Rubin

Billy Rubin hops back on board and drops us some memories to go along with some classic UC pics he provided to us. Glad to have you back Billy! -Gordo DCXX

I grew up on a street with a lot of kids that were sharply divided. In the beginning our division was between dirt biking and skateboarding/surfing. I didn't realize the true nature of the division at the time, but it was good versus evil. Ya' see, dirt bikes have motors. If you can move fast without a motor you are experiencing something much more pure and natural. I'm not a pure/natural guy per se but I know the feeling of front side air and can tell you that the sound of a motorcycle is right up there with a leaf blower.

Later on in our teen years the division on the street was between metal and punk rock. This is around 1981-1983. The dirt bike kids liked AC/DC and the skateboarding/surfing kids like the Sex Pistols. The dirt bike kids had to fuck with motors to get an adrenaline rush and us…well we could shred on anything and probably have way more fun. As we all grew up we used to have some pretty serious fights and those fights made the division wider. We started getting deeper into punk rock because we were inspired. We weren't interested in Hell's Bells or Stairs to Heaven and we certainly weren't going to "sit" in an arena to see a long haired rockstar jack off a guitar. We were going to that part of town to be right next to the stage (if there even was a stage) and hear someone sing about something real. It became as much about a movement as it was about music. In fact, music was just the soundtrack to the movement.



Pat Dubar and Uniform Choice with Big Frank and Brad X (Doggy Style) in the background, Photo: Billy Rubin

On Dec 15th of last year I wrote a DCXX post that talks about how I came to know Uniform Choice. Wanting to be a part of something bigger than any one person is the backdrop for how all of that went down. The movement became the Straight Edge movement and in Orange County the soundtrack for the movement was Uniform Choice. Uniform Choice were real people. Their songs were about real things. You could find real examples everywhere, kids you grew up with were experimenting with drugs, the girl that you used to have a crush on was turning towards the dark side and all ya wanted to do was sing "when you're on the street with a needle in your arm". My parents certainly didn't understand, they were too busy trying to make a living. Hell, I didn't even understand. I just knew I had to do something and that something was go to shows, put out zines, be in a band, etc!

I don't remember the first or last Uniform Choice show I ever saw because most of them blended together. I do know that if UC was playing ANYWHERE then I was going to be there. When I'd walk up to the place the show would be at I would profile the people waiting in line. If I saw a kid in a UC shirt then I knew he'd be there for me if I got knocked down in the pit. There would always be fights but never amongst the sXe kids. I knew that if a fight broke out during a UC set, they'd stop playing. Dubar was bigger than half the people fighting and Big Frank could handle the other half! We knew the score. We weren't there to fuck shit up. We were there to make a point. The kids weren't just alright; they were going to have their say. We were a minor threat! All clichés aside, we were wrapped tight around a common cause!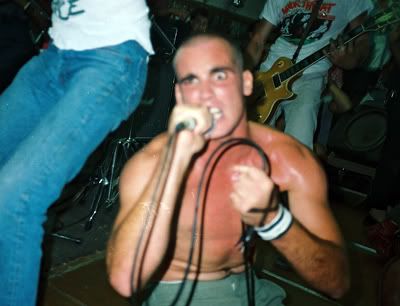 Dubar's head on the verge of exploding, Photo: Billy Rubin

After awhile it seemed like I knew everyone at a UC show. Dan, Casey Jones, John Bruce, Gavin, and Mike Murphy would always be there and we'd see guys we knew from all over. When it came time for UC to make a record the same crew was there to do backup vocals. A band's thank you list gave you instant street cred. The cover of UC's first record is a painting that Gavin made of an actual live photo. In that photo/painting you can see me and Dan (I'm in the upper left corner and Dan is right in Dubar's face). That photo was from a show at a shithole cowboy bar (I think it was called the Corn Husker) in a town called Azuza where UC opened for Government Issue and the Dead Milkmen. There were less than 100 people there. When I look back, I had to be the luckiest kid in the world. All the bands I saw in venues as big as a living room!

Another memorable show was UC at the Melody Dance Center in Long Beach. I think they played with Doggy Style and BL'AST! This place was a shithole and it was in a really bad neighborhood right on Long Beach Blvd. If our parents knew where we were going they'd freak out but we had to be there. The Melody Dance Center was super small and it was a true hardcore experience. The separation between the audience and the band was an 18" high platform. The only person running things was Big Frank. It was just a bunch of kids having a good time without getting high. If a fight broke out in a place like that it would be over in a matter of seconds.

When I look back on it, there were really 3 great years from 1984-1987. Salad Days for sure. As time went on, shows got more out of control. People would actually get stabbed or just beaten really violently. The core wasn't soft but the risk/reward ratio was not in our favor. Many of us moved up-out-on and beyond. The impact that scene made is amazing. I look at the old photos and I see people in the crowd that went on to start bands that influenced millions (Rage Against the Machine). Books and movies have been written to document what was truly a phenomenon. I am lucky to still be in contact with most of the people from back then and I can genuinely say that I am proud of how we all turned out. While the other kids were out doing whatever it is they did, we all learned a code of ethics. We learned that a bunch of kids could accomplish anything if they tried. For many of us it all started at a Uniform Choice show where we learned to channel our energy into something positive. We were fucking punk rock and each of us will always have that edge over the next guy.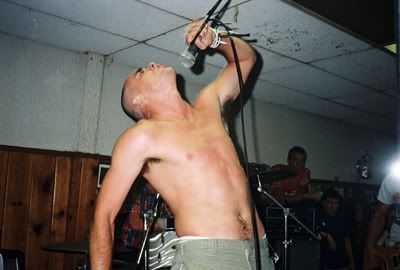 Uniform Choice at Melody Dance Center, Long Beach CA, Photo: Billy Rubin