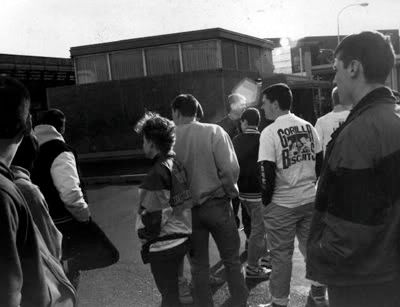 Sue with the TP crew walking the streets of Philly, 1988, Photo courtesy of: TP

We've got the continuation of our extensive interview with Turning Point guitarist, Jay Laughlin coming any day now, but in the meantime, here's some memories from Sue Cosby (known back in the TP days as Sue Gendler).

For those of you who might be unfamiliar with Sue, not only was she responsible for taking some of the classic Turning Point photos on their first 7" and later the discography, but she was also co-editor of Inward Monitor fanzine. Sue also use to hang with the TP guys quite a bit back in the day, so we thought we'd check in with her to see what memories she had from those days. -Tim DCXX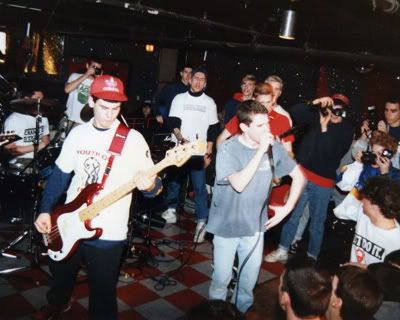 Turning Point at Club Pizazz, Philadelphia PA, 1988, Sue in the far right corner snapping off some shots, Photo courtesy of: TP

Those guys were really great. Although my memories of specific moments are fuzzy, I do remember that they were so much fun to hang out with. They weren't the hard guys trying to intimidate people. They were talented kids who made great music without pushing the attitude. Seriously, you could not hang out with them without pissing your pants from laughing so hard at some point or another. The closest they got to being hard guys was a spoof - the infamous "Pool Hall Justice" stuff memorialized in a photo shoot in front of a pool table that was just freakin' hysterical.

I'm thinking my most vivid memory is that, as a group, they appeared to have lived for several years off "mexi-melts" from Taco Bell exclusively.

Reporting tip - Remember when people were releasing seven inches as "limited editions"? Well you need to ask them how many numbers 1-10 there were of their first 7" and see if you can get them to admit the real number ;-) I can tell you ... it isn't 10, but you didn't hear that from me LOL!



Classic Turning Point photo from Kennet Square, 1988, Photo: Sue Cosby