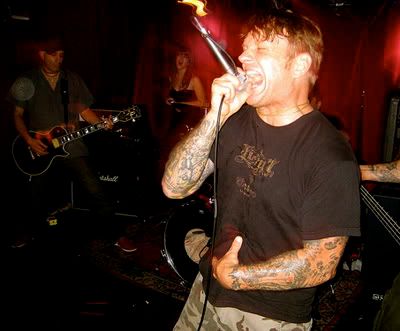 JJ with the Cro-Mags jam 2008, Photo: Change Zine



Cro-Mags at City Gardens, 1987, Photo: Ken Salerno

Friday December 26th, 2008 at the Broad Street Ministry in Philadelphia, PA, John Joseph took the stage with Mackie, AJ Leeway and Craig Ahead and blazed through a set of Cro-Mags "Age Of Quarrel" era jams. I've seen JJ with various lineups and I have to say, other than the legit Cro-Mags lineup, this one has to rate up there as one of the best. Super tight, super powerful, everyone on point, crowd going nuts, you couldn't have scripted it much better. The highlight of the night had to have been seeing them pull out "Seekers Of The Truth", a rarely played "AOQ" era track. The crowd absolutely went insane and at one point I could have sworn I counted 15 people on top of the crowd at once. Other than the fact that I had someone smash into my left ear, bald head first and running full speed across the stage for a dive, this was a nice way to end the holiday week.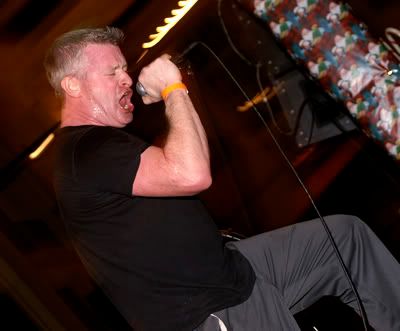 Vision in Asbury Park, NJ, 12/27/2008, Photo: Traci McMahon



Vision, 1989, Photo: Ken Salerno

Saturday December 27, 2008, Asbury Park, NJ, Convention Center. This was some sort of three day holiday fest that the guys from the Bouncing Souls put together. Being that the Bouncing Souls guys are friends with the guys from Vision and Token Entry, they brought them both together to play this show.

Out of all the bands that I've seen in my 21 years of going to shows, Vision must be the band that I've seen the most. Everywhere from City Gardens to Club Pizazz to Scott Hall to CBGB's to The Pyramid Club to The Marquee to Middlesex County College to The Down Under to The Princeton Arts Council to The College Of NJ to every other school, hall and club across New Jersey and more. They've consistantly been one of my favorite bands from New Jersey and whenever they play, I make it a point to be there.

This night was no exeption and I have to say, they really put on a great show. It was good seeing them play to a sizeable crowd and get a good response. Big thanks to Pete Tabbot for getting my wife Traci and me in. The show was sold out and Pete really pulled through.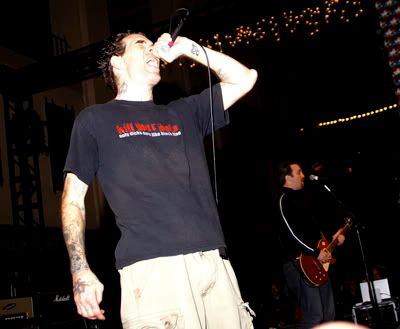 Timmy Chunks with Token Entry in Asbury Park, NJ, 12/27/2008, Photo: Traci McMahon



Timmy Chunks with Token Entry, City Gardens, 1987, Photo: Ken Salerno

Token Entry were always a great band to see live. I can recall many of their sets at City Gardens standing out in my memory as some of the best shows I've seen. Timmy Chunks always had this great energy and the band came together with a live set that always seemed to outshine any of Token Entry's recorded material (in my opinion at least). Not that I didn't like Token Entry on record, but just listen to their tracks on the Hawker Records "Free For All" live comp and compare those same tracks to the recorded versions on their records. Both are great, but the live versions just take the cake for me.

Now aside from seeing Token Entry live their first time around, I also caught their reunion show that went down at The Wetlands in NYC, sometime around 1994 or 1995. When I heard they would be doing yet another reunion at this Bouncing Souls holiday party in Asbury Park, NJ, I knew I had to be there.

They opened the set with "The Fire" off their "Jaybird" LP and I gotta say Timmy Chunks hit the stage with some major fire of his own. Right from the first line, the crowd was singing along, which sent Chunks flying off the stage, across the barrier and over to the crowd with the mic, then launched himself back over the barrier, landing on his back on a monitor and flipping on to his feet on the stage. They proceeded to tear through a full set of classics and finish it off with "The Edge", which of course came complete with a full crowd sing along.

All in all, a weekend of the Cro-Mags, Vision and Token Entry (not to mention a miraculous Eagles playoff berth) made for one hell of a memorable and fun weekend. Damn do I love hardcore (and sports).
-Tim DCXX