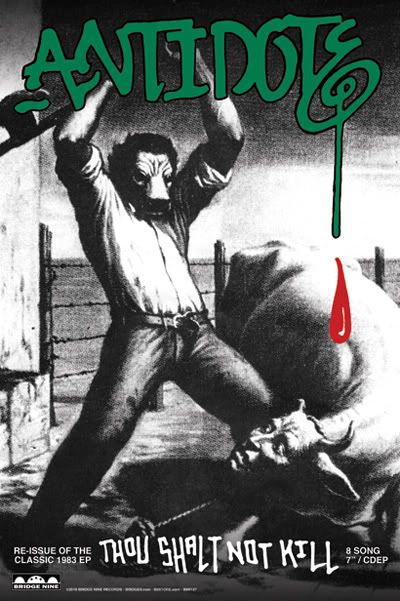 Nunzio of Antidote returns with part 2 of our ongoing interview with him - this time we dive into Antidote and the recording of Thou Shalt Not Kill. Thanks Nunzio. -Gordo DCXX

At the time we were getting our act together, the early New York hardcore 'scene' was just beginning to take form. We had places like 171 A, A7, and the Rat Cage music store to meet at and check out new bands. Everyone in a band at that time hung out down there and by Tompkins Square Park. Antidote, the Beastie Boys, Reagan Youth, Murphy's Law, Kraut, the Undead, Agnostic Front, Cause For Alarm, Heart Attack, The Psychos, the Abused and a few bands I'm forgetting at the moment were always hanging out at these places between shows. Then when Hilly Kristal at CBGB's started the Sunday Hardcore Matinees, he kind of gave us a permanent weekend home and daytime hangout spot. And that's the place that turned what was happening at the time into a scene, because every person driving or walking past Bleeker and Bowery had to eventually confront a giant mob of crazy Punk and Hardcore kids in their natural habitat so to speak!

As far as our recordings, we went into the studio the first time to record the songs that became Thou Shalt Not Kill with HR and Earl from the Bad Brains as our sound engineers. When I heard the recording of that session I thought the whole thing sucked sound and performance wise, so the whole thing wound up in the garbage can. It occurred to me that we needed our regular soundman and Jerry Williams was that guy. Two months later we went back into the studio to do it all again and this time the result was great. That's the session you hear on Thou Shalt Not Kill pretty much note for note.



Nunzio with Antidote, Photo: Melissa Brooklyn

That recording session went pretty much perfectly, and that's because we had the luxury of trying once before and this time I made sure we were ready. Googy and I had been on recordings before but our bass player had never been in a recording studio before, so he got a bit intimidated the first time around. We banged out the 8 songs live and we nailed them all on the first take this time. Then Louie did his vocals over the rhythm section, and I took an extra track for a few leads and guitar sounds that I tacked on. As with our live show back then, my idea was to try and capture the band's extremely high energy performance. Having John Joseph hanging with us and getting up for a chorus didn't hurt the vibe either.

As far as the guitar sound on the recording, I had this cheap, tiny little practice amp - I think it was called a Fox 1st Avenue amp. It was a tiny box with a six inch speaker and a click on distortion button on the back. I swear to Christ, that's the truth. Jerry positioned it on a barstool with two sound dampening walls on either side creating a vacuum of sorts, then moved the whole get up into a long corridor type of room outside of the actual studio. A vacuum in a vacuum so to speak. One mic was placed in front of the speaker and another mic was placed on a stand at the opposite end of the corridor. And that is how my "wall of Marshall stacks" sound was created. With a cheap-ass six inch speaker!

I'm one of those artists that always thinks that nothing I've ever done was good enough, or that it could've been better. That's what led to the re-recording of Thou Shalt Not Kill in the first place. But honestly, as a lover of high powered and high energy hardcore I've always felt that the record was phenomenal and that someday somebody else would notice. I'm glad that that time finally seems to have come.

When I listen to it now I hear the impassioned plea of a struggling young man, or band, crying out for hope and togetherness of some sort in a world gone mad. Even though I wrote it a long time ago it feels like it could have just been released yesterday in some ways and though some of my opinions have grown since then, I still feel that a lot of the record's core message still remains true in my heart.



Drew Stone, Mark Ryan and Nunzio