Greg and Henry with Black Flag

We let this recent poll wrap up linger a little bit, but it was worth the wait, because we got Jon Roa to come in here and recap this in a way only he could. Minor Threat won (and as a SE dude that makes me happy), and there's no real wrong answer...but like Roa, I also voted for Black Flag. Roa's reasoning further solidifies my answer and is one of the most cohesive arguments for the impact of that band that I have heard in recent memory.

We love The Misfits, we love Black Flag, we love Bad Brains, we love Minor Threat, and we love Roa. Have at it! -Gordo DCXX

I shout that all four bands have had a severe impact on punk rock (although one must try hard to see more than a couple of bands copying the sound or horror image of Misfits prior to 1991), but the heaviness and easiness of so many people copying Minor Threat, Black Flag or Bad Brains is undeniable.

That having been said, my choice is for Black Flag.



Minor Threat, Photo: Cindi Micheau

Now, although a strong argument may be presented for Minor Threat or Bad Brains (and to a lesser extent, Misfits), I respectfully offer the following answers to the anticipated variations of "Why the heck would you choose THEM?!"

First and foremost is the chronological factor. Black Flag released their first record a staggering 18 months prior to Bad Brains and an unmentionable 5.5 years before the Minor Threat EP. Yes, Misfits Cough/Cool came out 6 months prior but the sound, lyrics or attitude were not influential toward anything that followed…including the band themselves as they changed their sound drastically on the next release Bullet which came six months post-Nervous Breakdown. While the Misfits were more prolific, Black Flag stayed around much longer than the rest of them (maybe too long some might say) battling the normal folks both in court and on stage. Heck they served time in jail for putting out their music. Not a bad story to tell if you are fighting an artistic fight.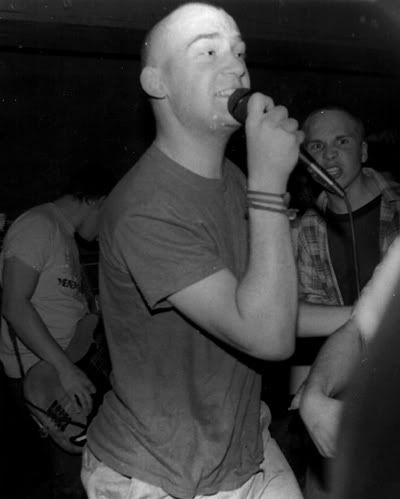 Ian with Minor Threat, Photo: Cindi Micheau

Next point: Black Flag seemed to be the first do something in the arena of punk rock. Minor Threat cites Black Flag as an influence on their mere approach to music (DIY, touring, etc) let alone musical influence. Ian has said (paraphrasing here) that he was a bit jealous when Hank was chosen for the vocal slot of Black Flag due because they were his favorite band. Both Minor Threat and Bad Brains' first tours came in 1982 two years after Black Flag blazed them a trail to follow. Underlining Flag's leadership role was that Bad Brains released their most heralded record on Black Flag's label SST (while the inverse happening seems almost impossible).

The above are the big points, but how about the seemingly small and random points? Most notably, Minor Threat added a second guitarist and got rid of their second guitarist damn near the exact same time as Black Flag. Coincidence? Perhaps. Noticeable? Definitely. Also, Black Flag successfully toured Europe before anyone (Misfits? I don't think a few shows and a great song, London Dungeon, trump the planning of Greg Ginn). Also, Black Flag made the papers in the METRO section (not musical) quite regularly for their notorious gig/riots.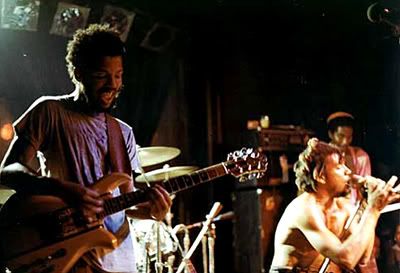 Bad Brains at 9:30 Club, Washington, DC, Photo: Malco23

Now, I know some people might bring up money and that is a point which I tried to side step but here it goes: Black Flag are popular now, right? But back then? Oy, Vey! They were bigger than both Minor Threat and Misfits combined (actually, Misfits were not all that huge; hard to believe but true). They sold more tickets to more shows and more merch in more countries than the other three combined. Also, Black Flag's SST records' leadership also had the foresight to release many future successful bands who actually made it in the "real world" of music finding themselves in the Billboard Top 200 albums: Soundgarden, Meat Puppets, Sonic Youth and Dinosaur Jr., (I feel dirty after making those last couple of points).

Sure, Minor Threat started a great sub genre that we all enjoy but their fantastic music existed in the parameters that Black Flag set up. Sure, Bad Brains were great but their huge influence in music stops at music alone (well, maybe a tinge of religion as well). Misfits? They had it all - work ethic, fan club, a ton of releases, cool logo, etc. but many would attest that when around, they did not have the same impact as Black Flag.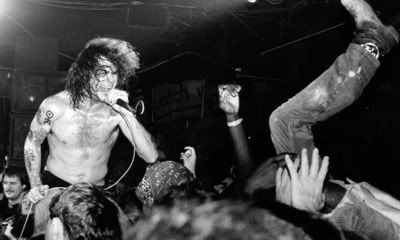 Black Flag

Black Flag we loved (and hated as well) but all the while they just refused to stop touring and just die.

Yes, Minor Threat wins the battle of artistic integrity (by staying broken up for good) but Black Flag wins the war.

Black Flag had the biggest impact on the hardcore scene.

Then again, I may be wrong and so the debate goes on…

From the man with too many parentheticals, -ROA XXX

Minor Threat - 157
Bad Brains - 134
Black Flag - 124
Misfits - 12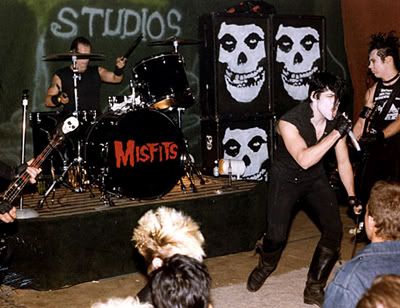 Misfits, Photo courtesy of: Misfits Central