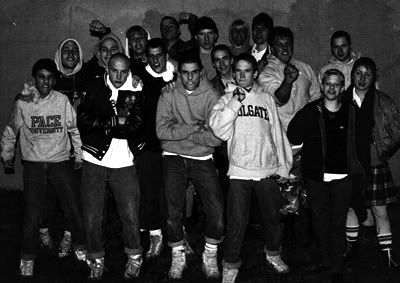 The original Youth Crew at the Stamford, CT. Anthrax, 1986, Photo: Chris Schneider

If you've got the 'Everybody's Scene' book, then you've seen this photo; I'm in the back, standing behind Gavin's right shoulder. To my recollection, this is the first visual documentation of the whole 'Youth Crew' concept, which was an idea that Ray Cappo had because he was really into the whole Boston Crew image - you know, the photos of Al Barile and 20 other guys in their letter jackets, walking through Kenmore Square. Both Ray and Porcell used to really be into the DYS and SSD record covers, for instance, and wanted to have the YOT records look the same as the XClaim! records, with a Bruce Rhodes photo taken at The Rat and so forth... they were really into duplicating those same visual images. So, this photo was our attempt at staging a Boston Crew sort of thing.



Dave Run It, behind Gavin's right shoulder, Photo: Chris Schneider

I can remember this day almost as clear as a bell - it was a weekend that Albany Style played at the Anthrax, in March of '86, so we were standing against one of the side walls of the Anthrax. One of the things I can remember about that day was walking to the gas station that was on the corner next to the Anthrax and buying a Gatorade. Porcelly once said, 'I think that Gatorade should be the official Youth Drink!'

What I'm up to now: married, still living in Connecticut, writing a blog now instead of a 'zine and still going to shows, which I've kept up doing (off and on) since the '80s...sometimes my 15-year-old son goes to the shows with me, he started going to some all-ages shows a couple of years ago. The newer photo of me was taken last season while I was at a hockey game, which is also something that I do a lot.



Dave Run It 2010, Photo courtesy of: Dave Run It