HARDCORE ZINE LOT FOR SALE

*PLEASE READ CAREFULLY

I am selling approx. 275 zines in a single lot sale. I'm too lazy to organize them, list titles, or even count them. I'm not selling individually or even in small bundles. One price takes ALL, I'll send you everything I've got. Buyer pays ALL shipping costs (and I don't know what this will cost yet to box and send).

The majority of it is stuff from the 90s, when I basically bought ANY zine I saw at a show that wasn't total garbage. There are dozens of cool well known 80s era zines. There's also more recent titles over the last 10 years. There are also lot of a lesser-known one-off zines from the 80s and 90s as well that are pretty cool.

There are no super crazy obscure collectible finds in here and there is nothing absurdly valuable. I'm keeping those.

What you do get is a very solid collection that includes a bunch of total rarities and tough finds, some good solid reads you may have simply missed over the years, and even some stuff that is unremarkable but still fun to see. There are doubles and even triples of some zines.




Off the top of my head, here are just SOME titles (an "x" denotes there being multiple different issues of a zine):

In Effect (x), Hardware (x), MRR (x), Heartattack (x), No Answers (x), Indecision, Tidbit (x), Dear Jesus, Against The Grain (x), Constant Change, Step Forward (x), Contrast, Line Of Defense, No Labels (x), Suburban Voice (x), Not For The Weak (x), Look Beyond (x), Blood Book, Tunga Tunga (x), Anti-Matter (xl), Razor's Edge (x), It's Alive (x), Change (x), Guillotine (x), War On Illusion (x), Skate Edge (x), Help, Tension Building (x), Plain Truth, Crank Call, Reflections (x), Radio Riot book, Touch&Go reissues, Town Of Hardcore, Words Carved Into My Head, Gimme Some, Even The Score, Belief, Extent (x), Chain Reaction, Triumph, Engine Of Lies, Enquirer (x), Contention (x), Face Tomorrow (x), Sit Home And Rot (x), Push The Limit (x), Start Today (x), Impact (x), Happy Days, Under Construction, Landslide, Game Plan (x), Finish Line (x).........and probably 75 more titles.

There are also all sorts of various catalogs (Rev, Very, Lumberjack, Initial, Lost & Found, EVR, Victory, etc. etc.).

There are also photocopies of zines which I had before I could track down original copies...such photocopies are Boiling Point (x), Schism (x), Axtion Packed (x), Good And Plenty (x), and all sorts of photocopies of specific interviews with bands from old zines.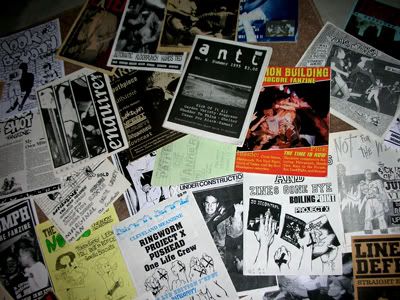 ***The zines in the photos are about 1/3 of what is included in the entire lot.

PRICE: I will entertain offers STARTING at $250. Best price/least hassle takes them all. Paypal or cash in person. Again, buyer must pay all shipping, and based on the weight of these, I'm expecting it will be a considerable amount.

Thanks, Gordo DCXX

Email offers to me at:
bcjordan1@gmail.com