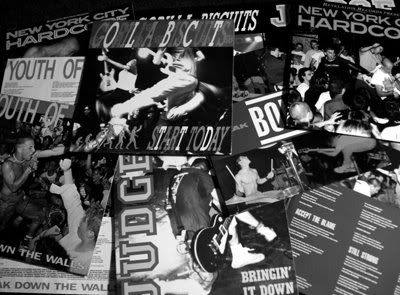 Tim and I will be selling some records in an effort to be able to put some scratch into some DCXX projects popping up in 2011. Here's some stuff I am offering. Buyers will also receive the DCXX newsletter that we did with the last run of DCXX shirts. Thanks for reading! -Gordo DCXX

RECORDS/TAPES SET SALE
*All records/tapes very good to mint condition with all inserts unless otherwise noted.
*Questions or offers, email Gordo at: bcjordan1@gmail.com
*Will sell only through paypal with immediate payment.
*BUYER pays ALL shipping costs, records are in the USA.
*Don't like the price? Make an offer.
*Wanna buy a bunch of these records? I'll cut you a deal.
*I will sell this entire collection for $2150 (and I'll throw in some extra stuff), buyer to pay ALL shipping costs. Get in touch.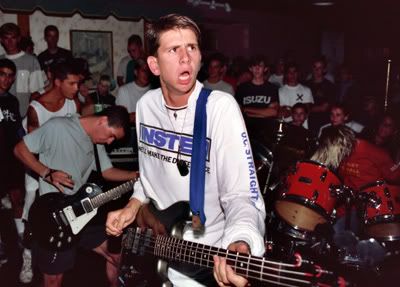 SEVEN INCHES
Against The Wall ep grey vinyl $20

Atari "We'll Be Fighting" black vinyl either cover $5

Bad Trip positively bad $5

Bane first ep $15

Bladecrasher 700 club blue vinyl $15

Bold s/t EP black vinyl maroon cover $10

Collapse ep $10

Crippled Youth ep first press $75

Fastbreak don't stop trying 1st press black $5

Floorpunch Division One Champs 1st press black $15
Generation Of Hope comp bootleg $5

Growing Stronger comp (red letters black vinyl #d with poster $10, blue letters blue vinyl with poster $15)

Half Off shoot guns gold vinyl $10

Haywire "painless steel" $5

Ignite where they talk ep $15

Infest 'Mankind' repress gold vinyl $10

Ink & Dagger love is dead $10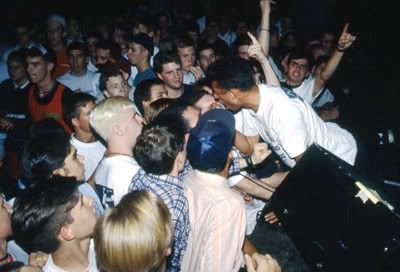 Inside Out/YOT bootleg split $5

Inside Out Rev repress white vinyl $40

Instead (spelled INSTEAD) "we'll be remembered" demo bootleg ep blue vinyl $10

Mainstrike times still here blue vinyl $5

Make It Work comp with YOT (no cover) $25

Murders Among Us comp $10

Negative Approach tied down bootleg pink cover pink vinyl $10

NFAA you laugh silver labels $20

No Escape/Turning Point split black vinyl $10

NYC Mayhem demo bootleg Revoltation $10

Over The Line crucial response demo 7" test press $35/make offer

Rain On The Parade full speed ahead blue cover green vinyl #59 out of 97, and TEST press (make offer on both)

Release no longer $10

Reveal descent PMA records $10





Shelter no compromise $15

Shelter live reality boot $10

Shelter quest for certainty/after forever boot $10

Sick Of It All pushed too far boot $10

Side By Side ep silver labels $25

Skewbald grand union ep clear vinyl $10

Snapcase steps clear vinyl $10

Slapshot same mistake ep green vinyl $10

Sportswear keep it together clear vinyl $15, blue vinyl $15

Sportswear it runs deep yellow and orange vinyl $15

Straight Ahead LP bootleg on EP gold vinyl $5

Strife 'grey' red vinyl $10

Supertouch ep $20

Ten Yard Fight HC pride EP blue vinyl $10 / grey vinyl EVR $10

TYF/Fastbreak split ep all colors and versions $10 each

TYF the only way dark red $10

The Trust gold vinyl $10

Turning Point/No Escape split black vinyl $10

Uniform Choice demo double 7" $10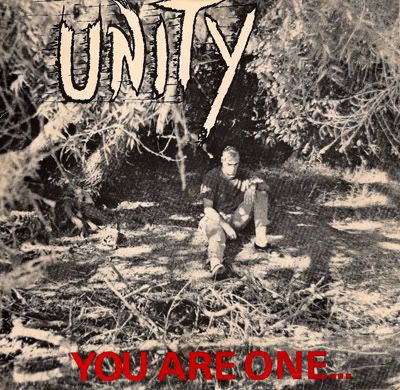 Unity you are one ep black vinyl with diehard insert $55

Unity total weirdo japanese EP boot $10

Where Fear And Weapons Meet clear vinyl $10

Wide Awake hold true demo bootleg $5

Wide Awake 'the end' live ep $10

Words To Live by comp first press black $10

X Marks The Spot comp SFT repress $10

YOT live at CBs boot $10

YOT yesterday live euro boot $10

YOT live at van hall 1989 ep grey vinyl $10
TEN INCHES




Bad Brains omega sessions gold vinyl $15

Cro Mags demo boot red letters $30

Judge Chung King boot $20

Verbal Assault exit $10
TWELVE INCHES 
 



Bad Brains Roir LP red vinyl $20

Bad Brains Rock For Light white vinyl $30

Breakdown blacklisted clear vinyl $20

Cornerstone beating the masses yellow vinyl $20

Cro Mags live at Wellingtons boot $20

Damage Control what it takes Euro tour press $25

The First Step OHCM AM/Livewire Clear vinyl $20

For The Sake Of Dedication green vinyl with booklet $20

Gorilla Biscuits "ep and demo on 1 LP" We Bite black vinyl $25

Half Off The Truth LP black vinyl $15

In My Eyes the difference between yellow vinyl $40

Justice League Shattered Dreams fartblossom $25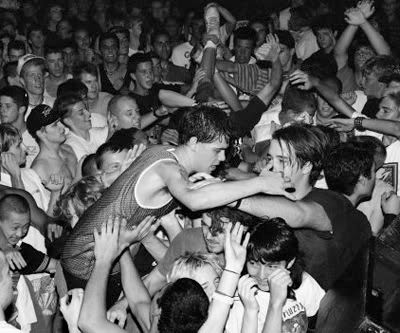 Leeway born to expire profile/rock hotel $30

Marginal Man 'identity' $20

Negative Approach tied down purple cover recent T&G press $15

Nerve Agents first lp green vinyl $20

Onward these words gold vinyl $20

NYHC Sunday Matinee clear vinyl $20

Rebirth Of HC LP purple vinyl supersoul Ed McKirdy's face on the cover(!) $20

Underdog vanishing point reissue red vinyl $20

Verbal Assault learn $20

Verbal Assault Trial promo LP no insert $10

Purpose red vinyl $10

Redemption 87 clear vinyl new age $20

Vision In The Blink Of An Eye purple vinyl Nemesis $35





SSD get it away XClaim! No insert $75

SSD kids EXClaim! boot $30

Ten Yard Fight back on track gold vinyl $35

YOT BDTW We Bite $30

YOT CCME We Bite yellow vinyl $40

YOT BDTW We Bite yellow $40

YOT WNITA funhouse yellow vinyl $40

YOT CCME rev repress green vinyl $75

YOT BDTW rev repress orange vinyl $75

YOT WNITA rev repress dark red vinyl $100

YOT anarchy in vienna live bootleg LP $25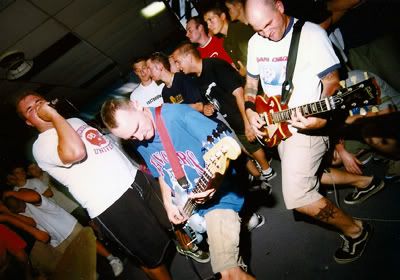 DEMOS/TAPES (make offers on all)
Over The Line 1997 demo yellow cover

IME demo 1997

Fastbreak "Youth Pride" demo

Close Call demo 1997

Floorpunch Goal Line Stand demo

Ten Yard Fight demo

Kid Dynamite demo

TFS west coast tour 2001 tape