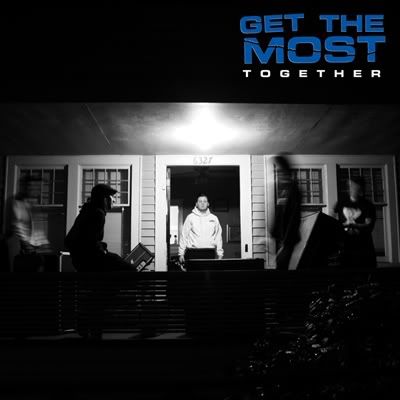 In our continuing effort to feature more of today's current hardcore bands here on DCXX, we bring you Vancouver BC's Get The Most. Check out Get The Most's brand new full length LP titled, "Together" on React! Records and read what Bubs, the band's frontman has to say. -Tim DCXX

How did you discover hardcore and what are some of your early memories and experiences that left a lasting impression?

When I grew up my older cousins were all about metal. I was exposed to stuff like Metallica, Megadeth and Slayer when I was about 6 years old. I think I bought "And Justice For All" the first week it came out. I totally thrived on the next heavy and fast thing. Not long after I heard D.R.I.'s "Dealin' With It" and I was floored. I totally was taken by the fact these guys were young, raging and weren't totally about satanism/metal imagery which I couldn't really relate to as a kid.

That was the gateway into punk rock for me. I was turned on to bands like Warzone, Youth Of Today, and Agnostic Front mostly from reading the music section in Thrasher magazine. As I got into my early teens I was getting out of death metal/grindcore and more into punk rock. I went to every local punk show I could, out in the suburbs and in the city. I saw a show every two weeks or so and I loved the connection of punk rock and skateboarding together. My friends and I would take the bus all over the city to skate and then hit up the show on a Friday or Saturday night. It was amazing to go to local shows, seeing kids playing to kids, a lot of bands sucked, and some really ruled. It didn't really matter, it was the awesome outlet to express ourselves. It was inspiring to get involved myself and work on putting together my own band from all the people I had met in the scene.

It wasn't until a year or so later that I went to my first hardcore show. I think it was Strain, Trial, Burden, and One King Down out in the suburbs where I lived in 1996. I didn't know too much about "current hardcore" so I didn't know what to expect. I was amazed. There were people climbing all over each other to get a chance to sing along to the songs, people were doing this weird kickboxing thing, and the kids wore choker chains and bandanas on their heads. The energy of the show was something I had never seen before. It was my first exposure to the HC scene's relationship to animal rights and straight edge. The punk scene for me was basically about nothing but push moshing, bros, getting drunk, and going to parties. This scene stood for so much more. After taking in bands like Earth Crisis and Trial, I made a transition from punk kid to hardcore kid.




Tell us about a few of your favorite hardcore bands and how and why you connected with them?

Over the years I have enjoyed a wide variety of styles of hardcore, but I always feel I can count on those bands that still get the blood flowing. The bands that put out flawless records. Yes they are classic bands to some, maybe they are just poorly recorded bands to others. Youth Of Today is one these. The urgency and potency in those lyrics are unsurpassed in my eyes. The music is so driving but the words are those of a positive and a "can do it" mentality. Some say "We're Not In This Alone" is not a tight record, to me it's perfect. It makes me feel I can accomplish something I set my mind to.

Another record that I have a strong connection to and is one of my favourites is Judge's "Bringin It Down." One of the first heavier and darker sounding records from the straight edge scene that I heard. It gives me chills when I listen to the record some 13 or so years after first hearing it. I can relate to the heavier vibes going on, there is almost a sort of "as it turns out the world isn't as peachy as we think it is" deal happening. This band is often imitated but I don't think there will ever be anything like them.

At what point did you decide to get involved in doing your own band and what is the history of the bands you have done?

I started trying to get my own thing going when I was 14 or 15. One of the first attempts at doing my band was a skate punk band. It was me and my best friend. Believe it or not the band didn't get far due the lack of capable drummers out there. The next thing was an emo band called The Self Esteem Project. We started out as a 90's French hardcore styled band. We wanted to sound like Jasmine. It was fast and melodic but had screaming vocals, I played bass. Next, I joined a straight edge band called Burden in 1997 and it was a lot of fun. We did a trip down the west coast and played locally. It was sort of a heavier sounding youth crew meets Strife thing. I started a band called Blue Monday in 2001 and that was my first real touring band. We toured a lot and worked hard. We played in the US, Canada and Europe. It was an amazing time and I made so many friends over the four years we were around. After BM finished I filled in for friends Go It Alone.




Tell us about the formation of Get The Most and what goals and visions you had for Get The Most that you might not have had for your previous bands?

The forming of GTM was while Blue Monday, Allegiance and Go It Alone were on a summer tour in '05. Kram sang for GIA and I had talked about starting a more traditional sounding group. We decided to spice things up by taking on different duties, Kram playing drums and me singing. We wanted to sound like Insted and Unity.

I was super excited to sing and be able to write the songs too. We enlisted some friends to round out the lineup, Face from the area, and Today's Man from back home. I don't think we had many goals as a band because we were a side project. Every one had more important bands at the time. All we wanted to do was record a good demo and play once in a while and have a blast. There wasn't any pressure to book tours, buy a van or do anything really. After being in a touring band for several years this situation was desirable.

Being a band from Canada, how did you end up releasing a record on Crucial Response Records and what can you tell us about releasing your debut record on a European label? How did that affect the band in a positive and or negative way?

Like I said just above, we never had felt any obligation or pressure to tour so going with a European label wasn't going to be a problem. Previously in other bands, you would depend on the label to help you out financially or help with merch etc., but with GTM all we wanted to do is put out a cool record on a cool label.

Crucial Response put out some of our favourite youth crew vinyl. The For The Sake Of Dedication and the Mainstrike LPs were legendary records in aesthetic and sound. We wanted to be a part of that. From touring in Europe I got the impression that over there they really appreciate the older/more traditional approach to hardcore. In my mind it only made sense that kids in Europe and overseas would check us out because we had a record out on such an infamous label.




You guys spent some time on the road with The First Step, what if anything did you take from your experiences with them?

We loved touring with TFS. I think that their music is amazing but it's also their character as individuals that really solidified them as the great band they are. Stephen is a great front man, the honesty and sincerity that comes from that guy, on stage and off, leaves a lasting impression. I feel they believed in their message and their live show was always spectacular. If I learned anything from them, it would definitely be "be yourself" and "self improvement" values. They didn't have any gimmicks, it was just no frills, fast paced, message-driven hardcore. I look up to Stephen as a front man. I guess you have to run 10 miles a day if you want to be the frenzied ball of energy like he was in TFS.

With Get The Most being a band that started in 2005, it seems like you drew more musical and stylized influences from the bands of the late 80's as opposed to the bands of present day. How and why did you think these bands molded you more so than the current bands? Also, who do you see as the main bands that influenced you guys the most?

The idea of the group was to take inspiration from some of the greats on the west coast and of course the REV bands from NY. We had been doing more "modern" hardcore, striving for some originality in previous groups. Get The Most was intended to be less serious, not original, more fun and awesome to see live. Sure there are great bands now, but back then in the late eighties the sound was brand new and not over done. I look back at videos of Chain and YOT and see something so fresh and vibrant. People were ecstatic, bouncing all over the walls, diving everywhere...bands were sloppier, gear was shitty, the internet didn't exist. I think back in the 80s it might have been more of an event than just another show. At least to me it seems that way.

For inspiration musically and lyrically I look to bands like Uniform Choice, Insted, Unit Pride, Chain Of Strength and Youth Of Today.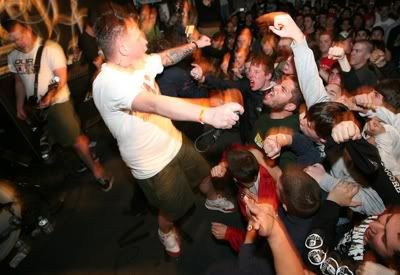 Do you see kids that have gotten into hardcore within the past five years having a great respect and appreciation for the bands that have come before them? Do you think it's important for kids to learn the history of hardcore or do you think hardcore is more so about the here and now?

I think it is absolute must to know your roots. I am 29 years old and there are still bands from back in the day that I need to hear. My friend J25 and I were just listening to Urban Waste and Antidote and talking about the sheer intensity of those 7"s. The sound is raw and there is no computer program to record on, it's probably recorded all at once and when they do it you feel like they mean it. The bands today need a history lesson for sure. I saw the Cro-Mags when they came to Seattle last year. It was so raging. That band laid the foundation for a sound a lot of us take for granted today. I totally appreciate all the old bands, without them this wouldn't be possible.

What would you say to someone who was involved with the hardcore scene of the 1980s and looks at today's scene as dead in comparison or at least uninteresting? How would you prove to them that they were wrong?

To say things like that would have to be a matter of opinion. You can go to any town in North America and see all ages shows in Vet halls with kids 15 years old freaking out, singing the lyrics of their favourite HC band with intense passion and raw energy. Doing something that still is an underground scene. Doing shows for kids by kids. Sure we don't know what direction hardcore might take in the next 10 years, but I am sure it's going to be run by people who care about the music, about an exchange of ideas and people who feel like outsiders.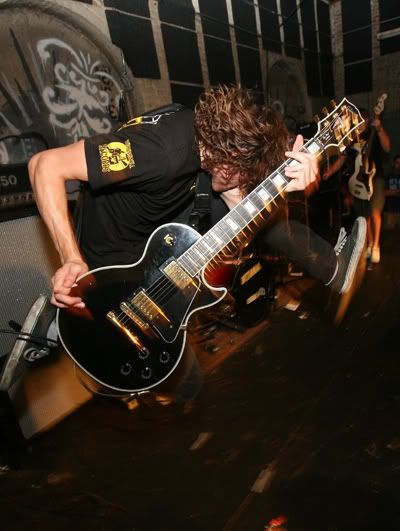 Who are some of your favorite current bands and what do each offer to people who might have never heard them before?

Most of my favourite bands are on the REACT! Records label. While most of them do their own thing, one thing that they all share is a real love of hardcore. We all do our day jobs and some of us are married or whatever but doing these bands is what keeps us excited and inspired. These bands: Vacant State (Last Rights sounding from Vancouver on Deranged records), Keep It Clear (pissed off Floorpunch/Right Brigade sounding from Vancouver on Not Just Words records) and Mindset (Youth Of Today sounding from Baltimore on REACT!) .


I know you're a pretty serious Morrissey fan, what is it about him that speaks to you and what are your top 5 Smiths/Morrissey songs and why? Do you see any of your Morrissey fandom finding its way into Get The Most?

One thing that's always fun is meeting people at Get The Most shows who share the love of Smiths/Morrrissey like I do. I really am moved by Morrissey's talent, whether it be his singing voice or his witty lyrics. There really isn't anyone who does it like him. Growing up, my friends liked The Smiths, so I was a casual fan. We went to go see Moz in '97 and didn't really know if it was going to be very good. Within the first couple of minutes I was mesmerized. People in their 30-40's were acting hysterically. It was like some weird transformation. People were going nuts. That night I totally got it.

Top songs aren't easy to pick but what the heck. "Why" would take forever.
The Smiths: Last Night I Dreamt Somebody Loved Me, Back To The Old House
Morrissey: Suedehead, Tomorrow, Speedway




What are some of your favorite shows you've played with Get The Most and why? Also, how do you determine what's been a great show for you guys (venue, crowd response, sound, how well you played, friends being there, etc.)?

Some of my favourite shows were on the recent European tour. It was amazing to see people on the other side of the world so enthusiastic about the band. It is truly flattering. Obviously a great crowd reaction for this band makes for a great show. We don't get many opportunities to practice too much so when people move around and sing along it takes off the pressure of not playing perfect. It reminds me of how TFS would all live in different corners of the country but when they met up and played a show, it didn't matter if they practiced twice a week, the show was crazy. Some of my favourites were the Rivalry showcase, Riverside, CA and Barcelona.

What importance if any does Straight Edge play in Get The Most? What are your thoughts on the Straight Edge scene of 2010?

In GTM I didn't want to emphasize straight edge. Sure most of the members are naturally edge, but I didn't want it to be a focus lyrically. I wanted people who don't give two shits about straight edge or youth crew to find something they could connect with in this band. Whether they like some of the things I say in the songs or on stage, or they just like that we want to sound like a fun upbeat positive band, there wouldn't be a heavy political stance with the band. I have been straight edge since 1996 and I love being straight edge. For the one year I dabbled with drinking I found myself in a couple of unfortunate situations and I didn't think it was for me. Drinking and drugs aren't for everyone and I feel like I am saying a personal "fuck you" to society by not indulging in it.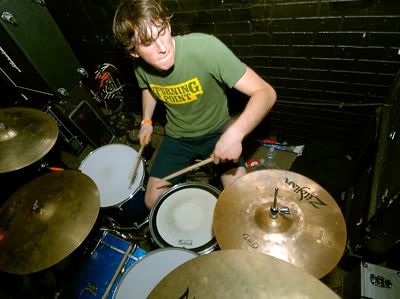 What do you see as being the biggest issues within the hardcore scene of 2010 that you'd like to see changed?

It would be nice for there to more of an emphasis on bands who stand for something and have something intelligent to say. Sure it's great to see a band who says "Go crazy because I said so", but when there is a driving force like a great message to a song, there is a chance I might be able to relate, or have a connection to the idea and it can spawn some sort of action. There is true energy in ideas. It doesn't have to be just entertainment, it can be a forum for discussion and an opportunity to express ourselves. I am over the gimmicks and fads in the last couple of years.

How has Get The Most progressed since its inception and what would you like to accomplish before it ends?

As a band we have had a couple of member changes over the years but the focus never changed. We never thought of changing the sound. If so we would just start a new project. Some personal goals of mine would be to play South America and to leave some sort of lasting mark for the style we play.




Tell us about your upcoming first full length album, "Together." What should people expect from it?

Well since the last record, "Moment in Time," which came out summer of 2007, I have been slowly working on writing songs for the LP. We didn't have any deadlines so when we found time to record we did, but it's been a long process. I think the fact that it wasn't rushed made for a better record and I am very proud of it.

It's 10 songs of hardcore. The recipe is more or less the way we did things on the last three recordings but lyrically I think we stepped things up. There is a song called "Show Some Spine" which is about people who boast about things like unity but are sexist towards women in the hardcore scene. I for one know my wife has felt some alienation by being one of the few girls in the room at a show and I can understand it must be awkward. I think in the hardcore scene we need to encourage everyone to participate. Ok, you suck at playing an instrument, well do a zine, put on a show, do cover art, do a radio show, make fliers. There is so much you can get from being apart of hardcore and I wouldn't want a old fashioned exclusive attitude to make anyone feel unwelcome.

Any final comments, plugs, shout outs, etc.?

Thanks Tim and Gordo for the interview. Thanks to anyone who check out Get The Most and I hope to see everyone at REACT! fest this April for a really swell time.