Anthony Communale with Raw Deal at CBGB, NYC, Photo courtesy of: Drago

In our most recent poll regarding Raw Deal/Killing Time, the 1989 "Brightside" LP, complete with the band name change, squeaked by to take the win over the explosive Raw Deal 1988 demo. Can't say I was expecting that result as my vote went to the demo and I assumed it would win by a landslide, but the Brightside album is no joke. That's a monster LP on every level, and the inclusion of the demo songs re-recorded with more glossy power make it sort of the best of both worlds.

To go along with the poll results is part 1 of our interview with Breakdown/Raw Deal/Killing Time drummer Anthony Drago. Along with Carl Porcaro's ongoing interview, expect all of your NYHC concerns to be addressed in these continuing pieces. Big thanks to Drago and Brian Rocha over at Fresno Media for hooking it up. -Gordo DCXX



Lou Sick Of It All and Anthony at The Garage, Photo courtesy of: Drago

Let's start at the beginning. How did you first discover punk/HC, when and where was this, and what was the initial attraction?

In 1985, I was a 14 year old kid up late watching Rock Palace on TV when I saw the Circle Jerks get up on stage. I was floored by the performance, especially by Chuck Biscuits tearing the living shit out of his drum kit. It looked like he was possessed. I think it was then and there that I decided that I needed to learn how to play like that. I enjoyed the fact that I was into something different than the majority of kids in my school. I had a few friends who were into the same music as me and a lot of others who accepted me regardless of my fucked up taste in music.

What impact did growing up in New York have on the way you viewed music and your ability to seek out underground bands, records, etc.?

I grew up in Westchester and we had two havens for music. Mad Platters record store in Yonkers and the Record Stop in Hartsdale. Tony and Sue ran the Record Stop and me and my friends would stop in there almost daily after school. Tony turned me onto so many great bands. He would make me crazy tape mixes with Bad Brains, Misfits, Black Flag, Minor Threat and the Dead Kennedys. Tony was also the guy who told me about a group of guys from Yonkers who were starting a hardcore band and needed a drummer. I met Carl shortly after in my parent's garage, where they auditioned me for Breakdown. Less than a year later, I was 16 and we were playing CBGB's.



Raw Deal demo recording session, Photo courtesy of: Drago

What were early punk/HC shows you saw that left a lasting impression?

There were so many bands I was into and so many shows I was able to make it too. My brother and sister had broken my parents' will long before I came of age. I loved the Cro-Mags, Agnostic Front, Government Issue, Murphy's Law, Sheer Terror and Leeway. Stand out records I would say are Cause for Alarm, Born To Expire and Crumbsuckers' Life of Dreams.

Tell us about your music involvement in Breakdown prior to Raw Deal. How did those experiences shape what you wanted to accomplish with Raw Deal?

My time in Breakdown was a lot of fun. I didn't want to see it end. But when it became an eventuality, I decided to move forward with Carl and Rich as opposed to staying. The way I saw it, Carl and Rich were writing most of the good material for Breakdown and this new band might give me the opportunity to start contributing lyrically. This was something that Jeff wanted to keep all his own. By the time Anthony and Mike joined the band we had already written a few songs that I had written the lyrics for and Anthony was open to the idea. At the time, it was a little frustrating to think that we had to start all over again as a band but when we started playing shows with Anthony, I could tell right away that I had made the right decision. In my opinion, he is one of the best front man in the history of Punk/Hardcore.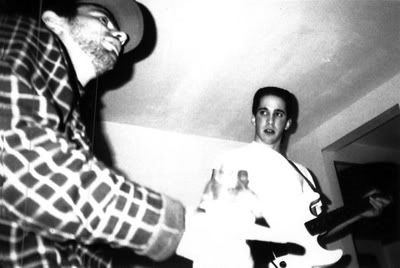 Anthony and Carl at The Garage, Photo courtesy of: Drago

How do you recall the Raw Deal songs being written and recorded for the demo?

As I remember, the songs came along rather quickly. We spent a lot of time in my parents' garage in the hopes that we would have enough material to put out a demo fairly soon. My only hopes for the recording of that demo were that people would like it as much as they did the Breakdown demo. We went to the same studio and used the same engineer. We went into it really rehearsed. I think we've always been pretty serious when it comes to recording.

Similarly, the Raw Deal demo is a landmark piece of what many refer to as "reality hardcore" - what do you think of that description? Do you feel like the same guys you were in 1988?

I think that the description is accurate. I think it's got something to do with the music but it also has so much to do with the lyrical content. We've always been very negative bastards. Don't blame us, blame everybody else. I think that we're basically the same guys we were in 1988 but maybe a little wiser. As you get older you realize that 99% of everything is bullshit and nothing is the "end of the world", except for maybe the end of the world. In that regard maybe we have become more "positive" in our outlook on life.

Killing Time - "Brightside" LP - 198
Raw Deal - 1988 Demo - 171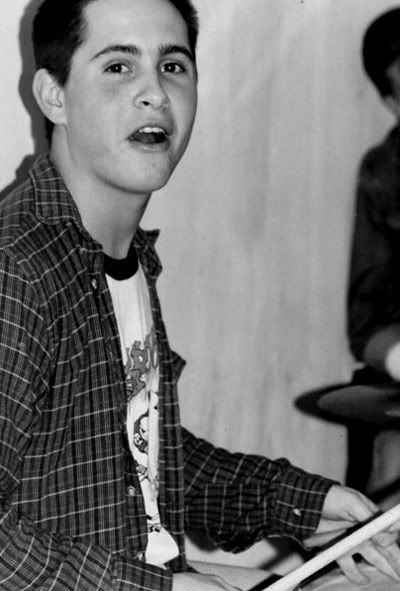 Drago at The Garage, Photo courtesy of: Drago