Vinny and Matt in Europe with AF, 1990, all photos courtesy of: Matt Henderson

DCXX gladly accepts solid guest contributions.

Here's one we really dig - Nick Gregoire-Racicot from Ottawa caught up with Matt Henderson, guitarist from Blind Approach, Agnostic Front, and Madball. I'm not sure we ever would have caught up with Matt on our own, and this is some serious NYHC information and history here from a guy who grew up a huge AF fan in the mid-west, finding himself playing in the band a few years later.

Super cool and massive interview with tons to come, so stay tuned. Big thanks to Nick and Matt! -Gordo DCXX



11 years old in my first band, playing for some outdoor party at my grade school.

What are you up to these days? How's life on the West Coast ? What keeps you busy?

I am married and the proud father of two boys, Tanner (4) and Riley (2). Working and taking care of those two basically takes up all of my time, but it's great. Southern California is cool. I'm not passionate about it, but my wife and I moved here from NYC to be near family and start our own. We just finally bought a house and it's all good.

Do you miss playing music? What do you miss the most? What don't you miss?

I definitely miss playing music. I only started feeling that way recently though. I was a little bitter for a while and didn't even want to touch my guitar after I quit playing in Madball, not because of the band but because of all of the nonsense that comes along with trying to make a living as a musician. What I miss most is playing music and getting enjoyment out of just that and not worrying about any bullshit. What I don't miss is being forced to travel and to try and make enough to pay the bills.



Me in my punkrock/pre-skinhead days.

Any projects going on?

None at the moment, but I want to try and get something started. I've been talking to a few people but everybody I want to work with is just as busy as I am so it's hard to get it going. We'll see...

How did you get into HC?

I got into hardcore at the very early stages when it still had a lot of punk influence. When I was a little kid in the 70's I was a HUGE Kiss fan and I was used to listening to 'harder' sounding music because of it. People would always tell me how much Kiss sucked, and they all listened to Styx or Supertramp and those bands sounded weak to me, so punk and its 'fuck you' attitude was a natural transition.

Plus, I have parents from the sixties with a Mom who really did protest in the streets and called bullshit when she saw it, and a Dad who liked music that was genuine and steered away from the mainstream crap.

All of that led me into punk and by the time I really started to join in, it was around '82-'83 and bands like Black Flag, Agnostic Front, Bad Brains and Minor Threat were defining the newer generation which was true hardcore, a separation from punk.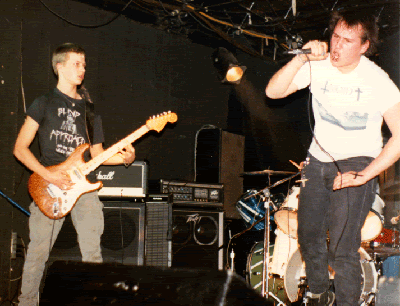 If not the first, the second show we played at 7th Street Entry before we knew anybody in Minneapolis. I had just turned 16.

So which came first in your universe: metal or hc/punk?

Well, the classic rock that I was exposed to by my dad came first like Led Zeppelin, The Who, Deep Purple, etc. Then there was Kiss, so I liked metal but I was never a 'metalhead.' Then once I got into punk rock in '82-'83 and had a mohawk every metalhead in my town wanted to beat my skinny-little-kid ass so I hated metalheads, and metal.

Hardcore was talking about real shit and metal was either a bunch of dudes wearing women's makeup and singing about love or Satan. So punk/hc was first for me. After I became a skinhead in '86 and the tables turned a little and I had a crew that could compete with the metalheads, I could tolerate metal a little more, but I still thought it was corny. I couldn't get into the '666' 'bow down to Satan' bullshit. I didn't start really getting into Slayer until 'Seasons In The Abyss' which is a record most Slayer fans hate.



A flyer for a show that we threw by renting a YMCA in downtown St. Paul – the only way to get a show in St. Paul for us back then. We knew that there could be trouble and asked a friend of ours to handle security. He wrangled up a bunch of his East Side metalhead buddies that wound up trying to beatup everybody there.

What were your favorite bands back then, and where did did you draw influence from as an active musician (HC or not)?

My favorite bands as a young kid started in order like this: The Beatles>Kiss>Van Halen>Sex Pistols>Various Punk/early hardcore (GBH, Discharge, DKs, Black Flag, Jerry's Kids, AF, Bad Brains, Misfits, Minor Threat, Negative Approach, etc.)>Cro-Mags>late NYHC (Killing Time, SOIA, Underdog, etc.). I hated metalheads for most of my younger punk/hardcore days, but Metallica were basically considered a punk band with long hair. They were the shit back then too.

As a whole I've always loved all kinds of music from classic rock to blues, jazz, R&B, Hip-Hop, which I think helped shape me as a musician overall, but for influence on the bands I played in it would have to be early punk/hardcore like the bands I mentioned above, and early Metallica. Later influences were definitely AF, Cro-Mags, Killing Time and Obituary (Cause Of Death is a damn good record and their live show back in the day was the shit).



Some skateboard event that let us play on Lake Calhoun in Mpls.

Did you realize that you were a part of a movement (hc, punk or straight edge) or was it something else?

I definitely realized that HC was a movement and that was part of the attraction. Like I said, in my town, St. Paul, MN, there was a lot of fucked up white trash that thought Motley Crue was the shit and they could not deal with me and my punk rock friends. They would call us 'fags' and we were like 'have you looked at those pictures of Vince Neil and Tommy Lee??? Those dudes are wearing lipstick and fishnets and we are the fags??' Plus, listen to Minor Threat or AF and tell me that is not way tougher than 'Too Young to Fall in Love' or some other bullshit metal song.

Eventually after the Cro-Mags hit MN all the metalheads were jocking us and our scene. And as a movement, because we as punk/hc dudes were a minority we had to stick together, and we did. You could go to any city in the country back in the day and when you found a group of guys that dressed like you, you knew you were brothers. You knew that you got into the music for the same basic reasons and had the same experiences. It was cool.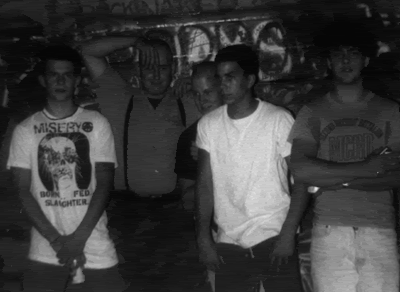 Just hanging out in Mpls.

Any shows that stand out in your mind from back then?

Shows that stand out for me (in no real order):

1. GBH headlining with the Cro-Mags opening at First Avenue in Mpls, MN, 1986. I was a real big GBH fan and even had the big bleached spiked hair. I recognized the name Cro-Mags on the flyer because I had just seen the Donahue show on TV a few weeks earlier doing a special on punk/hardcore in NYC and Harley and John were interviewed. I figured they were an Oi band because they were skinheads and Oi wasn't really my thing at the time so I didn't think much of them being on the bill.

I walked into the club and those dudes were killing it on stage! It was the first time I had heard a hardcore band play with the precision of a metal band and sound really pro. Plus, their energy on stage was unreal. I remember about 1100 people being pretty shocked at this, including me. Harley would say things in between songs like 'This next song goes out to all you motherfuckers with looks on your faces like you don't know what's going on. You must be havin' some kinda 'MALFUNCTION.' I shaved my head about a week later.

2. The Dead Kennedys and Husker Du at the St. Paul, MN Armory. 1985. My first big show. There were A LOT of people there and I was still a young kid. I wasn't sure if I was going to get my ass kicked or not, but that was what made it exciting.

3. Black Flag on the 'Slip it In' Tour, First Avenue. 1985. I was a huge fan, but more of their earlier shit like Nervous Breakdown and Damaged. I watched Henry Rollins on stage with this long greasy hair and the band played this slow, boring shit. A real disappointment and the first time I realized that I didn't have to like it just because it was hardcore.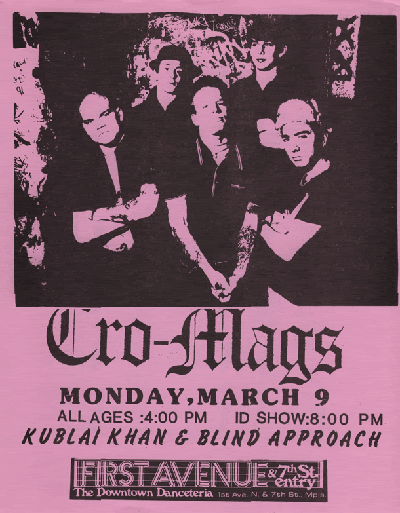 I mentioned the 1986 show where the Cro-Mags played MN for the first time and it blew everyone away. We got to share the stage with them the next year and it was a damn good time playing and hanging with those guys for both the full attendance Matinee and the later "Drunk Show" with almost no one there but the bands and Joan Jett in the audience. Scott and I ditched the last half of highschool the next day to drive 5 hours to Milwaukee, WI and catch their show and the band took us in, shared their backstage and food with us, etc. That was also a great show and a good memory.

4. Agnostic Front on the Liberty And Justice For...tour, some suburb of Chicago 1988 – same summer that 'Live at CBGB's' was released. For some reason AF never made it to my hometown in MN until after I joined the band, and me and my friends were all big fans since we were little punk rockers listening to Victim in Pain. In 1988 we were all skinheads and the place was packed with skins from all over the mid-west. My friends from Mpls and most of the Chicago guys were the anti-racists, and the majority by far that night, but there was always a possibility of nazis rollin' in.

Also, even though we all wanted to believe that Agnostic Front were not White Power, there were a lot of rumors out there and because we had never seen them live we were curious to see how the night was going to go. AF got up on stage and the first words out of Roger's mouth were 'this whole set goes out to all the anti-racist skinheads out there' - and they kicked in with 'Crucified'. The place went crazy. That was a damn good show.

5. Bad Brains on the I Against I tour at First Avenue 1987. Bands that played First Avenue used to do 2 shows in one day – the all-ages matinee in the afternoon, and the later 'drunk' show in the evening which would open up the bar and required everyone to be 21. For some reason the Bad Brains only had the 'drunk' show this time around.

First Avenue was cool with me and my friends because we knew the management and they would let us in as long as we had some type of legal guardian, so under short notice that night we convinced my father to come out with us. The place was not even half full so we had a good time down on the floor and my dad was able to sit comfortably and watch from the balcony. The band was amazing and my father dug it a lot. He actually owns two Bad Brains records now (vinyl of course).



This is the back of the Cro-Mags/BA flyer that shows the calendar for the month that includes the Bad Brains the week before, and Joan Jett the night before we played. At the end of the night that we played we were all winding down backstage and Chris Williamson, the Cro-Mags manager and Rock Hotel owner, came up to John and Harley and said "hey guys, there's someone that wants to meet you." So John and Harley headed out to the floor, and of course we followed, and there was Joan Jett. She shook their hands and said "You guys got real balls" and she put her hand out like she was holding a pair. Classic.