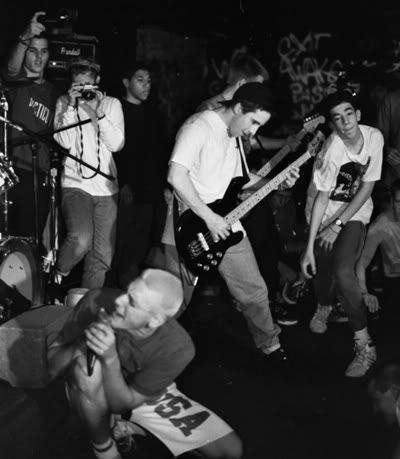 Jules takes a knee with Alone In A Crowd at The Anthrax while Brett gets down in the background, Photo courtesy of Lars Weiss

Some good Alone In A Crowd material lately. Hopefully it lures Jules in for an interview. Brett Beach recalls their one and only show... -Gordo DCXX

Friday November 25th (1988) at The Anthrax was one of the most anticipated shows I ever attended. Even the flyer had me psyched for the 3 hour drive with my crew at the time, Rob and Chris. I finished work around 5:30pm and went home to wait for them to pick me up. Rob was in Crucial Youth at the time and they were recording the Crucial Yule 7" that day. So I'm waiting and getting nervous. Finally I get a call around 6:30, they're still recording "Christmastime for the Skins", but it's almost finished so they'll be over soon. I was still nervous.

Finally they show up and we're off to Connecticut. As it turned out they had two more songs to record, but Rob told them he had to leave to go see AIAC. Joe Crucial and Gentleman Jim were pissed, but Rob split anyway and that was his last official act as Ollie "ye Faithful" Grind.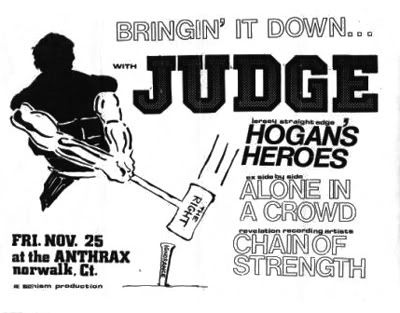 I bought a red longsleeve Judge shirt and watched Chain tear the place up. I'm pretty sure this was the second time we had seen COS at The Anthrax in a week (!). Then it was time for AIAC. As they're setting up I'm wondering, "Where's Jules?" It seemed like he was out of sight at shows for a while. Did he have long hair now?

Finally they're ready and Jules hits the stage, full of energy, wearing a sweatshirt with the hood up and a Judge shirt over it. They opened with "Is Anybody There?" and the place went nuts. Once that hood came off you could see Jules' freshly bleached crew-cut. No long hair sellout!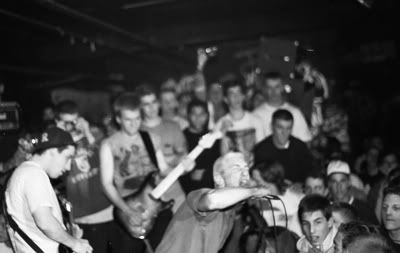 Jules belts it out for Alone In A Crowd, Photo courtesy of Lars Weiss

Looking back, I know a lot of people already had copies of the 7" recording (but we did not) so that must have helped. The four songs off the 7" and the GI cover later and they were gone, never to hit the stage again.

After the set Chris and I caught up with Jules and asked if he'd do an interview for our zine (which never came out). He was real cool about it and we all went into the back room to ask some questions while Hogan's played. That hard-hitting piece of journalism was finally printed in Hardware #5.

Do I even need to mention that Judge kicked ass?

*The Anthrax flyer has Jules' address and phone number written on the back!



More Jules, more Alone In A Crowd, Photo courtesy of Lars Weiss