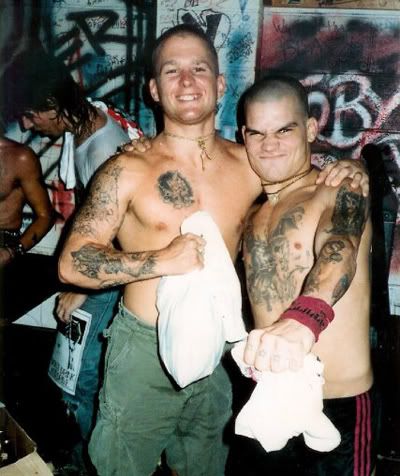 When it comes to the Cro-Mags, there are tons of shirt designs out there. Some great, some not so great. Here are a few favorite Cro-Mags shirts from my collection.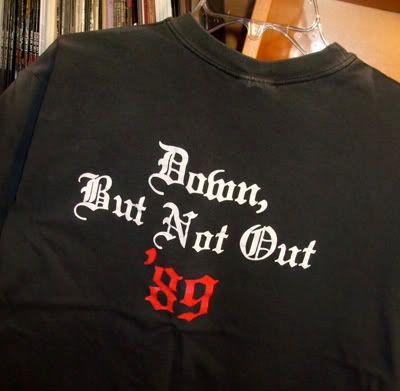 Probably my second favorite Cro-Mags design, the "Best Wishes" Lord Nrsimhadeva shirt is a total full color Mags classic. Based on the story of a half man half lion incarnation of Lord Krishna that appears out of nowhere to save a saintly little boy from his demonic father, this is one hell of a gory piece of art. Comes complete with the simple "Down But Not Out '89" on the back. This one gets two thumbs up from me.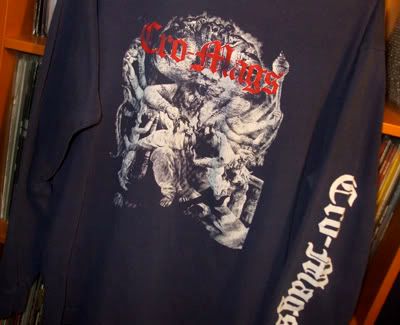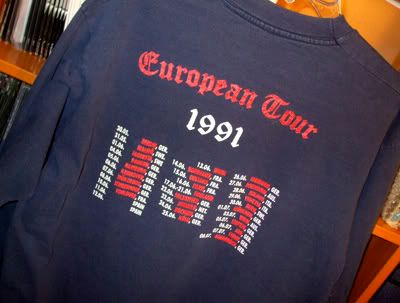 The 1991 European Tour longsleeve isn't quite as loud as the original full color "Best Wishes" design, but the Cro-Mags logo going down the left sleeve definitely ads a nice touch. I think the white print Nrsimhadeva artwork with the red Cro-Mags logo works pretty well too. The back is simple like the '89 tour shirt, but this one drops all the cities and dates on it. A little odd to see a Navy Blue Cro-Mags shirt, but I'm stoked to have it.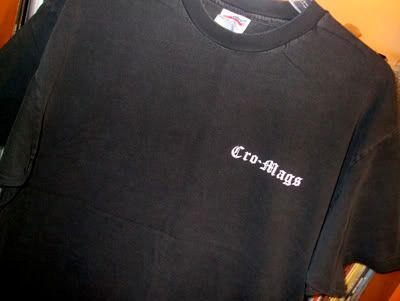 This is definitely a newer Mags shirt, or at least from the 1994-1995 John Bloodclot, AJ Novello, Mackie era of the band. I can't remember the name of the club that I saw them play when I bought this shirt, but I'm pretty sure it was in the ghetto of Newark, New Jersey. Believe it or not, the crowds for this era were pretty slim, but that didn't stop me and a handful of other Jersey guys from making it out to every show they played. I remember someone with the band inconspicuously pulling out these shirts and all of us not so inconspicuously buying up everything they had. Obviously not the coolest Cro-Mags shirt ever made, but I've always liked the simplicity of the pocket print logo on the front and the re-vision of the classic "Age Of Quarrel" mushroom cloud artwork on the back. Revenge.


This one here, unfortunately, is not mine, but a contribution from DCXX reader and ex-Youth Crew roadie, Navy Jim. Jim said he picked this shirt up in Brooklyn, NY at a L'Amour show in 1986. The only memories Jim had about the show were that Nuclear Assault played and that he went to the show with Mike Judge and a few other friends. Jim said there was something special about seeing the Cro-Mags at L'Amour and that they were always intense there.

This particular shirt is one that I've been searching for forever, so if anyone out there has one and is looking to unload, sell or trade it, get in touch, I'll be eternally grateful. -Tim DCXX TimDCXX@gmail.com