Possibly the most coveted shirt of straight edge hardcore, the Schism Project X longsleeve. Just a couple of weeks ago, GB's Lukey Luke had his up for auction on eBay and it ended up getting pulled early. Who won it, remains a mystery to most, but one thing that is known is that the winner holds in his hands one hell of a rare shirt. We here at DCXX decided to pull a couple of excerpts out of Impact Fanzine's article on The Anthrax, that happend to shed a little bit of light on this notorious shirt. -DCXX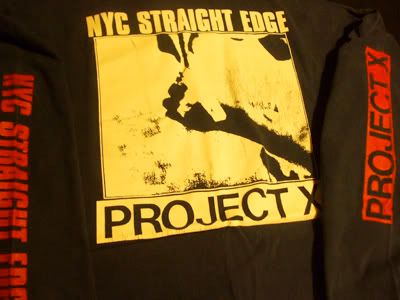 Gus Pena: There were only 10 of those Project X shirts, the longsleeves. There were 12 but one got botched, so there were only 11 good ones. I actually took them all home and washed them when they were done, that was my job. That was the worst printing job I had ever seen on a t-shirt. I remember when the cover for The Way It Is came out and Jordan telling me, Gus, you're gonna be real happy with the cover. I was like, "Wow, that's cool!" Walter was like, "Dude, you did such a good job. Your arm is straight, it says NYC Straight Edge on there perfectly."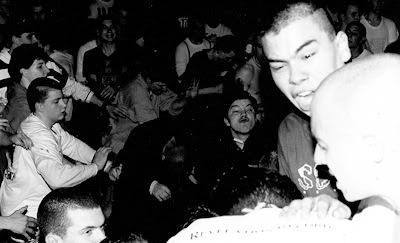 Gus singing along to GB at The Anthrax in the PX longsleeve, Photo: Boiling Point

Porcell: I would have to say the Project X seven inch was my favorite thing we did on Schism. It came with the fanzine and everything, just an awesome package. We made those longsleeve PX shirts. We made those in our apartment, me and Al Brown, there's like fifteen, but we didn't sell them, we just gave them to all the cool people in the scene, and we all wore them at that first show that we sold the PX records at. So it was just like this army of kids that came walking in, wearing these longsleeve PX shirts on. Everybody was like, "WHOA!" People were begging us to buy them, but it was like, "Sorry, you can't buy them. You just have to be a cool guy in the scene to have one!" I wish I still had mine. I had that shirt when YOT played in Europe. This one kid was like, so cool to us, he let us stay at his house for days, we had no money, he had his Mom feed us three meals a day, and at the end I just gave him that shirt.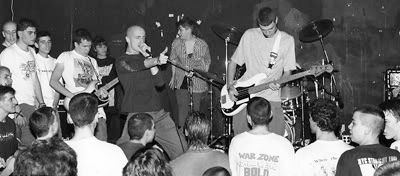 GB at The Anthrax, Porcell in left corner, Gus in right corner and Civ on stage, all wearing the PX longsleeve, Photo: Boiling Point