Porcell rocking the "No More" shirt while playing with Judge at the Unisound in Reading, PA, Photo: Jeremy Dean

Now that the frenzy has subsided over Lukey Luke's eBay auctions, I thought I'd try and shed a little light on one of his items that he had up for bid. The all over "crazy shirt" with various shirt prints (GB, Beyond, etc.) screened all over the shirt, had an image of three cows and "Go Vegetarian" on it. Over the past two days I've gotten a few emails with people questioning me as to what that image was. I figured since I had one of the original shirts, I might as well explain what I know about it and show some clearer photos of what the shirt actually looks like.



"No More" shirt front

Back in 1989, my friend and DCXX contributer, Tony Rettman was given the "No More" shirt by either Jon Hiltz or one of the Boiling Point guys, off hand I don't recall. Either way, the shirt was originally printed by the Boiling Point guys and Tony ended up giving it to me. The front image of the cows was from some pretty standard P.E.T.A. pamphlets at the time. The back art of Youth Of Today and the lyrics to "No More" was simply lifted from the layouts of Boiling Point issue two. I don't believe this was a shirt that was actually sold at any point, but I can't confirm that. My guess is that it was just something the BP guys designed and printed for themselves and their friends.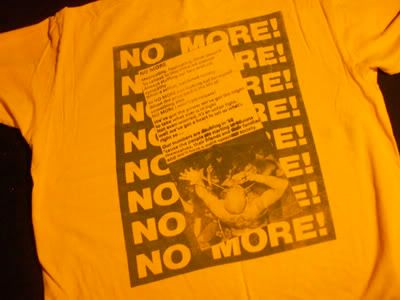 "No More" shirt back

At some point, I'm pretty sure some kids from Maryland got their hands on the back screens and created their own fronts that said, Youth Of Today. I recall being at a Journeyman, Burn, Turning Point show in NJ where someone was selling the Youth Of Today version. I never picked up the re-printed Youth Of Today version, mostly because I thought the fronts looked weak. I also figured since I had the real deal original, I was good with that. -Tim DCXX