Although we ran a cool two-part interview awhile back with Pressure Release guitarist Tom Kuntz, we really just feel like this band is so sparsely documented that it is impossible to have too much info on them. So, expect some fan memories of Pressure Release to be coming your way. To kick it off, Jeff Terranova from Up Front remembers the Pressure Release gang...
Unlike when I met Aware and Wide Awake, for which I can pinpoint where I was and how we met, I honestly cannot remember the first time that I met the Pressure Release guys. More than likely it was at the Anthrax in Norwalk, CT. It seemed that if you were a young SXE band in 1987 and you went to the Anthrax, then you were going to be friends by default because there really weren't too many of you around. Fortunately for me, all of the CT SXE bands and kids were really cool to be around and there really weren't any bad eggs in the bunch (they came later and that's an entirely different story). Anyway, here are some of my fond Pressure Release memories.


On Sunday January 24th, 1988 we spent an entire day at the Anthrax when Up Front, Wide Awake and Pressure Release all recorded tracks for the X Marks The Spot compilation. We set up the gear as if we were playing a live show and Jeff R mic'd everything up and recorded all of the music live. We then went back and recorded the lead vocals and the backups.
It was a long day and some people lost their attention spans throughout, but when it came time to do the backups, everyone was there ready to scream into the mic. When Doug was recording his main vocals at one point he got out of breath and took an inhaler out of his hoodie pocket and took a few shots...up until that point I had no idea that the guy had asthma. All I thought was "how the hell does someone with asthma jump around and sing like that in a band?"... I was honestly impressed. The only shame was that Pressure Release did not like how their session turned out so they recorded the songs somewhere else.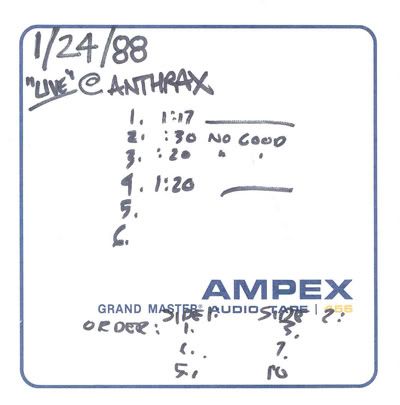 X Marks The Spot reels
On May 6th, 1988 Pressure Release had a show in Albany, NY with Underdog and No Outlet at Club 288 and somehow I ended up driving the station wagon, commonly referred to as "the family truckster," up to the show with half of the band with me. The other half of the band were in a pick-up truck... and I don't mean in the cab, I mean in the bed... including Steve from Up Front. I am pretty sure that Alex (PR) rode with me and maybe Doug, I remember Tye (PR) and Jeff Leach (PR) and Steve (Up Front) in the back of the pick-up cruising up the Taconic State Parkway. Steve is very pale skinned and he looked like a freakin' lobster when we arrived at the show, not good.
The show was great and we all went back to Dave Stein's for the night. Dave's place was the best and I have tons of funny stories like when his pitbull humped Matt Bold doggy style and left a little creamy treat on his sleeping bag... or when Biv from Supertouch was sitting on the arm of the sofa right near the front door and someone rang the doorbell, causing the dog to jump over the couch, knocking him off onto the floor. I was always in complete awe looking at Dave's record collection... it was small, but he had every record that you wished to have!


But back to Pressure Release, some of the PR guys decided to sleep in truck, I have no idea why, but I slept at Dave's and we met up in the morning and drove back home. This time Steve rode in the station wagon while suffering the agony of bad sunburn.


I don't remember why, but Steve and I ended up at Doug's parent's house one night after a show. It may have been Friday, February 5th, 1988 because Up Front, Pressure Release and Target 19 played at The Pit in Rye, NY and Rye, NY is right near Greenwich, CT. It was the biggest house that I had ever been in at that point in my life. It was like something out of a movie where you walk in and there were huge stairwells on your left and your right that led up to a balcony that circled the entire 2nd floor.
I remember going into Doug's room and going through his cassette tapes while some of the other guys were down the hall trying to flirt with his younger sister. I went to the car to find a cassette that I could tape over and I remember copying a Pressure Release Don Fury practice and the Cause For Alarm 7". Up until this point I only had a real crappy 12th generation recording of the 7" and Doug had like a 1st or 2nd generation copy... I was in heaven! I don't remember how long we stayed or what else we did, but I distinctly recall sitting on Doug's bed and talking about hardcore with him and Alex.


Connecticut Crew
From what I can remember, here is a list of the times that Up Front and Pressure Release played together: February 5th, 1988 Up Front, Pressure Release and Target 19 at The Pit, Rye, NY - March 18th, 1988 Up Front, Project X, Pressure Release and Judge at The Anthrax, Norwalk, CT - April 24th, 1988 Up Front, Skeletal Ambitions, Forced Reality, Freedom Of Choice and Pressure Release at The Brick 'N Wood, New Haven, CT - May 15th, 1988 Up Front, Pressure Release, Bustin' Out, Our Gang and Bad Trip at The Right Track Inn, Long Island -September 10th, 1988 Up Front, No Outlet, Pressure Release and Our Gang at The Anthrax, Norwalk, CT.
I have toyed around with the idea of putting together a Pressure Release Discography on Smorgasbord Records. I have emailed Tom (Kuntz, guitar) a few times about it, but I have yet to call him to discuss the details and the reality of such a thing. I do know that all of the master tapes are gone, except for maybe the New Age 7" because Mike Hartsfield may still have the DAT(s) packed away somewhere. I have a copy of everything, including the January 24th, 1988 recording that never saw the light of day... which one of the songs has slightly different lyrics than the version that was on the X Marks The Spot comp.


Wide Awake, Aware and Pressure Release were all such a huge part of my youth and I am damn proud to have released the Wide Awake Discography and I am still working on the Aware Discography, so a Pressure Release Discography just may have to be done!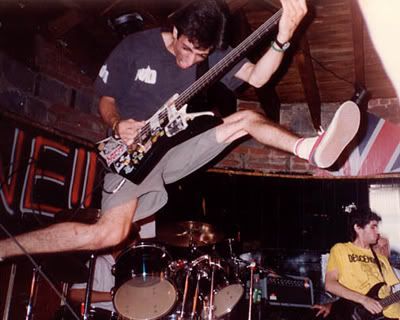 Jeff airs it out with Up Front