Harley with the Cro-Mags at Fenders, Long Beach CA, 1987, Photo: KRK Dominguez

Love or hate it, Harley is back and we are happy to have him on board with us. Buckle up again and expect more where this came from.. -Gordo DCXX

Who was a great underrated band from the early HC scene?

Well as far as NY bands, I gotta give a shout to the influence of The Mob, Reagan Youth, Heart Attack, and Urban Waste. There was a few, I don't know if you could call them "hardcore" bands by definition back then, it was punk rock. Also, obviously I'd give a shout out to Agnostic Front and Kraut and so on.

But all of that didn't really didn't happen until after the Bad Brains came to town, and I don't think people will ever fully appreciate the Bad Brains. No matter how much props people give them...to have been there back in the day and seen it was something that cannot really be described. They were like the fastest, tightest, most explosive punk band in the world. When I first knew them, they weren't hardcore, they weren't rastas, they were punk rockers, and they were the most intense thing ever.

There were a lot of great bands that I think laid down the foundation for what is happening today and ever since then. Circle Jerks, Black Flag, Minor Threat, Negative Approach. Even bands like Flipper were great, Suicidal Tendencies were great - there was a lot of great shit, and it all meshed together. As far as shows, one stand out show was the Bad Brains with Discharge, Circle Jerks, Bad Religion, and The Farts who were Duff from Guns 'N Roses' old punk band. That was at the Santa Monica Civic Center. But man those early 80's shows were great at A7 and CGBG's.

I think by the late 80s it started to get a little repetitive. Gentrification was in full effect and the LES was getting safer and safer - and duller and duller. At that point the shows were kind of full of clones. At best it was an imitation of something, not a continuation or a progression of it - just a bad copy. The only thing it really did I gotta say is that it kept it sorta going for a little while although even if in a watered down kinda way. But hey, at least the kids were having fun. Bands like Minor Threat for example, forget about straight edge and everything else for a minute, I mean east coast hardcore would not sound the way it did or does if it wasn't for them and Negative Approach.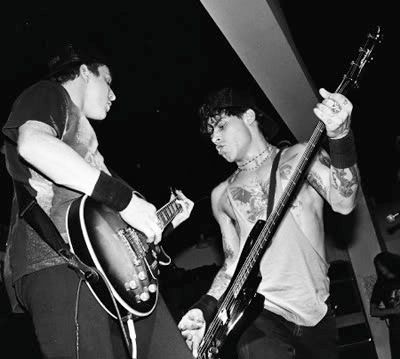 Harley and Doug Holland, Best Wishes era Cro-Mags, Photo: KRK Dominguez

I was lucky to be a part of all of that and friends with all of those guys, and I don't know whether people today like them or not, but Black Flag, Circle Jerks, Fear...shit, when they rolled through town we all learned a lot from them. That was the real shit, when punk started making the switch. D.O.A is another. Also bands like Faith and Void, oh my God Bubba Dupree, great guitarist, sick band live, high energy, chaos, great shows, the speed of the music, the explosiveness. The energy that some of these bands had live, even the sloppy crazy shit. That original Circle Jerks line up with Lucky on drums, Roger on bass, Greg and Keith...holy shit they were tight as shit!

Black Flag was total mayhem, noise, chaos and just an explosion from the beginning of one song to the next. You can watch all the old videos and dvds of all that old shit you want, but it will never do it the justice of being there or give you the feeling of seeing it and witnessing it. At the time, you knew it was something new, it was explosive even with what ever sloppiness and rawness there was - it didn't matter, it was real and it wasn't a copy of something. The energy was real, there was something pure about it, and you knew you were seeing something new.

I'm leaving out a lot of bands, there were so many from the east coast the west coast and in between. The Adolescents and so many others like Code Of Honor. I mean there was so many great band all across the country and even all the pre-HC stuff that led up to it like The Avengers, The Germs...all great shit.

In NY back then in the late 70's shit was a little more "artsy," Contortions, James Chance, Suicide...all kinds of weird shit. I mean we had all the old punk shit like The Dolls and Dead Boys and bands like The Blessed and shit, but really it was after the Bad Brains and all west coast bands and DC bands started rolling through, that's when our HC scene kind of started to get it together. It was a lot of The Stimulators and Bad Brains fans and shit that started turning into that first wave of NY hardcore kids. Ask Jimmy, kids like Robby Krytcrash and bands like the Beastie Boys were still hanging out but had not yet formed, at that point I was like "Yo I'm quitting The Stimulators and I'm starting some new shit." The west coast stuff and DC stuff was a little more ahead of the times - it was faster and it took NY a while to catch up, by '79 our scene was jumping and by 1980, 1981, 1982 NYHC was in full swing.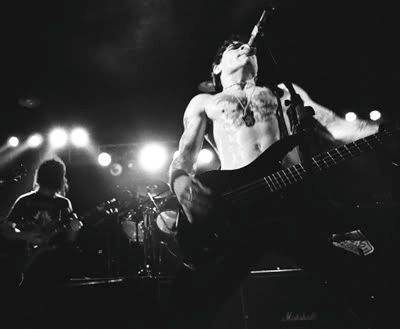 Harley brings it down with the Mags in California, Photo: KRK Dominguez

I mean to me the only real similarity now is the look, and some of these kids still like all the old stuff and bands like Cro-Mags etc., so you still hear some of those riffs in there here and there, now they are just tuned down. But there has been 20-30 years of what we were doing to build on top of it and add on to it or copy it - it's not like it's something new or underground anymore or breaking new ground. Now you can just look it up on google it order it, go by it at the mall, copy it, get some tattoos...but back then, that was all first generation shit.

By the time we came out with the Age Of Quarrel LP people really just started totally cloning each other at least in NY anyway, it was almost like they didn't really know how to be a part of the scene without just copying each other. I mean even before AOQ it got to a point were you'd see all these new kids biting peoples' moves on the dance floor and biting peoples' looks. All of a sudden you had like 5-10 John Watson clones with his hair, his look, dancing like him and like 5-10 Jimmy clones doing the same thing, and 5-10 clones of me on the dance floor. Shit got corny kinda quick, and that was kind of like the end of the first era of NYHC or the end of the golden age of hardcore.

I mean there have been some great bands since then, bands like SOIA kept it going. I mean, SOIA, Biohazard and Madball are probably three of the best bands that come to mind to come out of NY since the old days, they put on a great show, they're tight as hell and I always enjoyed seeing them play. Leeway was good when they came out, there were some great songs on Born To Expire.

There was a few good bands here and there, and a few stand out cats - people like Djinji Brown from Absolution was a good front man. Over the years there has been some decent players here and there and a few stand out characters. I mean Joe Affe is a great guitarist, Jay Vento, Jorge from Merauder is one of the best singers to come out of NYHC. But all in all, it was few and far between, there hasn't really been too many bands over the last 20 years that have impressed me very much. It just seemed like shit was just more creative and less homogenized back in the day, there were more characters and less clones, there's always a few every generation, it just seems like less, or less genuine, I don't know.

Hardcore was started by kids who were into punk rock and other shit before there was hardcore. It wasn't started by hardcore kids because hardcore didn't exist yet, it was brand new. Now hardcore kids base their stuff on other "hardcore" stuff that already exists, so it gets a little generic at times - it's like a copy of a copy with a slight twist here and there.

I hate the Grateful Dead, but I'll compare it to people getting into the Grateful Dead AFTER Jerry died. It's funny, it's like people just discovering The Sex Pistols or something and thinking punk rock is something new like Blink 182 or whatever the fuck or discovering Green Day and not knowing who The Sex Pistols are. The smart ones who get over are the ones who know how to bite the good shit and hype themselves up like they are doing some new shit when it's all really just a bite and then they go out and get paid.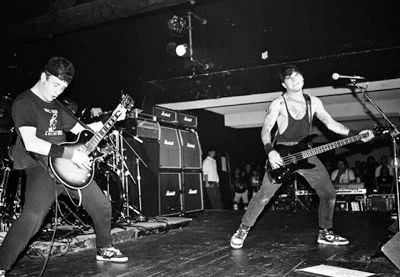 Harley and Doug with the Cro-Mags at Fenders, Photo: KRK Dominguez