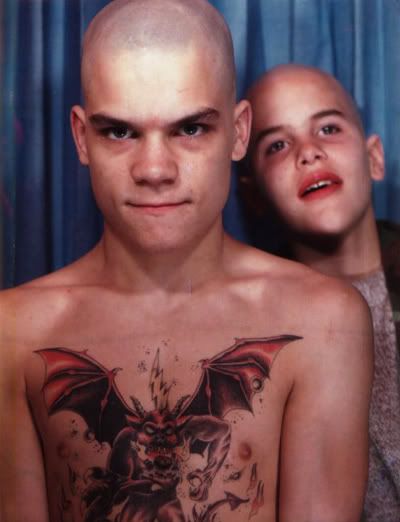 A very young and freshly tattooed Harley Flanagan, Photo courtesy of: Harley

Harley returns again to DCXX, this time discussing Bad Brains, Motorhead, and the infamous We Gotta Know video. Cro Mag! Skinhead! Breakout!!!!! -Gordo DCXX

You got to know the Bad Brains very well on a personal level. What was each of them like back then, and what type of connection did you have with them as individuals? What did you learn from them? Good memories/stories?

I met them before they gigged in NYC through Nick Marden, who used to roadie for The Stimulators and eventually became the bassist and years later the singer. I have a lot of great memories of those guys - more than I can tell you. It's like talking about my family, I've known them since I was a kid, they spent Christmas at my grandparents' house back in the day, they were like family to me when I was growing up. They were like my uncles and brothers, especially Darryl. He was like my big brother, always beating me up and messing with me. He is probably the only person who ever actually taught me anything on the bass, like sat down and showed me stuff about picking and power chords. I love all of those guys and I learned a lot from them about music and about life. A lot of people were trying to school me the wrong way, but the Bad Brains were trying to school me right. Stimulators used to gig with them, Cro-Mags used to gig with them...I do have some great stories, but they will be in the book, I have a lot of love for them.



Harley with the Cro-Mags at City Gardens, Trenton, NJ, Photo: Ken Salerno

Tell us about touring with Motorhead. What were Lemmy & Co. like off stage? What types of mischief did you get into with Lemmy? When was the last time you saw him? Favorite Motorhead song and record?

Lemmy is The MAN - that's all I got to say about him. I haven't seen him in a while but we are in touch telepathically. Ace Of Spades is of course my favorite album in its entirety, but they had some great stuff on Iron Fist. They have too many great ones to start, but those are two of my many favorites of his.

I saw that first tour they did in the states when they played at Irving Plaza, there was only a couple hundred people there. Me, Darryl, John, Kontra and a couple others. We kept almost getting in fights for starting up our little pit - a 4 or 5 person pit, but they killed. The music from The Good, The Bad, And The Ugly came through the PA...there was no one on stage, then the lights went on and Lemmy jumped out from stage right, Fast Eddie jumped out from stage left, Philthy jumped up from behind the drums and they busted into Ace Of Spades! It was great, I met them at the Mud Club on that tour, I have some funny memories from that night, but I'll save them.

Years later we toured with them on the Orgasmatron tour, I watched every show they did. My ears are still ringing and it's been over 20 years! I have some really funny stories from that tour, I've been lucky to gig with them many times since then in Europe and so on, they were a big inspiration musically and a part of what made the Cro-Mags sound and style. I learned a lot from them, both me and Parris were big fans, I think you can hear that in our music and the picking style.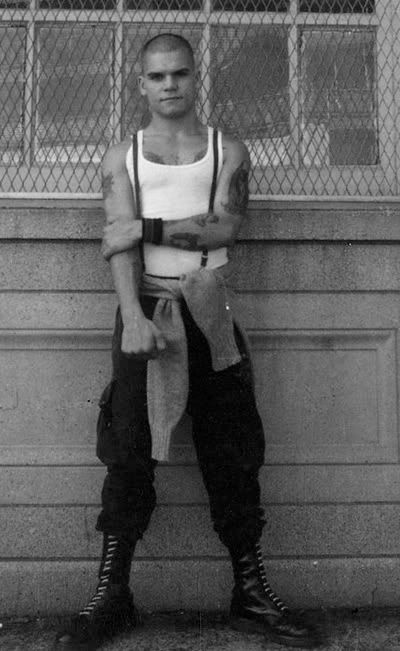 Cro-Mag, Skinhead, Breakout... Now!!!, Photo courtesy of: Harley

The WE GOTTA KNOW video is one of the most heralded music videos ever. It's got everything you could want in a Cro-Mags video. What do you remember about the shows where the footage came from, as well as the other footage in the video? Any good stories or memories behind it? What do you think of the video today?

Parris did a great job with that, I'm still proud of that video. He was going to SVA and he had this little movie camera his folks got him. He'd film stuff and get friends or his brother to film us while we gigged, then he edited it or directed it or whatever, not that there was any directing, it was just us being us.

Some of it was from the Motorhead Orgasmatron tour, some of it was from when we did that movie "The Beat" - that shit was terrible, a kid broke his neck during the shoot of our scene. Some of it was filmed at CB's, those were great days, period. Besides things like that kid's neck getting broken and some of the insane fights, of course. It's cool to see some of my old friends in that video, it's like a moment in time, it's crazy.

I still think it's a good video after all these years, a lot of fuckin' people bit off that shit, even look at some of the old Pantera videos and shit. A lotta motherfuckers bit off that shit, it is kind of a classic, because that was like the first time a real mosh pit had been seen on TV, I don't think there was stage diving or crowd surfing in any videos or anything like that yet. I think Suicidal Tendencies had a video but I don't think it had a real live mosh pit in it, I don't remember. All I know is that it was insane, it wasn't staged, it was totally nuts, and for a lot of America and a lot of the world that was the first time people outside of a HC gig ever saw a pit or a stage dive. It was that video on Headbanger's Ball that brought that shit to the screen and to the world outside of HC shows. Years later I remember seeing a car commercial were the car was crowd surfing or some shit and I had to laugh. But it really kind of set that shit off as far as bringing slam dancing and moshing or whatever and stage diving/crowd surfing and all that shit out to the world 'cause most people had never seen that kind of shit. Then when Parris directed that Onyx Video "Slam," they kind of bit off that whole HC mosh and crowd surf vibe.

But yeah, it brings back some good memories. Unfortunately they get overshadowed by all the bullshit that's going on now, but it is a good video. I haven't looked at it in years, I was like 18 in that shit. I got some stories you wouldn't believe, crazy shit, it's too bad, those really were fun times, we put on some great shows. Me, Parris, John, Mack, and Doug...and me, Parris, Doug, John, Pete, that shit was slamming and as fucked up as me and John were (and we were, we were all total characters, the shit was a funny band), it was real.

I got some great stories, but they will be in the book. The shit that's going on now, the fake Cro-Mags, it's all a bunch of bullshit. It ain't real at all. It's really too bad - it's some totally fake shit. But John wants to be the controller and that's that. They talk about that a lot in Krishna consciousness - people wanting to be the controller, it's funny. Oh well. It was a great band when it was real. Now, it's those songs - being played by other people who didn't write them or live it. It's too bad, I always wanted the band to stay together or get back together, but everyone wants to be the controller, and that's that, It's about ego and money, not about the integrity of what we were as a band and as a group of people who made that music. It's too bad.



Harley speaks his piece to the Trenton crowd, Cro-Mags at City Gardens, Photo: Ken Salerno