Classic Age Of Quarrel era Cro-Mags hangin' back stage at CBGB, NYC

It's funny, people talk so much shit both for and against Harley, but the bottom line is that he gets people talking and he's not afraid to speak his mind. The guy has been there, he's done it, he's walked the walk and talked the talk. He holds nothing back and you have to respect him for that. We here at DCXX appreciate Harley taking his time to answer our questions and it's obvious by the sheer amount of page views that people want to read what he has to say. "Those of us who've seen the way must stand and fight for a brighter day"... -Tim DCXX

You played a big part in getting the word out on Krishna Consciousness with the Cro-Mags in the 80s. What did you think of bands like Shelter and 108 who really made this even bigger in the hardcore scene in the 90s?

Well, I saw Prabhupada when I was a kid more then once. I was at the 2nd Avenue preaching center when he was there, I was at Ratha Yatra, and that's kind of a big deal if you're into Krishna consciousness. I don't think any of he bands you mention did.

Having been there from the punk days back in the 70s all the way through the 80s and 90s and having seen it go through its changes, I hate to say it but 90's hardcore was just a bite of the 80's shit.

As far as I was concerned, it just turned into another bandwagon thing like everything else on the NY scene. It was kinda funny, but I mean look, anything that promotes vegetarianism and spirituality and Krishna consciousness or God consciousness or whatever is a good thing so more power to them and God Bless 'em. I think Ray Cappo is a nice guy and all of them are, but the way it looked to me at the time was that it was the flavor of the week, it was just more NYHC follow-the-leader shit, that's the NYHC way, right? But at least some people took to it and to those that it had a lasting impact on, good for them, at least that trend had some good results, a lot of people went vegetarian so it was a good thing I guess.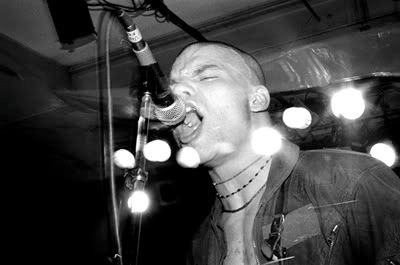 Harley with The Mags in Rhode Island, Photo: Jessica Gorman

But you gotta hear these stories - it's funny, when I first got into it I still had one foot kinda stuck in the streets you know, and some fools thought I was getting soft. They used to call me and my bros the "Krishna Skins," we always thought that shit was funny, the guys I hung with and roadied for the Cro-Mags were ex-skinheads, street fighters, some of them were black belts. It was hysterical.

A few people tested us and we actually put quite a bunch of people in the hospital over a period of time. New jack skinheads and shit would come in on the weekends and try to flex on us and shit. I was just getting over years of being a skinhead and years of street fighting and all that shit, so I still had a hard edge to me even though I was a vegetarian and getting into all that stuff. I grew up on the LES fighting crazy Puerto Ricans and shit everyday, and all of a sudden you had all these new jack skinhead white boys and shit trying to be hard.

There was a few incidents like this. One time I busted this big skinhead's ass. I think his name was JP and I knocked out like 8 of his teeth and took his boots 'cause he was talking shit. Another time there was a major brawl at CB's and one guy wound up in a coma or some shit, it was a bad scene. There were several major brawls on Avenue A, but we always came out on top. Anyway...shit happens.




Now you got all these pseudo militant Veg Edge pissed off angry vegan bands - that shit is fucking hilarious but whatever. For me it was all part of a learning process. I mean I'm still vegetarian and I still think killing animals is wrong and so on, but it's cool that those bands kept that going.

The one obvious difference between way back in the day and now days is back then we didn't have the internet and shit like that, so now word travels faster and shit is able to spread quicker. Back then you really had to know what was up, you had to go and find out for yourself. Now you can google it, or even better Wikipedia it so you can make sure to get all your facts wrong.

Now people can try to re-write history simply based on the fact that there's this whole online cyber world and dummies sitting there clacking away on keyboards, and most of the old heads ain't around no more to set the record straight - or they are too old and burnt to be up on all this online crap. The ones who are around, the few from like the late 80s or whatever, even some of them are changing the truth now to try to make themselves look more historically important or something. I don't know, I think the whole shit is laughable at his point 'cause we're all going to be dead anyway. But I have some great stories and a lot of funny shit.



More Cro-Mags back stage at CBGB, NYC

Of all your tattoos, which is the most meaningful? Do you regret any of them? What do you think of today's tattoo culture?

Well they are all slowly starting to turn into one big tattoo. The three most meaningful, probably the devil grabbing the world on my chest. I got it when I turned 15, just 'cause it symbolizes everything that's going on in the world. It's like the devil is taking it, and my back which is me and my woman, it's like an end of the world type scene with the nuclear explosion, the city burning, Jesus and the thieves on the cross in the distance and I'm giving the reaper the finger as if to say "Yeah FUCK YOU!" And also has the number 18, as both of my sons were born on the 18th.

As far as any that I regret, of course.

With tattoos today, the difference is that back in the day it was a subculture thing, it meant something, everyone on the street didn't have them. They weren't legal to do in NYC so you had to be somewhat beneath the law to even know were to get them. Outlaws, criminals, bikers and shit had them...people who were not part of main stream society. Sailors and military people got them when traveling, it was like you had to live life to earn them you know? See the world or something, or people got them when they were locked up, jail house shit, they signified different things. I mean tattoo culture is or was deep, all that old Yakuza stuff and all the old tribal stuff, warrior shit. Now secretaries have them, what can I tell you? Times have changed.

I started getting them when I was 14 or 15, homemade shit. I got my first real one from Bob Roberts around my 14th or 15th birthday when he was on 23 and 3rd.



Harley with the Cro-Mags, Photo: Jessica Gorman