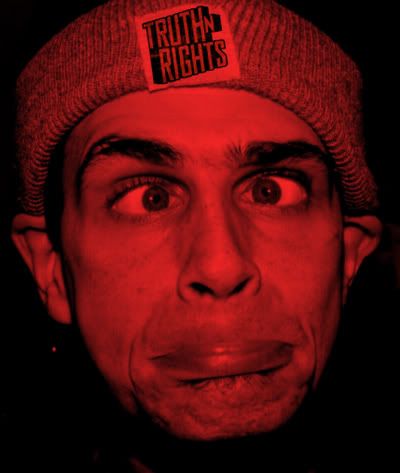 No, we're not trying to make your brain implode with NYHC madness. It just so happens that we have been trying to catch up with Eddie Sutton, and as his new band Truth And Rights has launched, there hasn't been a better time to get him on DCXX. We welcome Eddie and hope to be hearing much more from him about everything...pre-Leeway to Leeway and beyond. -Gordo DCXX

First, tell us what we should know about Truth And Rights, what you are looking to do, and what we should expect? How does it feel to be up on stage again? Where do you think the band will fit within the landscape of aggressive music (is it a concern?)?

TRUTHandRIGHTS has been working at it for a few years now, but just recently we have revealed ourselves with songs on myspace ( www.myspace.com/TRUTHnRIGHTS ) so people can familiarize themselves with our material. Once our drummer, DIMI came into the fold last fall things started to click and move fast creatively. We now are playing out and since the recordings are beyond expectations we plan a limited vinyl/single release before we release our full-length this fall.

I broke my neck 4 years ago right after I broke Leeway up for the second, final time....I worked real hard at getting my chops, skills, and talents back, and I fully believe I'm doing my best songs/material ever! I feel like I'm 20 again playing up there onstage like it's all new to me...

TRUTHandRIGHTS is not a LEEWAY V2.0 or some hybrid mixed with the original string musicians of AGENTS OF MAN. Granted this is where we came from, but you're selling us short if you are thinking this way. In the aggressive sound we play we'll hold our own and stand out....I'm sure of this.




What led to you wanting to get on the mic with a band again? How did the Leeway shows from a few years ago impact this decision? What do you enjoy most about being on stage as the frontman?

When Leeway did the reunion thing in '06 I told AJ I intended to play out solo and get a line up behind me to do Leeway songs we never did. Now I have been planning THE EDDIE LEEWAY SHOW and we'll start playing shows in the Northeast this summer.

I always wanted to do something else musically since the 80s but it never happened. You'll fnd a lot of boys/men say/promise to do a project or some commitment, but they sober up the next day and actually forget your conversations 95% of the time, but this does'nt mean everybody is like this. You just have to sort through the stand-up, true musicians from the other fools who have minimal skills to reall make something special...

What I enjoy most about being a singer/frontman in this thing of ours is how people react physically and mentally. To see people dancing hard and singing along to my lyrics has such a special appeal and attraction for me. If I'm in a large room I can see hundreds of kids rockin' moves and fighting for space and it's a big rush for me. It's one of many reasons why I worked so hard to get my voice/talents back so I can go at it with something fresh/brand new and go bang-bang-bang.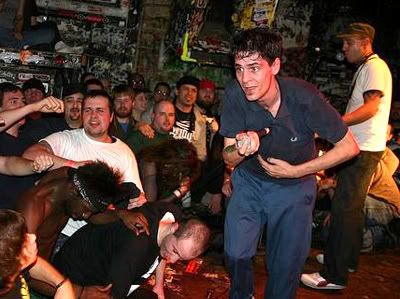 Going back to the beginning - tell everyone about where exactly you grew up and what types of music and influences you were exposed to early on? How did you gain exposure to punk/HC and where did punk/HC fit into NYC at that time? What other types of music were you digging, and how did those styles interplay in the pre-Leeway days?

Since I was a child I always listened to many different styles/forms of music. I grew up listening to a ton of R&B from my Mom, rock through my father, and jazz/big band from my grandparents. I listened to other sounds with friends during my school years, and always wanted to be in a band since I was 5 years-old when I first heard The Jackson 5 (Mom's got ABC as my very first record).

While getting into hardcore in the fall/winter of 1980 I already had peeped what the english labelled "punk" and what the industry tagged as "new wave," but I listened and followed early rap and metal. I was doing raps locally two years before I even joined Leeway, and with hardcore becoming my lifestyle, Leeway as a group was able to use it all and blend it into a creamy Reese's Peanut Butter Cup with so much flavor.

I'm very fortunate for all the opportunities I've received breaking ground and being a part of this lifestyle. Leeway helped set the standard to the modern sound of hardcore today.

I always looked at hardcore as a lifestyle and not as a sound. Right off the bat you limit yourself creatively. I always made my music for myself first, and if an audience appreciated it was a beautiful. The fact that I was a part of this from close to its inception I was able to have a fortunate opportunity to establish a style all my own, and I had solid musicians who made it so easy for me to do my thing. I think too many guys in bands do not appreciate the fact that without an audience you are nothing....

I got to be the original B-boy from the NYHC scene when there really was a scene. There are things no one can take from me regarding the history of American hardcore which is what it really is worldwide...make no bones about it.